Thi Lor Su waterfall (it doesn't matter how you spell it, just as long as you pronounce it like Tee-Law-Zoo), this is the BIGGEST waterfall in Thailand and it's in Tak Province. It's also famous for trekking.

My first Thi-Lor-Su waterfall trek wasn't like "Grand Wow"…it was just ah…wow, it's beautiful. The waterfall has different falls of various heights but not much water. We were told the water was at about 60-70% capacity which is pretty low but we knew that next month (June) the rainy season will start and travelling would become much more difficult (MORE??? – I thought it was difficult to get here already!)
Anyway, if they don't have a direct flight from Bangkok to Umphang, I might not come back to visit Thi-Lor-Su anymore.
A journey here with children would be not recommended from me either…!
Where: Umphang, Tak

Flight from Bangkok ~1hr
Bangkok – Mae Sot
(Nok Air or Kan Air)

Mae Sot – Um Phang ~ 3 hrs van ride and it's about 1,219 curves!


I don't recommend you to travel from Mae Sot to Umphang at night!!!

Waterfall season:
Winter: Oct – Jan (Best time to visit!)
Summer: Feb – May (*our trip)
Rainy: June – Sep (trekking 10km – no car allow)Remember, Rainy season is more waterfall but it's more adventure!

Read all about my trip:
Here is what we called Jam's vacation for Thi-Lor-Su Waterfall!!!
DAY1
(Friday 29 May): Donmuang to Mae Sot by Nok Air.  We arrived about 5.30pm and checked in Baan Rabiangmai Hotel.  Dinner at "Tuy" Khoa Soi

---
DAY2
(Saturday 30 May): VIP Van (Phudoi Camp Site) picked up us at the hotel in the morning and then we drove through 1219 curves to Umphang, check in at Phudoi Camp Site.  Sightseeing (visit Teak temple, Cave and Feeding fish)

---
DAY3
(Sunday 31 May): 15 mins car ride to river, 3hrs rafting, 30 mins lunch, 1 hr ride to the park and a 15 minute walk up to the waterfall!!!



(but if you are travelling during rainy season (Jun – Sep), after lunch you have to walk about 10 km!)
---
DAY4
(Monday 1 June): Wake up about 5am and 30mins car ride for sunrise at Hua Mod Mountain.  Back to Phudoi Camp Site to check out and leave Umphang to Mae sot about 10 am.
Passing the same 1219 curves back to Mae Sot- we went to have lunch and stop at the Myanmar Border (not thing interesting at all!)

2pm, we are ready to check at the Mae sot airport (which is a very small airport and nothing (much) to shop!!!), and we get back to Bangkok about 6pm.
---
Here is an idea of the difference in the water volume in different seasons;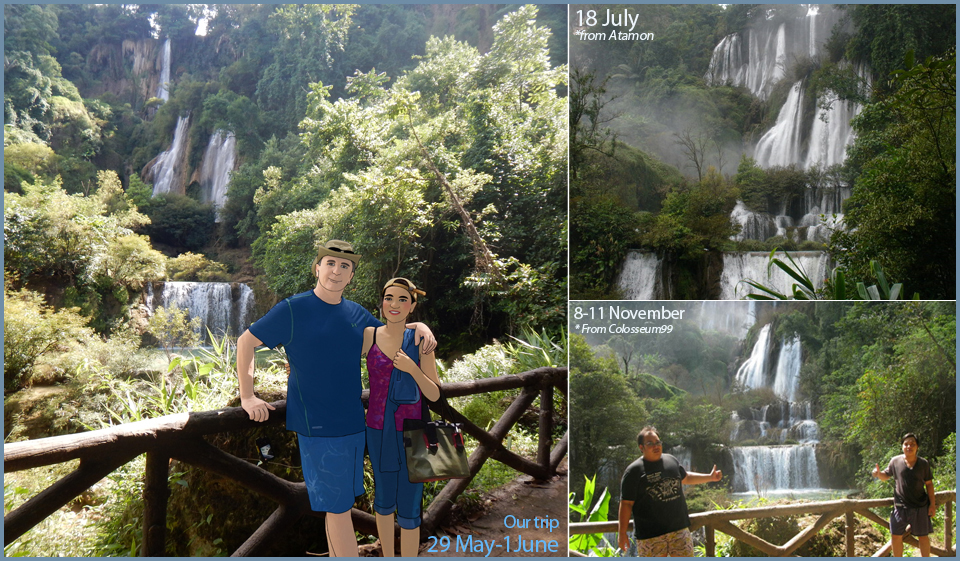 It looks like we were there when it was not much water but…we can play waterfall safely!
There are 2 levels of waterfall that we can play water, here is the deeper and very cold! If you see the picture below, I can tell that it looks more beautiful when it's rainy season but I don't think we can play water on this level.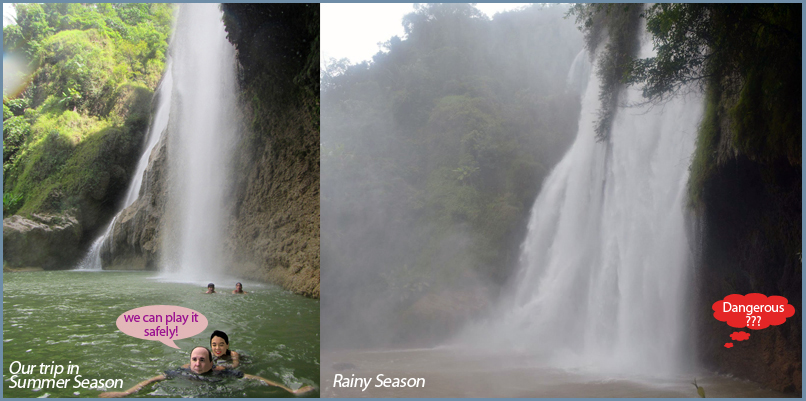 And this one is very easy and not too deep – great view.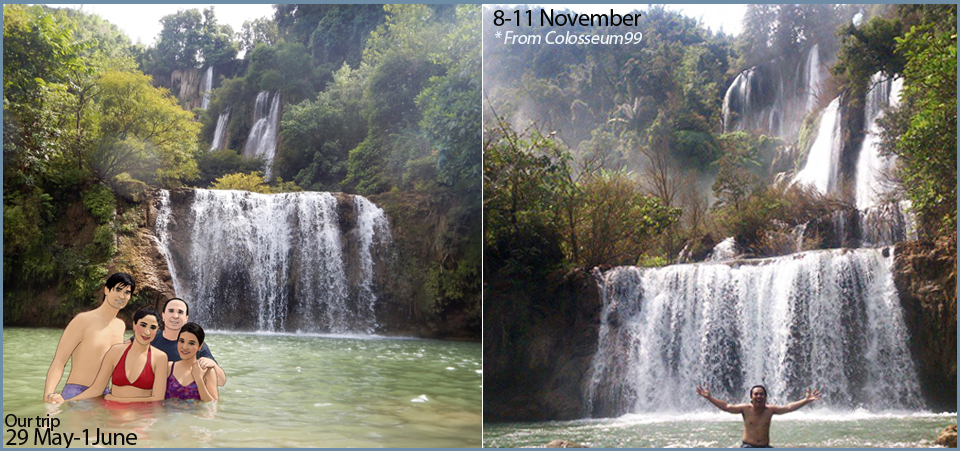 It's just not an easy place to reach and there is different methods and we are too old for this kind of travelling LOL…
The Expenses for this trip:
Flight: Bangkok – Mae sot (roundtrip by Nok Air)  =

6,000 baht

One night hotel in Mae Sot =

1500baht/night/2person

Our trip was conducted by Phu Doi camping site and included pick up from Mae Sot and all food for the 3 days and 2 nights then return to Mae Sot Airport =

6,200baht/night/person
Total ~ 13,000 baht / person
*our trip was requested for private group with VIP Van, Room and food
Visited on 29 May – 1 June 2015
Ref from other bloggers: