(ภาษาไทย คลิกที่นี่ค่ะ)
Today, we will visit Bhaktapur city, known as Nepal's Cultural Gem.  We are looking forward to this stop as it's listed as a MUST SEE!!!

Actually, we planned for a full day trip to Bhaktapur and stay over night at Nagarkot – the mountain view club hotel, but it was Christmas day, and all the hotels in Nagarkot were fully booked!
So we could do only the full day trip to Bhaktapur and come back to stay in Kathmandu city the same night.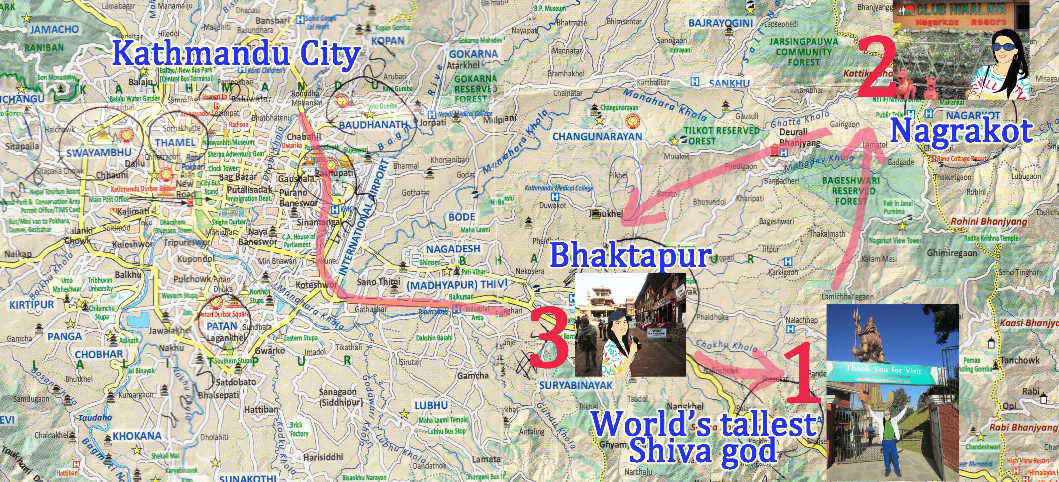 We started tour at 9am, it's such as a good time to start!
The tour for today will include 3 stops (I thought just 2…), 1. World's tallest Shiva God statue, 2. Nagarkot – the mountain view and 3. The Bhaktapur city.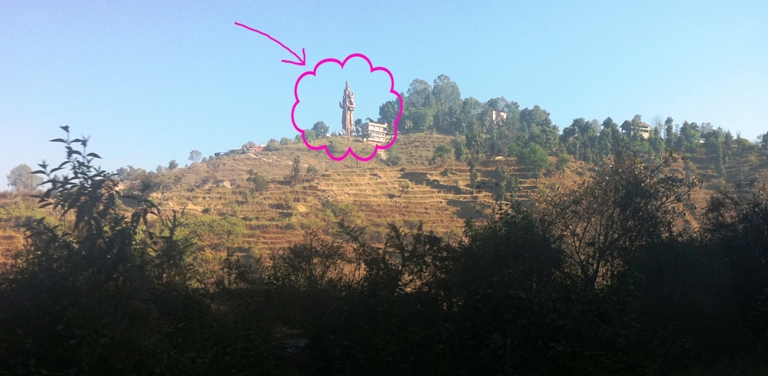 Kailashnath Mahadev is the World's Tallest Lord Shiva statue. The height of this statue is 143 feet high…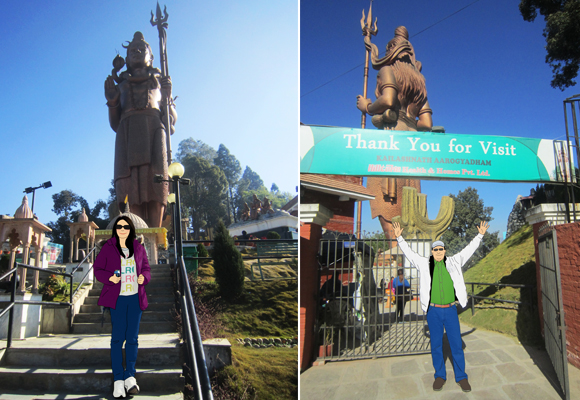 This is a brand new statue, The construction work was started in 2004 and was completed in 2012 when we visited !!!
Actually, this place is not popular and not in the common tour package. I read this from Wikipedia and make a special request to visit.
It looks like it's famous and good for Hindus– I didn't find the statue anything special but it's a nice stop because it's on the way…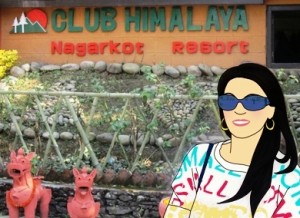 After our visit to the World's Tallest Lord Shiva statue, I thought that we would head to Bhaktapur right away. But the tour guide and the driver took us up to the mountain to Nagrakot!!!
It took more than 30 mins and curves to get up to Club Himalaya (the best and the most popular resort in Nagarkot).
Nagarkot is an international tourist destination with spectacular views of the whole Langtang range, sunrise on the mountains and sunset views.
It would nice if we could come up here and stay overnight – it's kind of cool spot.  BUT I don't think it's a good idea to come all the way just to see the view.  Especially if you are prone to car sickness!!!   This is a windy mountain road!!!!!!!!!!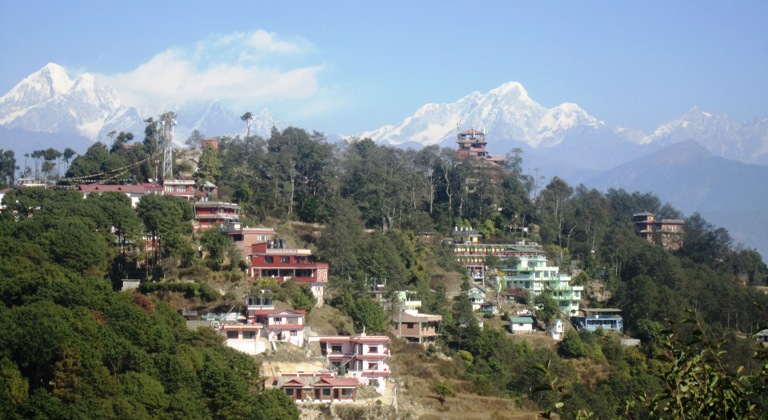 It's time to visit the highlight city for Nepal, "Bhaktapur", the admission is 1,100 Rupees or $13.  I was so amazed that's the most expensive admission in Kathmandu!!!
It's located about 20 km east of Kathmandu city…and 12 Km away from Nagarkot.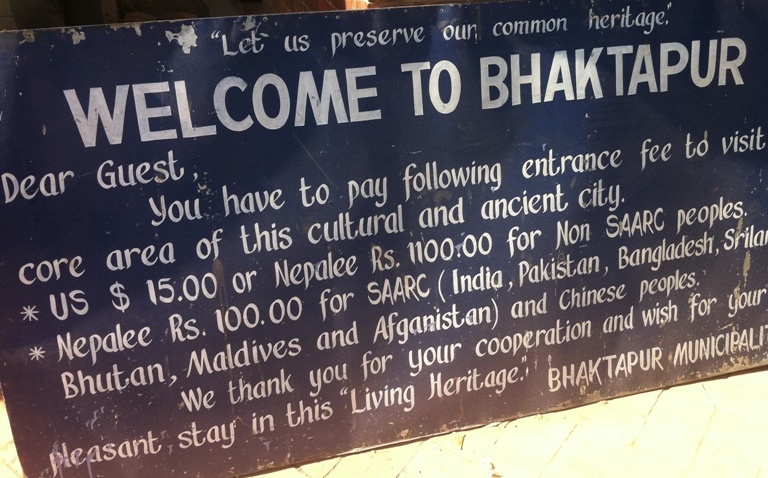 Bhaktapur is filled with Hindu and Buddhist religious sites and art, monuments, terra-cotta pottery, palaces and temples with elaborate carvings, gilded roofs, carved wood columns, open courtyards.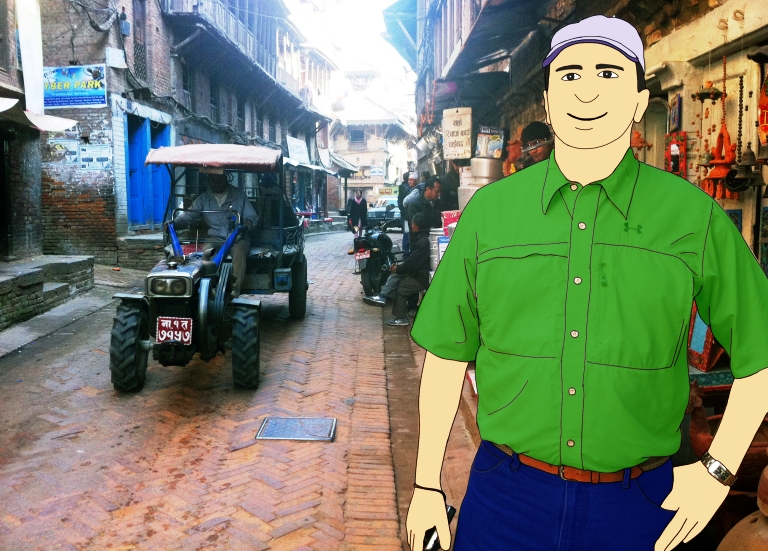 What a feeling to be in a city so old, with an architecture of it's own!!!
We actually didn't plan to have tour guide with us but we're glad we did have…the town is huge – it's good to have him lead us and show us where to go….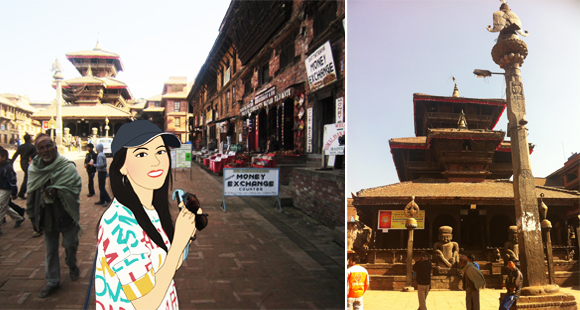 First, Dattatreya Square– the square looks like Patan city where we went for city tour the day before…and I thought, it's only this square here because after we walked around the square and then the tour guide told us that we should have lunch over here…
But after lunch, he took a walk and walked until we stopped at Taumadhi Square…and I think I like this square!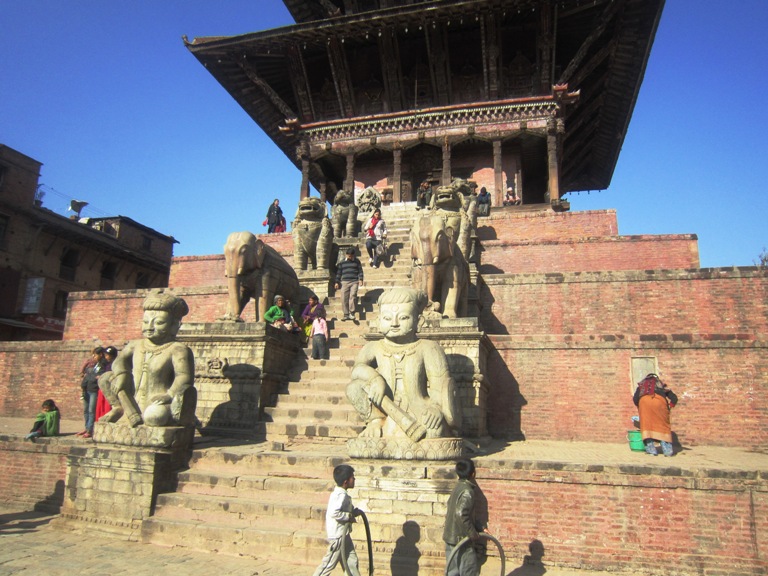 You will see the Nyatpol (or Nyatapola) Temple, dedicated to the Goddess Lakshmi, lies in this square. Built in 1702 (310++ Years old) with 5 stories, this is Nepal's tallest pagoda temple.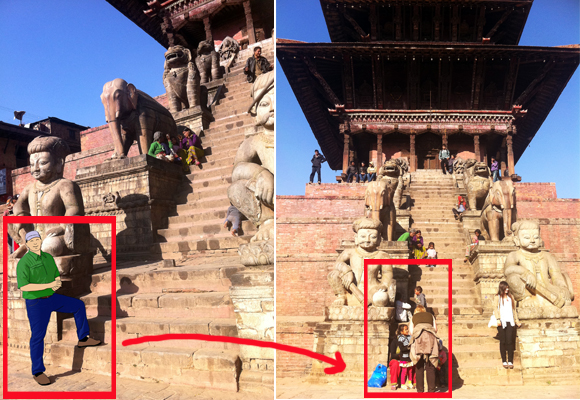 The Bhairavnath Temple, which was destroyed by an earthquake in 1934 (last 78++ years ago!) and subsequently rebuilt, houses a gilded bust of the terrifying Bhairav, considered either a manifestation of Lord Shiva or a deitythat guards his home.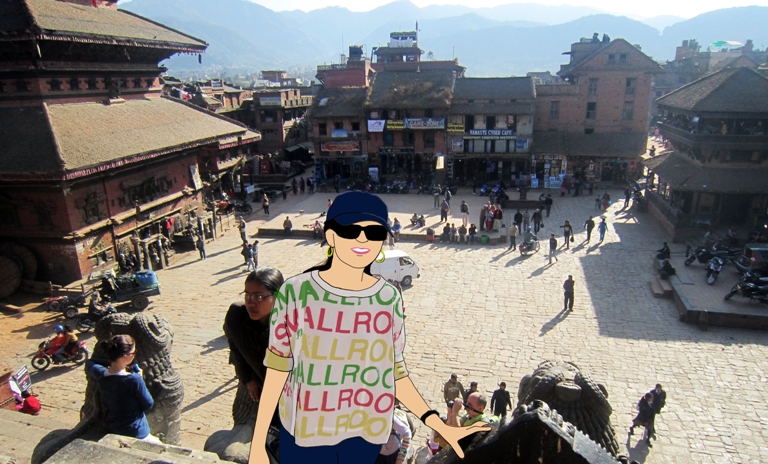 Above picture – I think these are the most beautiful and well maintained Hindu temples. It is nice to climb the stairs and enjoy the view!
Next is Durbar Square, tourists will find the 55-Window Palace, which served as the seat of royalty prior to 1769 (last 43++ years ago!). The palace has elaborately carved windows and doors and houses the National Art Gallery
Then Golden Gate, built in 1756 (256++ years old), the entrance to the Taleju Temple. There also lies the Royal Bath, with its Golden Faucet. But the Taleju temple is only for Hindus to visit inside…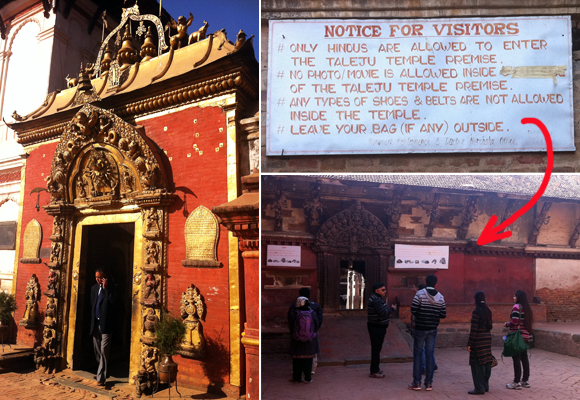 The square is one of the most charming architectural showpieces of the valley as it highlights the ancient arts of Nepal.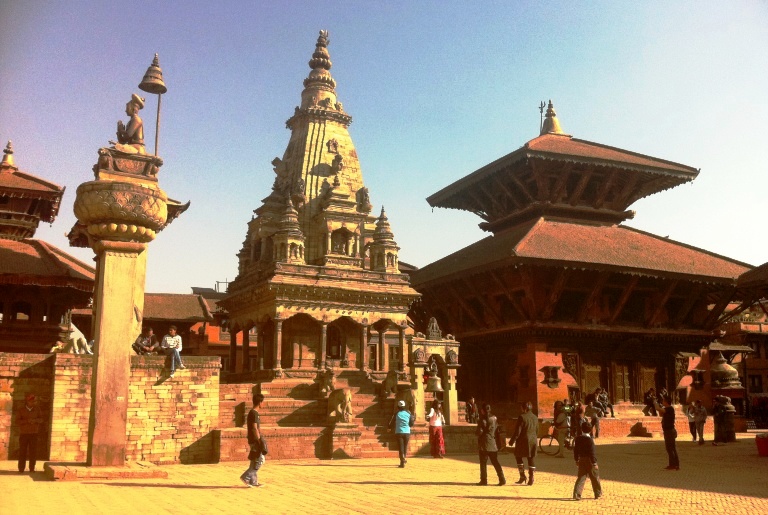 And the Statue of King Bhupatindra Malla in the act of worship can be seen on a column facing the palace. Of the square's many statues, this is considered to be the most magnificent…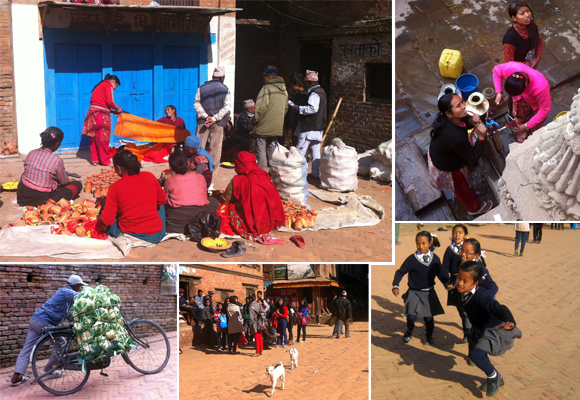 The atmosphere is wonderful as it's well known as LIVING HERITAGE…
It's good for shopping too!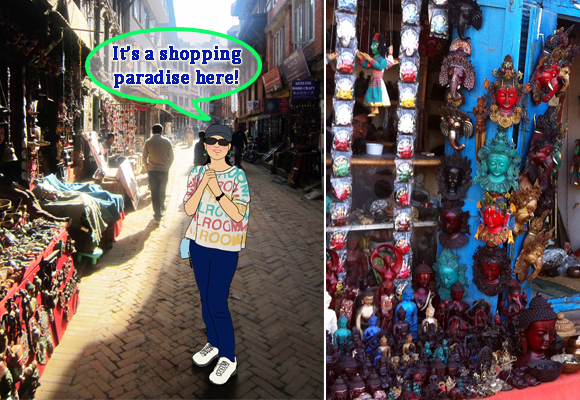 Bhaktapur is also very famous about wood carving. This masterpiece of wood carving is known as the Peacock Window. Peacock Window represents along with the Pujari Math the excellence in wood carving consecrated to Humanity representing 16th century craft. Locally this window is also known as MONA LISA of Bhaktapur.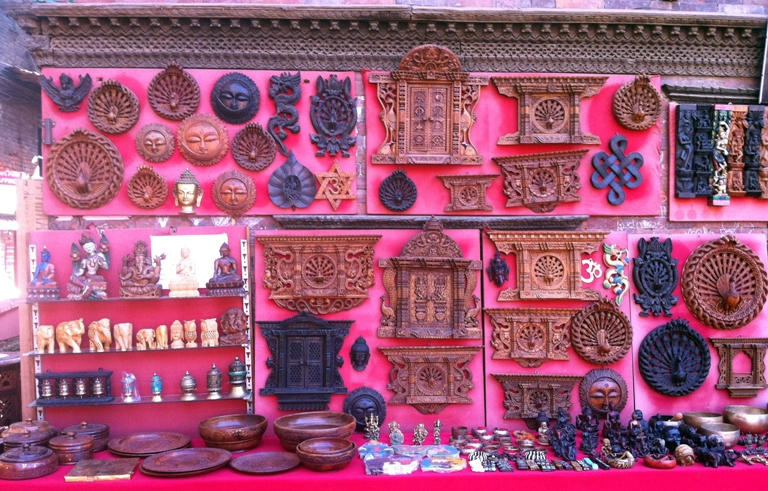 Done for the day – we took a long walk about 2 hours in Bhaktapur city and we got back in town about 5pm…Still have time for a Christmas celebration!!!
Summary cost for today:
Tour package for today $90 or 2700 THB / 2 pax (included tour guide and transportation)
Admissions 1,200 Rupees or 450THB or $13 each
Tips for tour guide ($20) the driver ($10) – It's Christmas day!
Totally the minimum cost for today is $75 or 2,250 THB per person
Date travelling: 25 Dec 2012
Read all the trips in Nepal at: http://www.somethingjam.com/jammin-south-east-asia/nepal