My 2nd trip to Hong Kong! But this time No shopping (for me)!


As this trip is my 2nd trip in Hong Kong, I know exactly where I wanted to stay. Yes, I liked Tsim Sha Tsui area but I decided not to stay at the B.P. International Hotel (my first Hotel in Hong Kong) even though it's a good hotel, I wasn't impressed with the elevator queue – it's too crowded all the time!


Hong Kong Visa , Exchange Rate, MTR and etc about Hong Kong, please read at my frist trip in Hong Kong, but for this trip I will talk more about Macau!
For foreign nationals (and Thai) you can enter Macau visa-free for up to 30 days just present your passport…
Remember that Macau has a separate immigration from mainland China, Hong Kong and Taiwan. All travelers from mainland China, Hong Kong, Taiwan (Republic of China) and all foreign countries have to go through immigration and customs checks on arrival in Macau. Therefore, if you want to re-enter the Mainland from Macau, you'll have to re-apply for another Chinese visa unless your earlier one is a multiple entry visa.


This time I flew with 2 airlines because of my work schedule…
Bangkok to Hong Kong by Air Asia at 5,040 baht (one leg, and remember Air Asia is operating only at Don Muang Airport!) and from Hong Kong back to Bangkok was 8,385 Baht by Thai Airways (Suvarnabhumi Airport).
It's cheaper to fly with Air Asia, but I bought tickets with 2 different airlines, the total cost was 13,425 Baht which was the same price as for round-trip ticket (Bangkok – Hong Kong) with Thai Airways…. and we earned the Thai mileage!
Anyway, it doesn't matter which airline you take to Hong Kong, it still took about 2.15 hrs.
By the way, it looks like the direct flight from Bangkok to Macau is cheaper than Bangkok to Hong Kong… you can do the trip Bangkok – Macau and then Macau – Hong Kong. I might try that next time!
But this time, I wasn't sure that I would like Macau, so I tried to stick around Hong Kong and take a day trip to Macau by the ferry!  There are couple ferries you can buy the tickets on but for our trip, we bought tickets with TurboJet and Cotai Water Jet.
Just remember there are 3 ferry ports in Hong Kong and 2 ferry ports in Macau.
Hong Kong Ferry Ports: China Ferry Terminal (Tsim Sha Tsui), Hong Kong Central and Hong Kong Airport.
Macau Ferry Ports: Macau Maritime Ferry Terminal and Taipa Temporary Ferry terminal (for more details, please read our day trip Hong Kong – Macau)
Local time in Hong Kong/Macau is 1 hour faster than Thai time…


Remember: Hong Kong money is HONG KONG DOLLAR (HKD), and Macau money is Macau PATACA (MOP).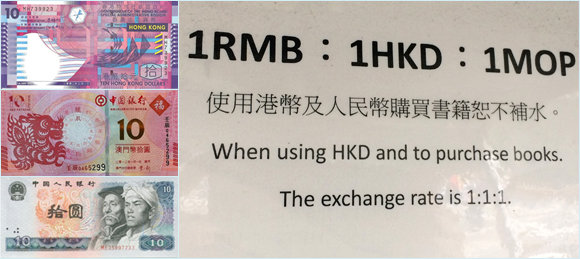 You can use Hong Kong Dollar or Chinese Yaun at Macau…but if you got change in Macau money, you can use only in Macau not anywhere else in China or Hong Kong…


So my hotel choice for this time is Novotel Nathan Road Kowloon Hotel (MTR: Jordan Station). It's nice but it wasn't pleasant for the first night because I got a smokey room. But they changed and cleaned it when I requested to change all the bed sheet/ pillow cases…I don't want to blame the hotel if you know Hong Kong well – most people smoke everywhere in this town!!!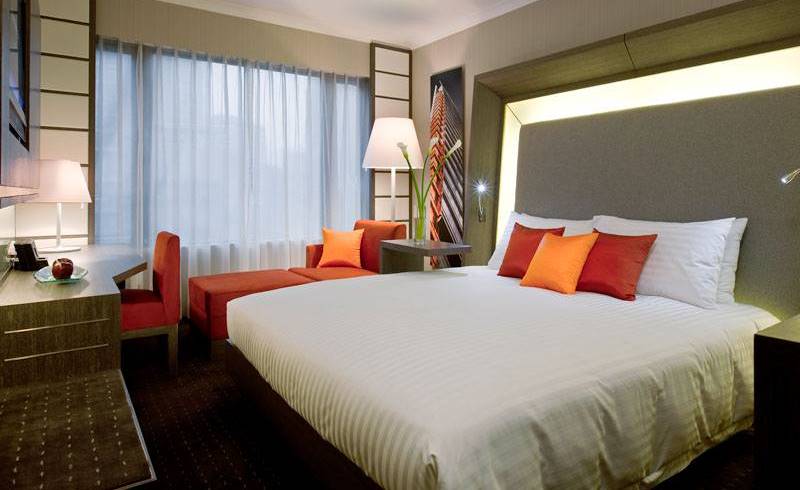 The hotel location is so perfect! it's about 2 blocks away from Jordan Station, and it's just about opposite with the Temple Street Night Market area.
But something was wrong when I booked the room thru Agoda, the room didn't come with Breakfast and Wi-fi…I didn't care about Breakfast but I paid for Wi-fi!!!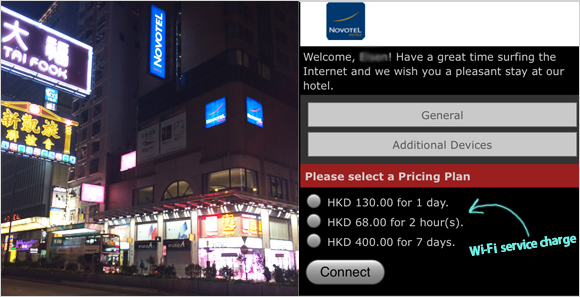 Don't forget!!! Hong Kong plugs are 220-240v with 3 holes (different holes in Thailand)…The Novotel hotel provided an adapter.
Good hotels in this area that I saw and I might want to try next time "Nathan" and "Eaton".
For our 4 days/3night trip in Hong Kong – Macau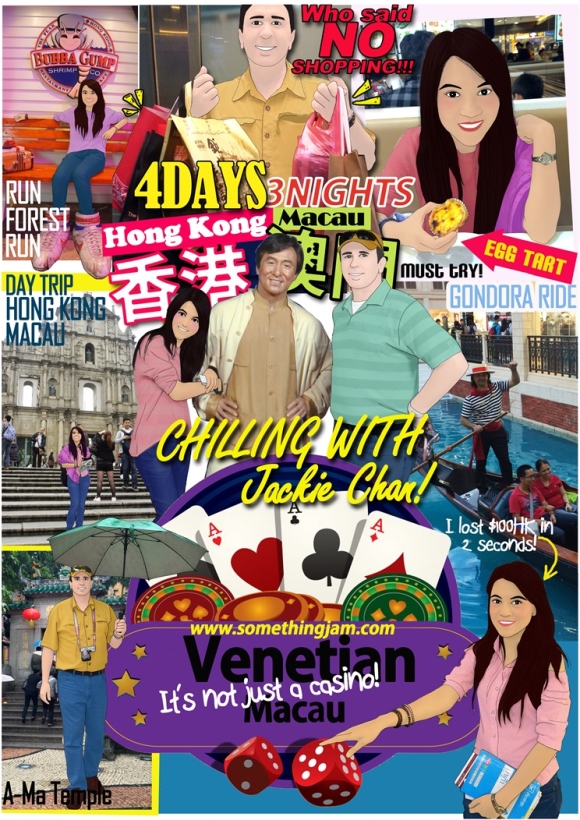 Day1- Arrive Hong Kong at 8pm, I could walk around Temple Night Market
Day2 – Peak Tram and Ladies Market (Read more soon)
Day3 – Day Trip from Hong Kong to Macau (Read more soon)
Day4 – Final Shopping and back to Bangkok about 3pm
So I had only 2 busy days for this trip on Day 2 and Day 3!
---
Hong Kong Peak Tram and Ladies Market.
We missed the Peak Tram on our first Hong Kong Trip, so I put this on my top list of things to do in Hong Kong this time! It was a little disappointing because the line was too long and the express ticket wasn't EXPRESS like I was expecting!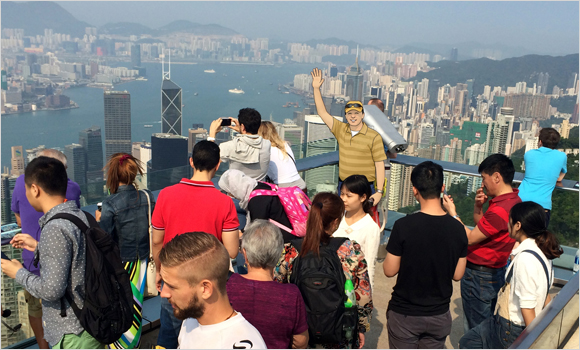 Overall it was good, we took the tram up to the top of the mountain where you can see the stunning view of Hong Kong. The express ticket that I talked about included the ticket for the wax museum. But guess what? The best thing for us was lunch at Bubba Gump's, the restaurant that was inspired from the Forest Gump movie and they have really good fried shrimp!!!  It took almost a day to do this trip, it was long line.  So try to avoid to do Peak tram during the weekend.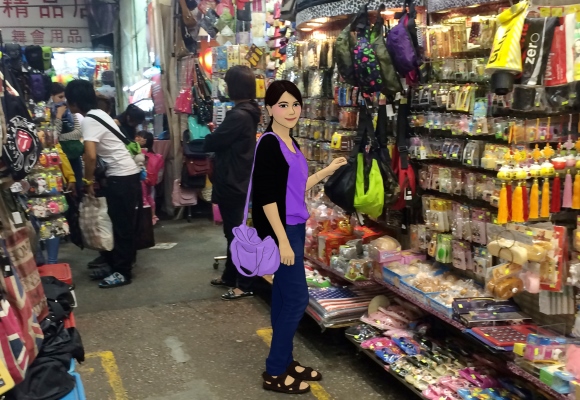 After that, we went to visit Ladies Market at night , it's another version of JJ Market in Bangkok.  Read More about this trip…(soon!)
---
Hong Kong – Macau
(Ruins of St. Paul's, Senado Square, Fortaleza do Monte, A-Ma Temple, Venetian – casino)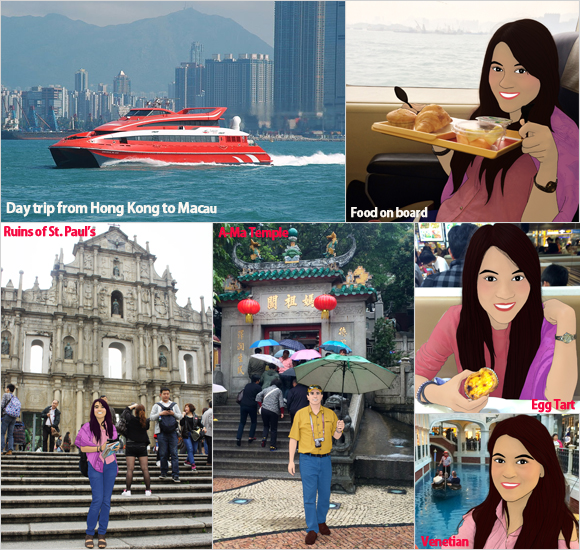 I'm so glad that I made this trip! And we really enjoyed Macau! The European town in the middle of Asia…so nice!
It's only 1 hour ferry ride from Hong Kong to Macau, and it was good luck that we found the tour package (driver + car) at 750 HKD for 2 person (it's about 1,800 baht per person). The Driver (and Tour guide) took us to 7 attractions in 3 hours. It was just right for us (as it was raining as well). I got to see all we planned to see all… Read More about this trip…(soon!)
---
The summary of prior expenses (per person)…
Air ticket (Bangkok – Hongkong)
Air Asia = 5,040 Baht
Thai Airways = 8,385 Baht
= 433

USD

or 

13,425 Thai Baht

Novotel Hotel (Agoda Rate without Breakfast & Wifi)
Rate for 3nights = 18,490 Baht (561.18 USD)
= 298

USD

or 9,245

Thai Baht

Hong Kong Peak Tram
RExpress Ticket (not recommended!) Peak Tram- Madame Tussauds =250HKD
Sky Terrace 428 = 45HKD
= 47USD or

1,475 Thai Baht

(per person)
Ferry Hong Kong – Macau – Hong Kong (537HKD)
Turbojet = 298 HKD
Cotai = 238 HKD
= 87USD or

2,685Thai Baht

Macau Tour package
750 HKD (2 person)
=

60USD

or 1,875 Thai Baht
TOTAL (excluded Food, Shopping, MTR, taxi) = 5,742 HKD
= 925USD or 

28,705 Thai Baht

*Travel Date: 4-7 April 2014
***NOTE: The other airlines are cheaper, check out Air Asia or Bangkok Airways…