The first trip in Yangon, the former capital city of Myanmar (formerly named of Burma)!!!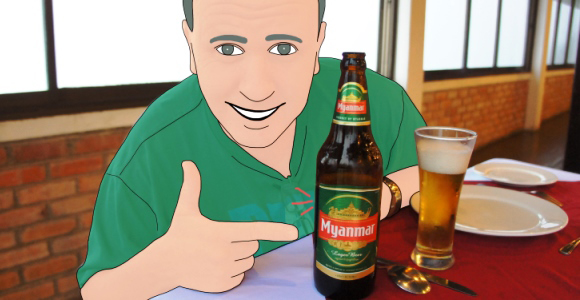 I was a little worried about security since this country had been closed for decades but once I stepped in their city, everything looked pretty good!  Yangon is increasing in tourism recently…so why not visit- it's so closed with Thailand!!!
Things that I learnt from Yangon are;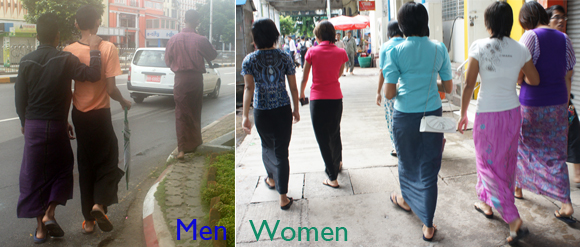 men wearing sarong and women still wearing the long wrap (very colorful).
The fortuneteller is a very good business here, they are everywhere in Myanmar.
Like

ET, Myanmar's most famoust fortuneteller

, deaf-mute Myanmar fortune-teller has read cosmic signs and predicted the course of national events and become an unlikely character in Southeast Asian politics.
According to our driver, it was fortune tellers that suggested that they change the name to Myanmar, change the driving direction, and that they move (re-locate) the capital… All because of the fortunetellers…
Women and kids have yellow-powder on their face, it's call thanaka – made from wood!



They love US money but only the very new money (no flaws AT ALL), and the letter on the bills needs to be after "H" and up! If you plan to spend US dollars, get ready and make sure you have clean money that meets their criteria, otherwise you'll have problems when you change/spend your money!
Here are some ideas from our first visit to Yangon in 2013… We stayed in Yangon for 4 nights and one additional night at the Golden Rock mountain (which is about 2-3 hours away from Yangon), and we got a chance to visit the temples in Bago on the way to the Golden Rock…
---


(18 Jul): We arrived in Yangon Airport about 7pm (Myanmar time is 30 minutes after Thailand) and there was the driver from tour agency waiting for us. It took almost 40 mins to Park Royal Hotel (traffic jam) but after we checked into the hotel, we went to visit Shwedagon right away – it was nice for the first look of the huge golden pagoda during night time, and under the lights. We also planned to visit again during daylight with tour guide in day4 of this trip.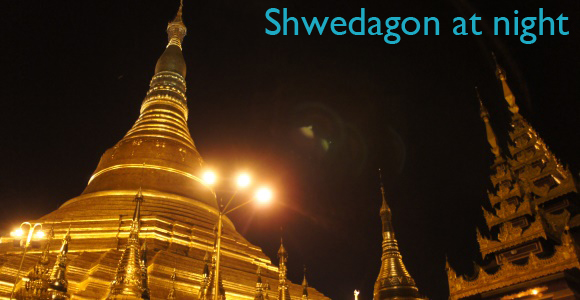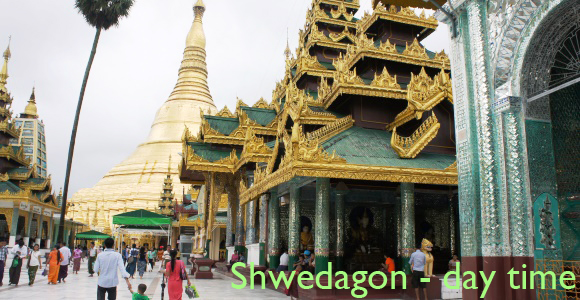 Shwedagon Pagoda is immense and beautiful, and definitely worth a visit when in Yangon! I recommend going in the evening or at night (open late until 9pm), when it isn't quite as hot…but it was raining (for our visit), and walking around barefoot was very slippery! During the day time, it was so Gold, Gold and Gold – as it's about 3,000 kgs of gold!!! If you stand in the right spots, you can see the diamonds and rubies of the crown sparkling!!!
---


(19 Jul): Today we will go to stay overnight at The Golden Rock mountain (Kyaikhtiyo) – this is kind of an adventure, but our driver took good care us. We visited the WW2 cemetery and stopped at a local market. The real journey began when we rode the truck up to the mountain (only this vehicle is allowed to drive up to the mountain), our driver stay at the base camp and wait until we come back from the mountain the following morning.
Tonight we stayed at the Mountain Top hotel up in the clouds – it was raining everywhere!!!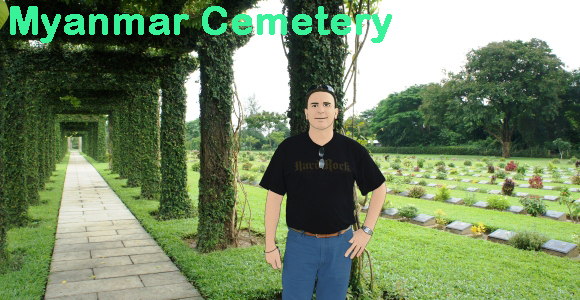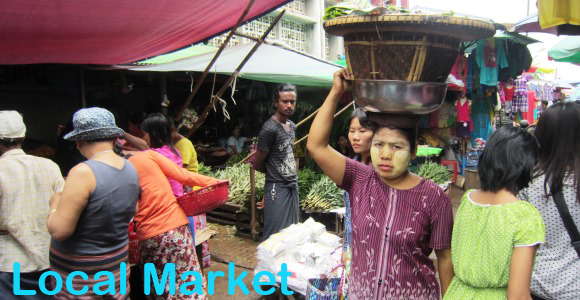 The cemetery is about 30 mins away from Yangon, The cemetery contains the graves of 6,374 soldiers who died in the Second World War, the graves of 52 soldiers who died in Burma during the First World War.
The local market (which they don't have the name for) was very interesting to walk around. Lunch at the base camp to the mountain was cheap and it had a clean bathroom!
---


(20 Jul): From last night, we wished the rain would stop for a morning visit to the Golden Rock… AND IT DID!!! it was much different and really amazing to see the big rock just about to fall down the cliff !!!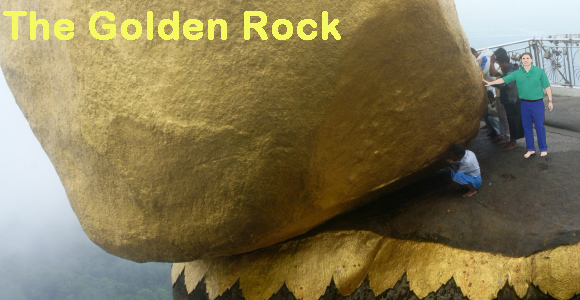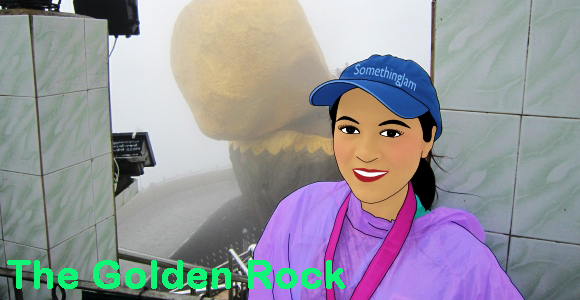 The road was quite narrow and full of switch backs. Many locals and monks were here and we even road with some who were chanting all the way up in the back of the truck. Somehow that made me feel a little safe! It was impressive to see such a big gold painted rock sitting precariously, and leaning just about to fall down. This is a very important site (location) for all Buddhist. The journey back down the mountain is just as interesting as going up – also, the rain made it harder!!! Just so sad,

females are not allowed to go near the rock…
After we checked out and made our trip safety to the base camp where our driver was waiting for us, we headed back to Yangon by passing Bago city where we stopped for the highest pagoda "Shwemawdaw", and the beautiful reclining Buddha "Shwetharlyaung"… We also stopped to see the 4 sitting Buddha images at "Kyaik Pun Pagoda"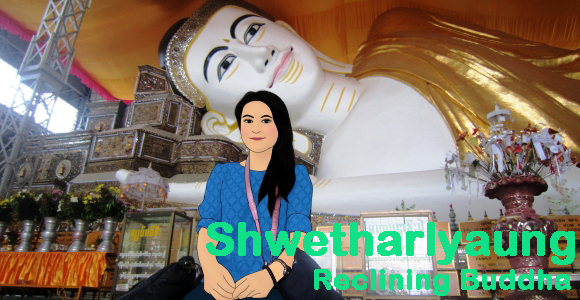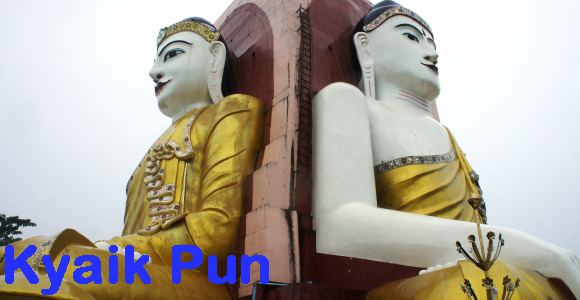 The Shwemawdaw pagoda is very interesting and it was kind of cool to look at the old pagoda that fell and landed without breaking. The reclining Buddha is always in my favorite list but there are also so many shops in the chapel area (Price is pretty high but I bet, it's very good quality – did I mention that I like shopping!)
---


(21 Jul): The first full day and only one day trip in Yangon with our local tour guide, we started with a visit back to Shwedagon in the morning (beat the rain!), then it's the best time for my trip – – – "SHOPPING" at Scott market (this market closes every MONDAY). After shopping we made a quick stop at the "Aung San Suu Kyi" home. I guess there's a little Paparazzi in all of us!
In the afternoon which was really steaming hot! We walked through Kandawgyi Park and downtown Yangon before the last visit at 2 temples, Chaukhtatgyi Reclining Buddha and Botataung Pagoda (it's the only one pagoda that you can see the Buddha's hairs inside!)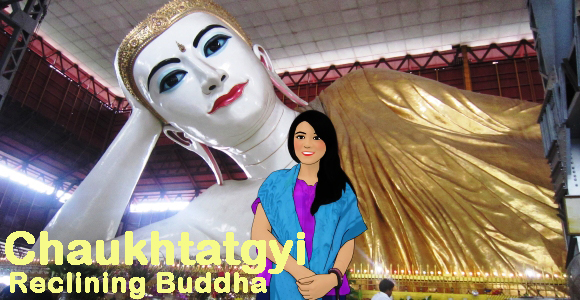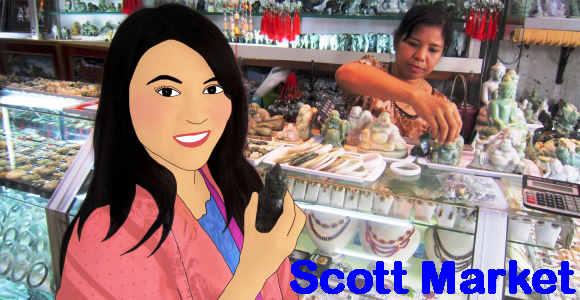 Myanmar is well-known for its precious gems such as rubies, sapphires and jade but it wasn't that cheap! But there are a nice variety of goods at Scott Market (fabric shops both local made & foreign imported, medicine, souvenir shops, Gems & Jewelry shops, foods.,etc). The Reclining Buddha "Chaukhtatgyi" almost looks like the one in Bago where we visited in the day before but this reclining Buddha has longer eyelash, looks like he has sweet eyes. The Botataung Pagoda is very interesting area by the river, we got a chance to walk through the market inside a big barge that moves from village to village along the river. Then the pagoda, we can see the Buddha's hair inside the pagoda. This temple is very popular among Thai's as there is a statue of Bo Bo Gyi Nat, a guardian spirit which will give you your wish right away!
---


In Yangon, we stayed at Park Royal Hotel, it's considered as 5 stars hotel in Yangon (based on our tour guide told us), so we booked the hotel with Agoda (4,000 baht or $130 per night).
The Park Royal  staff was friendly, and the room is just right for us.  The location is about 10 minute walk to downtown and Scott market.
There were two other hotels that I saw and would like to try to stay if I come back to visit Yangon, Chattriam hotel and Trader Hotel by Shangri-La .
::::::MORE DETAILS ON ALL THE DAY TRIPS COMING SOON::::::::