Shopping – Sightseeing – Screaming!!!
Travel Date: 2-6 October 2013
I can't remember my first trip in 2008 because it was for work, but this is my second trip to Singapore and I had a great time!
Singapore is a small island, and city state. It's a little bigger than Phuket Island in Thailand and if we look at both islands from a horizontal view they even look similar!!! (Look for my Phuket island trip later this year)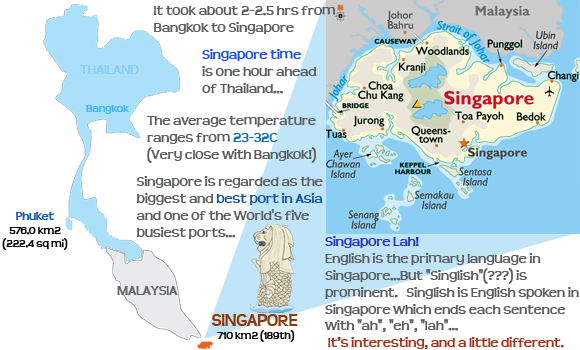 Why Merlion???
This is often the first thing that you will see when you come to, or think about Singapore.
There are 3 popular Merlions in the City at Marina bay, Orchard, and Sentosa. We went to see 2 of them! The Merlion is a mythical creature with the head of a lion and the body of a fish, used as a mascot and national personification of Singapore.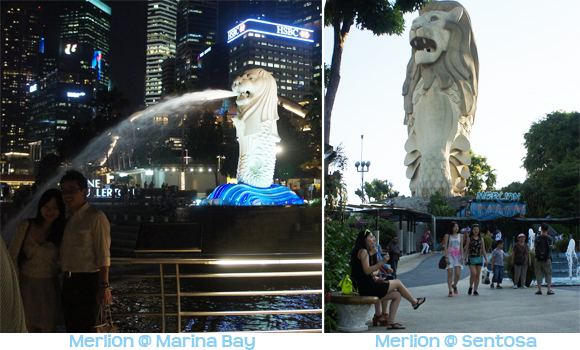 Singapore people???
Singapore is a country comprised primarily of Chinese(74%), Malyas (13%) and Indians (10%)…
Umm that's why I saw so many Indians!!!
Singapore is also known as The Fine City…



There's even a chewing gum ban in Singapore?!?!?!?
That's why I can't find gum in the 7-11 or the grocery store!!! Gum can be bought from a doctor, but must be prescribed.
There's a fine for gum chewing, spitting, etc… (the spitting fine is okay with me!).
Singapore people love durian but it is strictly banned on public transportation and in public areas too!
The fine is not that cheap at all, like littering and smoking in public at 1,000 SD or 26,000 baht or 870 USD!!!!


1USD = 1.2Singapore Dollars = 25 Thai Baht
*Exchange rate for this trip


Just Passport is good!
Singapore is an open city for citizens as well as Hong Kong.


We stayed at the Intercontinental – I LOVE THIS HOTEL!!! It's connected to a shopping mall (Bugis Junction), public transportation, Bugis street, Bugis MRT (subway), and near some interesting Chinese and Indian Temples…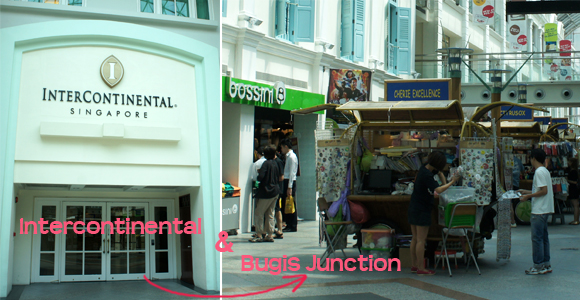 The room rate was 275SD per night (230USD or 6,875 Thai Baht), The room was very nice and good size. Selection of room amenities was very good, bed was excellent.
Check-in and Check-out were smooth and efficient. I can't wait to stay there again!!!


For this trip, I took Air Asia from Don Muang Airport (Old Bangkok Airport) to Singapore at 3,700 Thai Baht. But I flew back with Thai Airways at 5,963.20 Thai baht (Suvarnabhumi Airport) due to the time table matching what I needed.
MRT – Subway
The MRT in Singapore is perfect…. Easy to use, clean and as much fun as the system in Hong Kong. You can get an Ezlink Card (and just top it up) at 12SD (10USD or 300Thai Baht) to access all stations, and it's about enough to keep you for a few day trips. I did top up my card twice for my 5 day trip, but I left about 8SD on the card and left the card for the hotel maid… I hope she used it!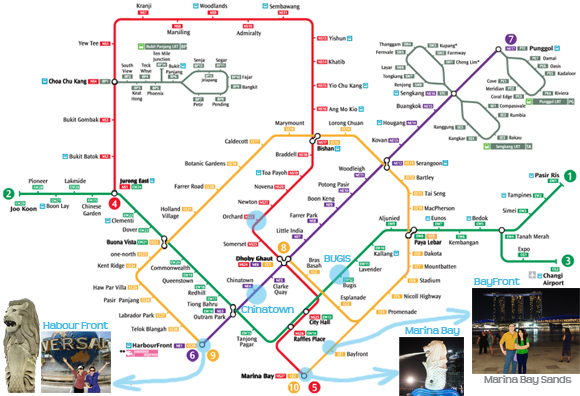 Some MRT stations that we went during the trip – you can find the officely map and website at http://www.smrt.com.sg/Trains/NetworkMap.aspx
HERE'S HOW WE BROKE UP OUR 5days/4nights trip in Singapore…
---
Sightseeing:
It was great to have one dinner at Marina Bay. You can find good restaurants along the bay, we had dinner at Palm Street restaurant and stayed up until 9pm for the light show from Marina Bay Sands (hotel) – It's free! Here, you can find the 3 metre high merlion!
Marina Bay Sands is an Integrated Resort fronting Marina Bay, the world's most expensive standalone casino. But I just went to see the Sky Park on the 56th floor, felt like I was on a boat, it's a great birds eye view!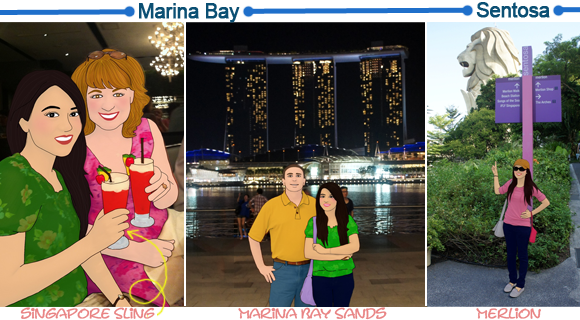 Sentosa… We went to see the most famous 37 meter tall Merlion at Sentosa. Ridding the cable car – you can see a great view of the island. There are so many things to do at Sentosa – it's a great touristy spot! (read more – soon)
---
Temples & Shopping
Don't be confused when I blend Temples and Shopping! Because where there's temples, there's shopping!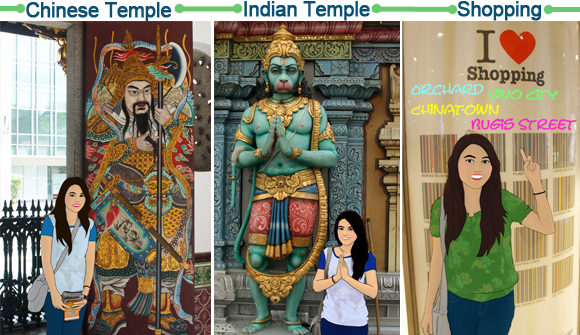 There are Chinese temples and Indian temples around the city. But I found 2 sets of them at Bugis Street and Chinatown. Both places have nice shopping streets! Especially Chinatown this is a famous Night Market. And you can find a bigger Hindu Indian temple there also.
Shopping in Singapore is sooo nice, all the shops are duty fee (AND I LOVE IT)!
For this trip, I like to shop at Bugis Junction (where I stayed), and Vivo City and Orchard! (read more – soon)
---
Universal Studios Singapore
Nice to be young again (and again)…
FYI I had this trip after I visited Disney Hong Kong, and I think the Universal Studio Singapore is much more fun for big kids or adult (like me!)…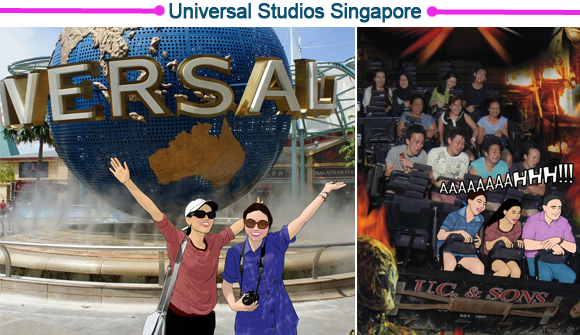 There are a lot of attractions, our 3 best picks were the 3D transformer's ride (absolute a must), Mummy's ride and the Water World (super great show!).
The ticket was 74SD per person (61USD or 1,850 Thai Baht) but we paid extra 50SD each for express tickets so we can jump to the queues and on the rides fasters!!!
Universal Studio Singapore is the second Universal Studio theme park to open in Asia (Japan being the first one)…so it's the closest one to Thailand – why not visit?!?!?! (read more)
---
The summary of prior expenses (per person)
Air ticket (Bangkok – Singapore)
Thai airways 233.20SD (5,963.20 THB)
Air Asia 3,700THB
=

322USD

or

9,663.2 Thai Baht

Taxi (Changi Airport – Intercontinenal)
20SD + 18 SD = 38 SD
=

32USD

or

950 Thai Baht

Intercontinental Hotel (2-6 October)
Rate 275 SD/night/2 person
= 275 x 4 = 1,100SD/2 person
= 458USD or

13,750 Thai Baht

(per person)
Ezlink (Subway Card for 5 days)
22SD
= 18USD or

550 Thai Baht

Sky Park at Marina Bay Sands = 20SD
=

16USD

or 500 Thai Baht
Sentosa:
Cable car (round trip) = 26SD
Merlion = 8SD
Sky tower = 15SD
=

40USD

or

1,225 Thai Baht

Universal Studios Singapore:
Ticket 74SD
Express ticket 50SD
=

103USD

or

3,100 Thai Baht

TOTAL = 1,184SD
= 987USD or

24,666 Thai Baht

*No admission fee for temples