After we visited "Khlong Lad Mayom" one of the Floating markets listed in Bangkok Attractions. We can't wait to visit the other one "Kwan Riam Market".
So we headed to visit Kwan Riam market the week after. Kwan Riam market is only open on weekends but very early and open all day like 6am – 6pm.
But to be honest, it's not a really floating market. It's more like a market along the canal, it's good for you to enjoy the nice canal atmosphere and try the Thai food!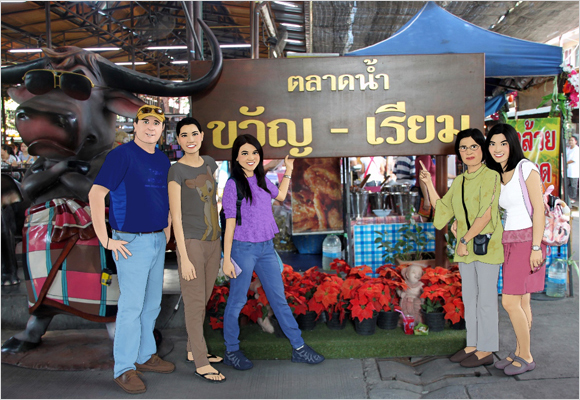 First remember there are two temples at the entry into this market from either side of the canal named "Khlong San Sab" which is the main canal from Minburi thru downtown Bangkok. The two temples where the market is located are"Wat Bampeng (North)" and "Wat Bampeng (South)".
To set up your GPS, make sure which side of the market you are going. But for me, it looks like Wat Bampeng (South) is easier to access if you head there from Bangkok Downtown. (Wat Bampeng-North is better for people coming from Minburi).
We set up our GPS and made the loud pipe to Wat Bampeng-South!!!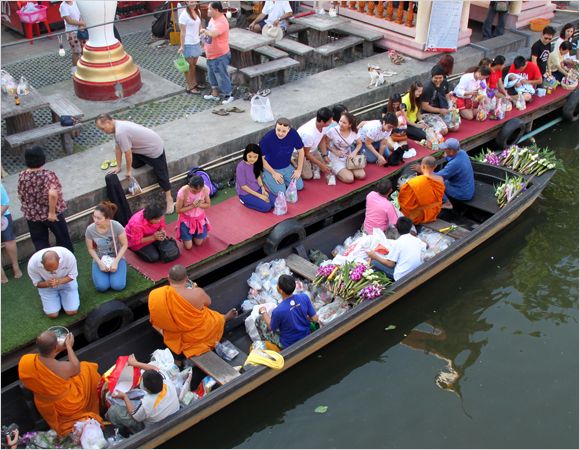 We actually went there very early because we wanted to do alms, giving foods the monks. This is the highlight for this market but remember the market is in the temples. So you are going to offer food to the real monks, please be respectful…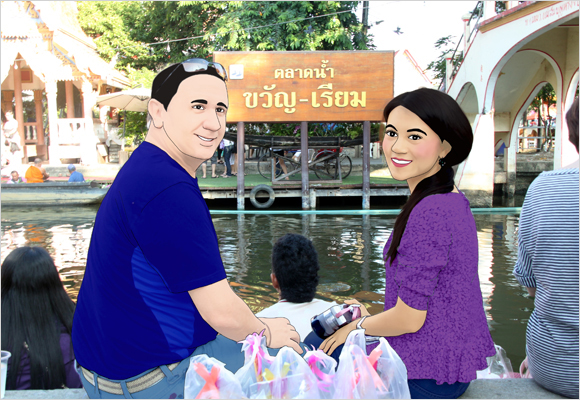 If you get there between 7.30-8.00am you will be able to do the alms. There are monks in 2 boats, that means one for different temple. Don't worry if you didn't provide food for monks from home, there are several vendors selling sets of food (milk, instant noodle, snack, coffee, etc). They will tell you how many monks for today, and food set is about 20-30 baht.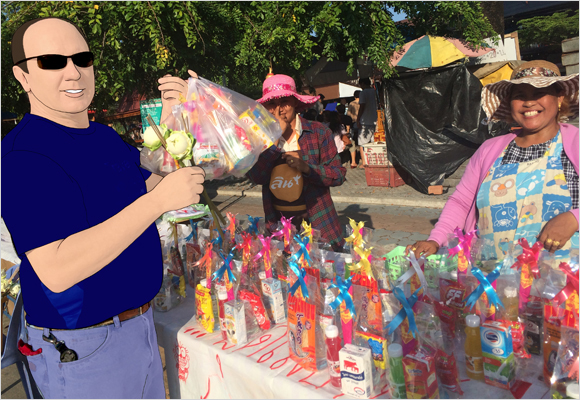 Make sure that you make a wish when you do the alms…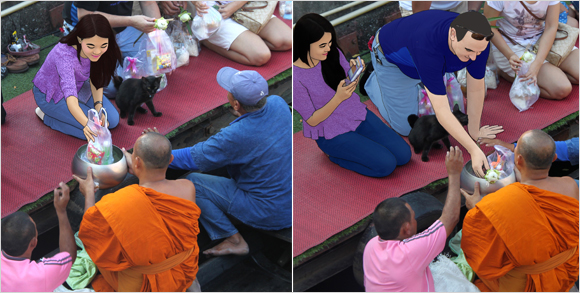 During the day, you can try the boat ride. As this attraction is more for locals than tourist because there are local school kids as tour guides who are none-English speaking onboard. But if you don't care about languages, you can just try to ride the boat which you will see both sides of the canal.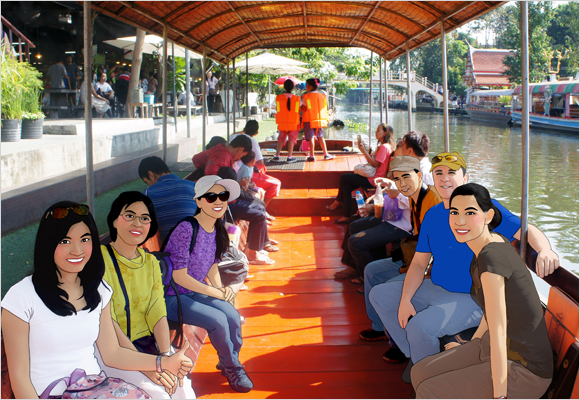 This ride will take about 20-30 mins at 20 baht per person only.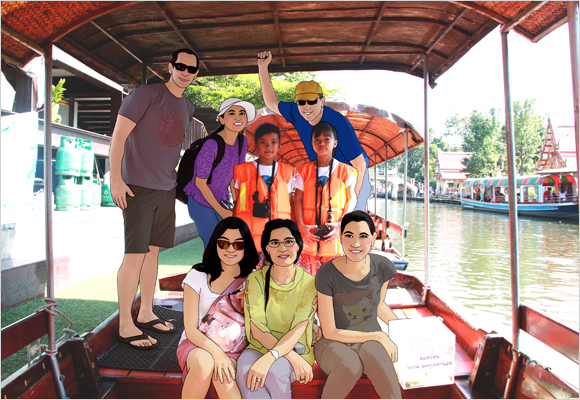 We did try the boat ride and our little tour guides are so adorable!
Did you know???
Why they named this market "Kwan-Riam"? It's based on the Thai famous novel.  Kwan named of the poor guy who loved Riam so much, but somehow they couldn't marry each other and very sadness they both died at this canal "San Sab" where Kwan and Riam made the promise that they would be together forever at this spirit house.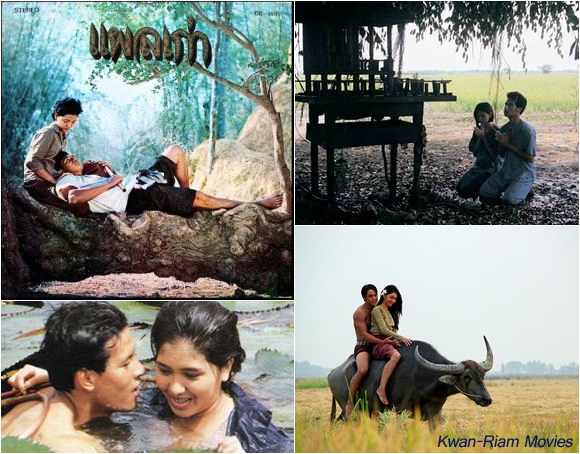 The novel was filmed over and over, so every Thai knows exactly who Kwan – Riam is…
No doubt that they would like to bring up this novel to build this market…
For me, if you didn't do the alms giving food to monks, no boat ride…you will be here for eating and walking around. There are some weird animals around, the big turtle and funny rat and a donkey!
I just hope they won't turn to be a zoo in the future!
Also something is really good about this market, it's very friendly to the elderly and wheelchairs.
Kwan-Riam Floating Market may not be for first-time visitors to Bangkok but maybe good if you want to get away the city area of Bangkok.
You may also try to visit the Khlong Lad Mayom Floating market which still in driving distance in Bangkok…(LINK)