This Maldives review is based on visiting Lily Beach on 5-9 December 2014 – high season! We flew from Bangkok so this review will hopefully be helpful to anyone from there and anyone who is looking for resort options in the Maldives.

Honestly, I've never heard about this resort before. When Thais are talking about the Maldives they talk about Club med, Centara, Dusit Thani or some similar international hotel names. When I found the Maldives tour agency, I was asking about those hotels too. But they offered me to check out the Lily Beach Resort and spa.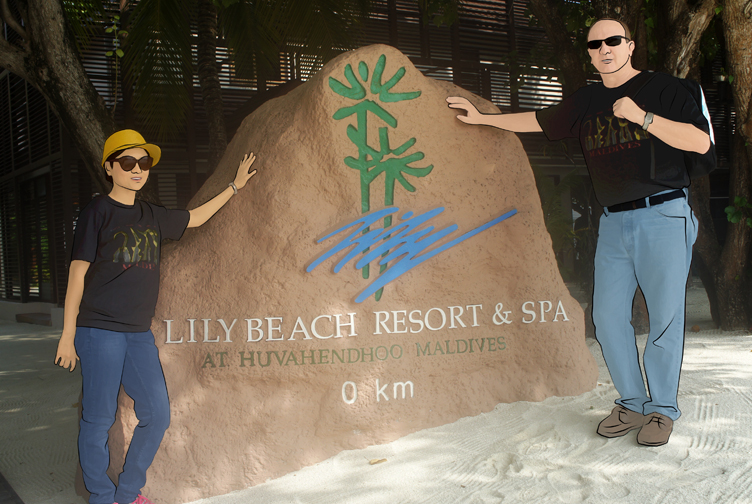 I thought that it would be hard work searching on the internet for reviews and information on this resort… but guess what? it wasn't that hard!!! There are so many reviews about this resort and it looks like it's one of the top 5 for all of the well-known travel websites!!!
Lily Beach resort & spa is a 5-star hotel which I really like! But it was hard for Tim because more stars is more money!
The best thing about this resort is the All-inclusive package which makes it easy and less stressful when you get there.. That means, you don't really have to pay more after you get to the island (except some shopping, exclusive dinner (Like Lobster!), or scuba diving…)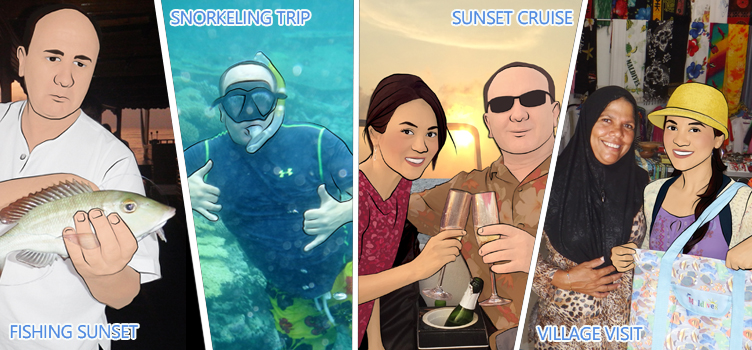 The all-inclusive package included 2 free activities that they provide. You can pick 2 activities for free (1. snorkeling 2. Local Island tour 3. Fishing trip and 4. Sunset cruise). We requested to try them all so that we could write up a good review. For me and Tim, we enjoyed #1, #2, #3 and #4 as ordered! But people like different things.
Also, it looks like they go all out for honeymoon couples! If you have a marriage certificate (even the fake one… LOL), they will offer a free spa which is really expensive, $200/hr!!!
Holy Moly, I paid only $7per hour in Thailand!!!


Lily Beach Resort and Spa is about 600x100m size island. They have so many restaurants and different theme bars. Also tennis/basketball court, and if you travel with children they have a kid center!
Lily beach resort and spa has 4 villa types. The most expensive one is "Sunset Water Suite", the 4 villas at the end on the water. Listed rate is between $2,354-$4,029 per villa per night. It's huge!!!
Deluxe Water Villa which they have about 36 units with a listed rate between $1,646-$2,591 per villa. I think this room type is the most popular for Lily Beach Resort and Spa. And we stayed in one of these villas.

But don't worry we didn't pay like that much! We paid $1,020 per night. It the best deal in December that we can get from Maldives Travel Experts (tour agency).
There are 2 more villa types on the island, 16 Lagoon Villas and another 69 Beach Villas. The listed rate is about $945-$1,968 per villa.
All the villa types will get the same options like the all-inclusive package but just different views from your Villa 😉
The free WiFi is really good around the island, in the room, at the pools and in the bars. It's great for emails and constantly posting/checking Facebook for our Facebook fans 😉
Ok that would be enough to know about Lily Beach Resort and Spa, now let's start our real trip to the Maldives!!!
I flew from Bangkok to Male (the capital citly for Maldives), it takes 4.1hrs and no visa is required, all you need is a passport.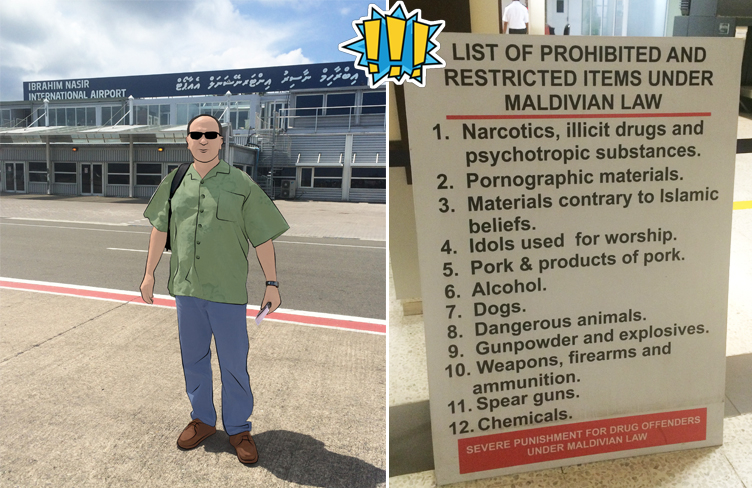 After we landed at Male Airport, I was expecting a welcome sign when I walked out. But unfortunately, nobody's there! So we found the counter of Lily Beach Resort and Spa among the other hotel counters around the exit gate. We were waiting in front the Lily beach resort and spa counter for about 5 minutes, I was a little disappointed as I told you that I was expecting a greeting from a 5 star-hotel at the first step out of the airport. It's more disappointing because I saw the signs from the other resorts. My friend and his family who stayed with Centara were greeted and boarding the bus for the seaplane and we didn't know where or who we were waiting for….?!?!??!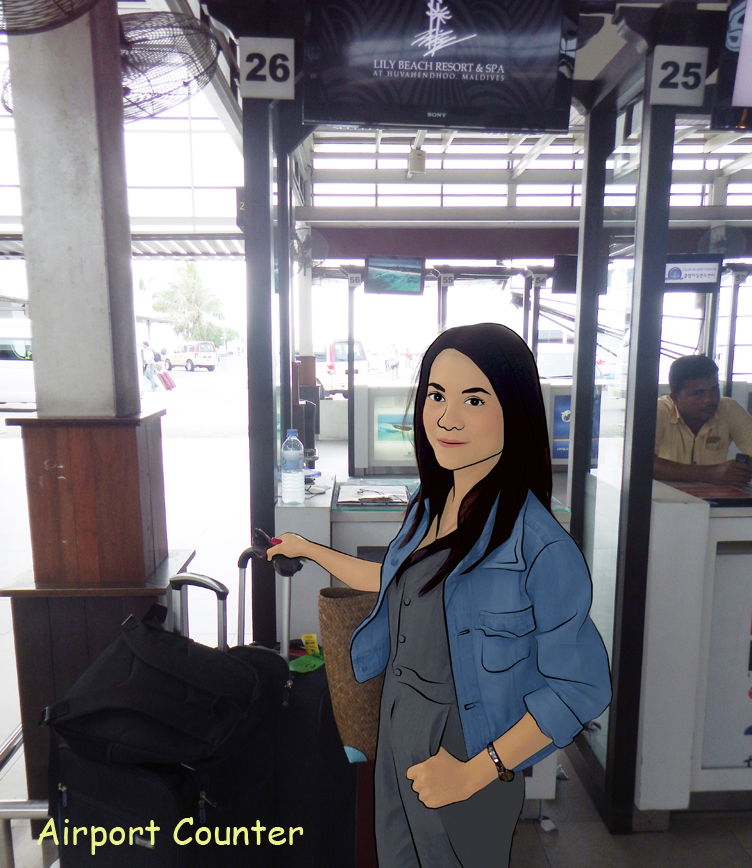 But just then a tall guy ran to us and greeted us! We were so happy that he showed up, we could feel that he was very busy dropping other tourist onto the bus. But why don't they have someone to help him if they do know the flight schedule from Bangkok is just one flight a day!
Never mind, he was slow because he was working hard. He was nice and helped us check the baggage to the bus for sea plane lounge. Be aware that your baggage allowance for the sea plane may be a lot lower than the allowance on your charter flight. The seaplane only allows 20kg each.  Make sure you have some US dollars with you in case you are over 20kg!
From the Male airport, it's about a 5 minute ride on the bus to the seaplane port. They will take care of your baggage, and you will be led to the Lily Beach resort & spa lounge.

It's a nice place to relax with a soda and some snacks. I think we were in that lounge about 5 minutes before we had to walk to the seaplane.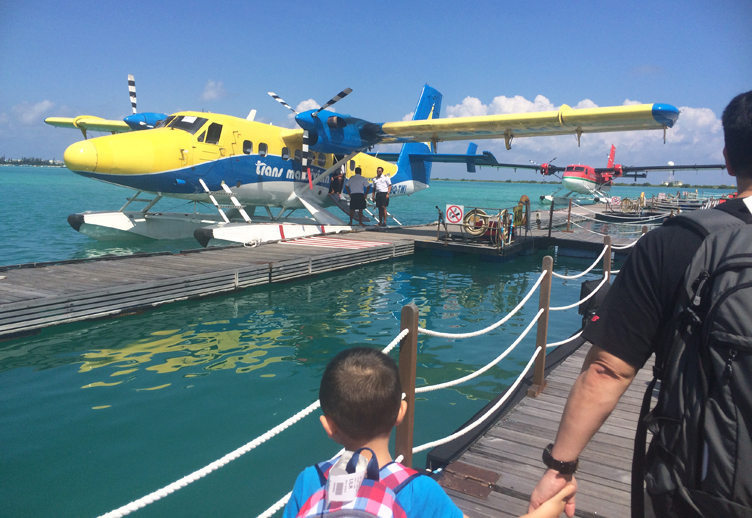 It was a short sea plane flight of 25 minutes from Male Airport to Lily Beach.  It's Tim's and my first time on the seaplane, it's a small plane!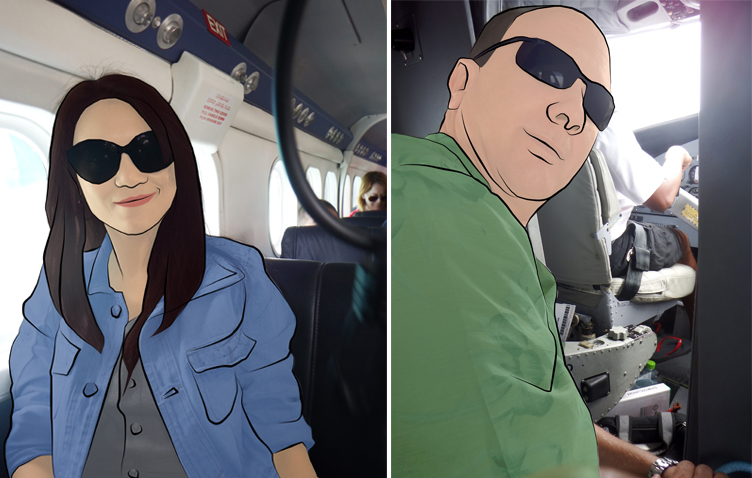 From our trip, we were seated on the right side but it was the left side (single seat) that could see the Lily Beach Resort and Spa while landing.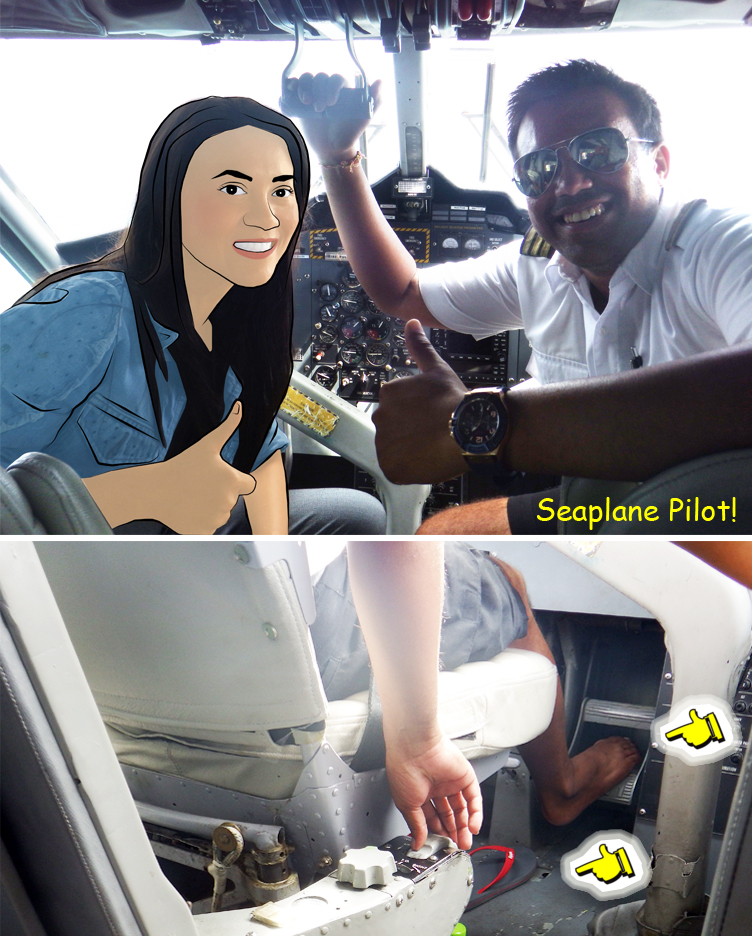 Oh Hey! Check out the captains, they are wearing nice slippers!!!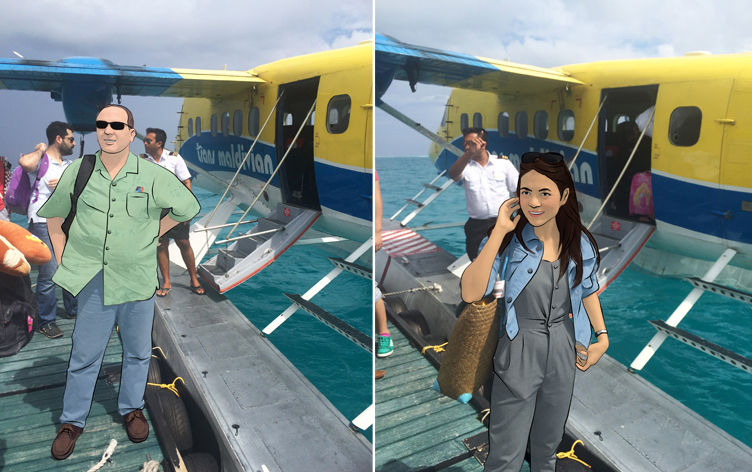 When we landed (on the water) the resort boat was standing by.  Remember, there are a few resorts using the same seaplane.  So look for the boat with the Lily Beach Resort & Spa sign on it!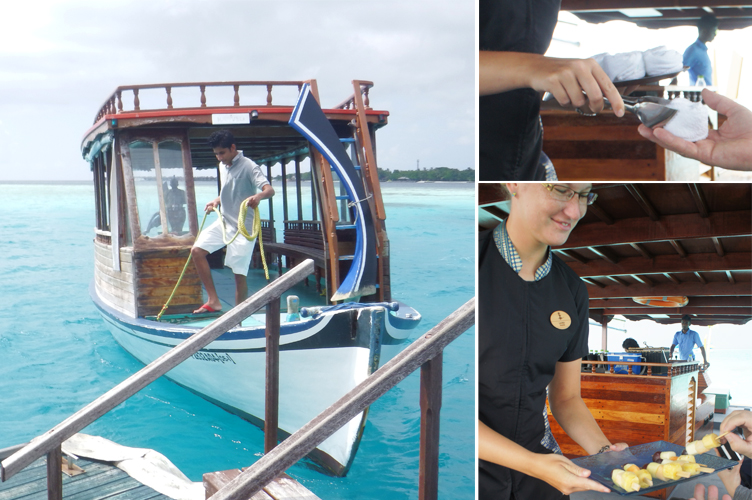 Welcome to paradise island! They started welcoming us on the boat with refreshments, cold towels, and chilled fruits/water!
And now the real vacation started!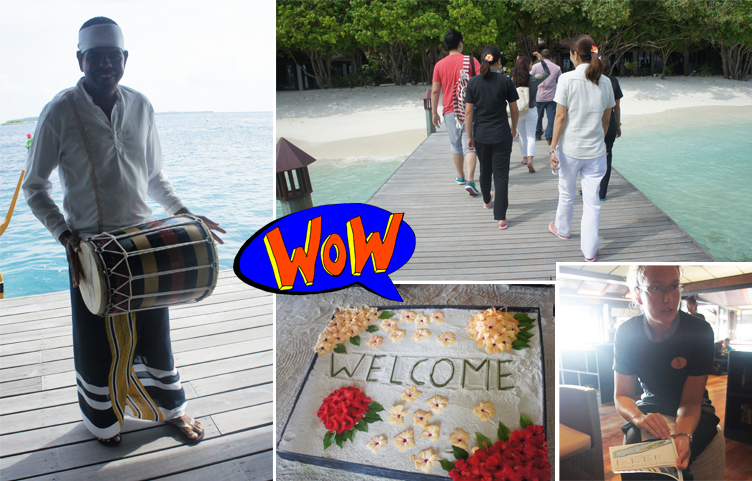 They took us to the room by the golf cart, and our room (number #327) is about in the middle on the left side of the map. I think this side has more space for snorkeling from the villa. The other side (right), the villas are too close to the coral and that would be hard to swim.
Summary of our expenses *per person*
Bangkok Airways round trip flight
Bangkok – Maldives
Dep: 9.25am Arr: 11.45am
Maldvies – Bangkok
Dep: 12.40pm arr: 7.00pm

THB 21,615.00

$655

Lily Beach Resort and Spa "Water Villa"
$1,020 per villa per night x 4 nights = $4,080

THB 67,350

$2,040

Sea Plane (TMA) roundtrip ticket

THB12,210

$370

The summary cost (per person)

THB 101,175

$3,065
Travelled: 5-9 Dec 2014
The all-inclusive plan is included food, so don't worry that you wouldn't get enough food on this island!
Let's check out our "Water Villa"!!!
Read more…Maldives at Lily Beach Resort & Spa (2/3)