This is our 1/2 day trip in New Orleans and maybe a good route if you only have a short visit!
I found that reading through the tour brochure or magazines confused me on things to do in New Orleans, mostly because they have too many advertisements!
But we are sharing what we (local) like to do when we play tourists and what we like to show our friends during their short visits in New Orleans.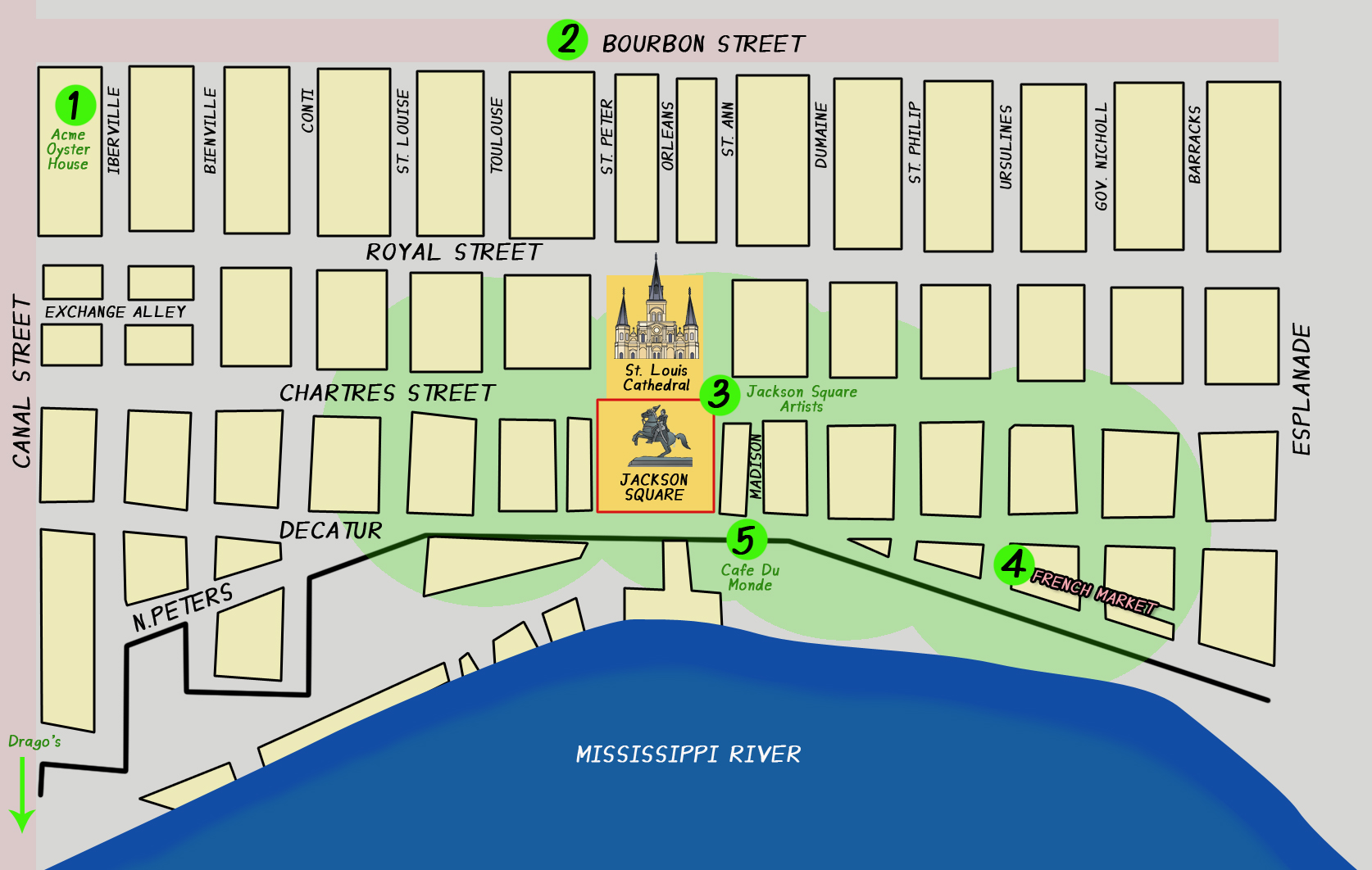 A late lunch is always good because most of the restaurants will be super busy during lunch/dinner, so we tried to hold our hungry a little longer for a short line (and it's always better to eat when you are supper hungry!)
First time in New Orleans??? You know that you must try –> Oysters, Po-boy & gumbo!
For the oyster lover, there are at least 3 options for you to try, charbroiled -raw- fried! They are all our favorite but I would recommend "charbroiled", grilled oyster with cheese!
There are 2 restaurants that we like to stop to have charbroiled oysters in New Orleans, Drago's and Acme. Today Acme, which is in French Quarter area is easier for our short tour.
Recommend menu: 1. Charbroiled Oysters, 2. Po-Boy, your choice of "fried shrimp, fried oysters or fried fish", also the softshell crab (season), 3. A cup of Seafood Gumbo, and 4. Hurricane (cocktail)!
Caution: Don't eat too much food because you are going to eat beignet later!!
After a great meal we need to digest, so we will walk and shop around Bourbon Street, Jackson Square, and all the way to the French Market.
Bourbon Street is a street in the heart of New Orleans' oldest neighborhood and home to the annual Mardi Gras celebration!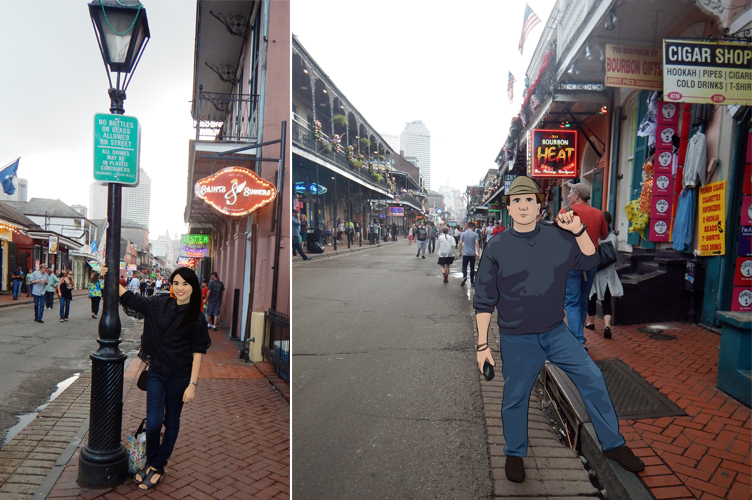 This street is quiet during the day, Bourbon Street comes alive at night (adult entertainment) with jazz bands and bars.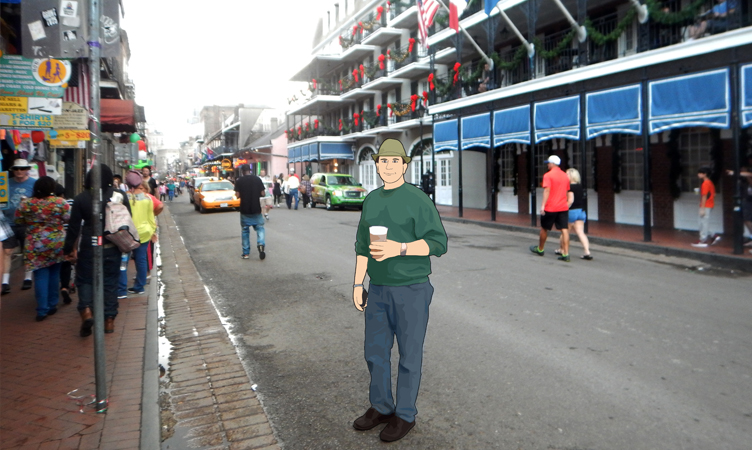 ***Bourbon Street during the day***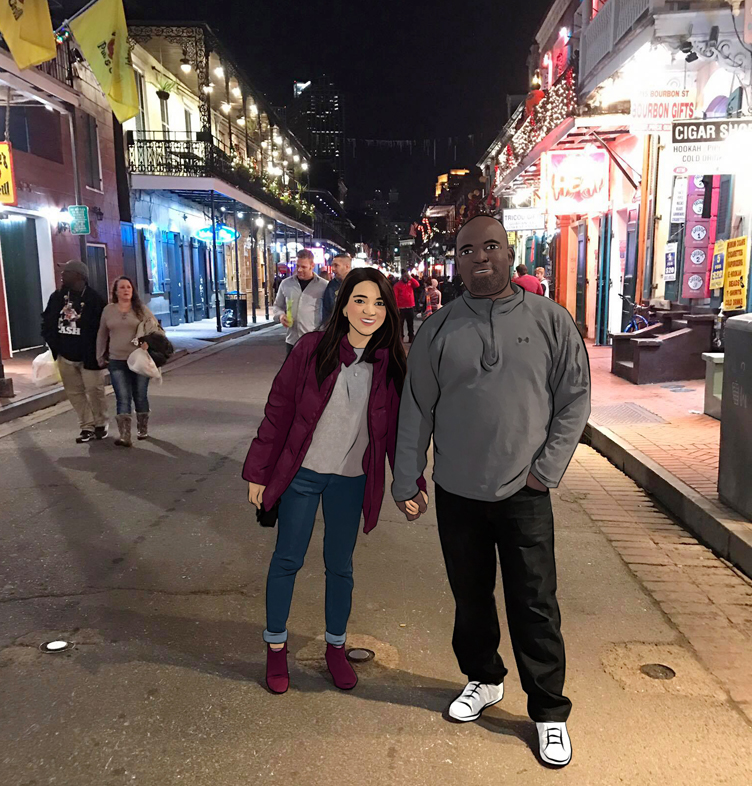 ***Bourbon Street at Night,  Xavier visited us in Dec 2016***
Popular drinks for tourist are the hand grenade (cocktails) and "huge-ass beers" – a large plastic cup of draft beer. Some of them come with a really cute plastic cup that you can take it home!
Jackson Square
They say "Jackson Square without artists would be like red beans without rice"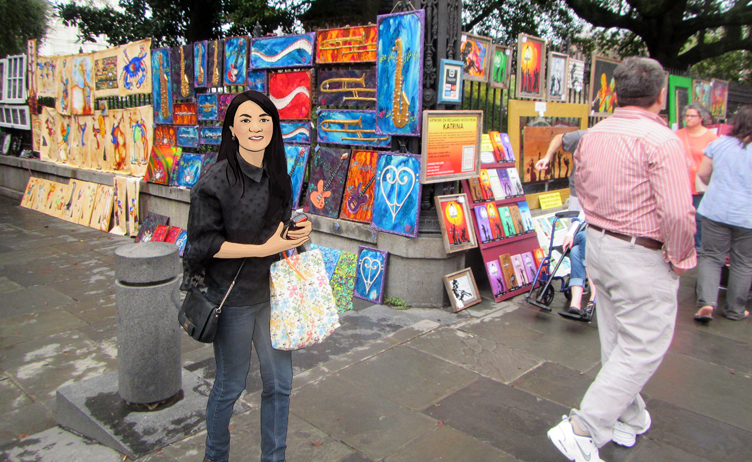 Every day, local artists show up and line the sidewalks and fences with their original artwork.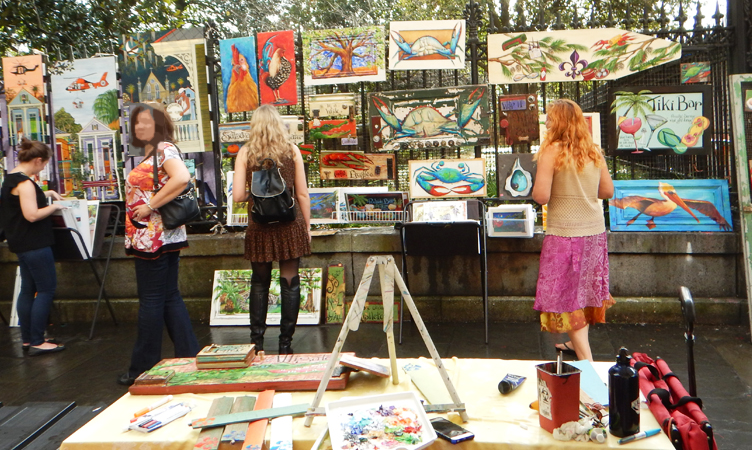 Between Jackson Square and St Louis Cathedral, we always see many street Jazz brands, they can bring the soul of jazz to you.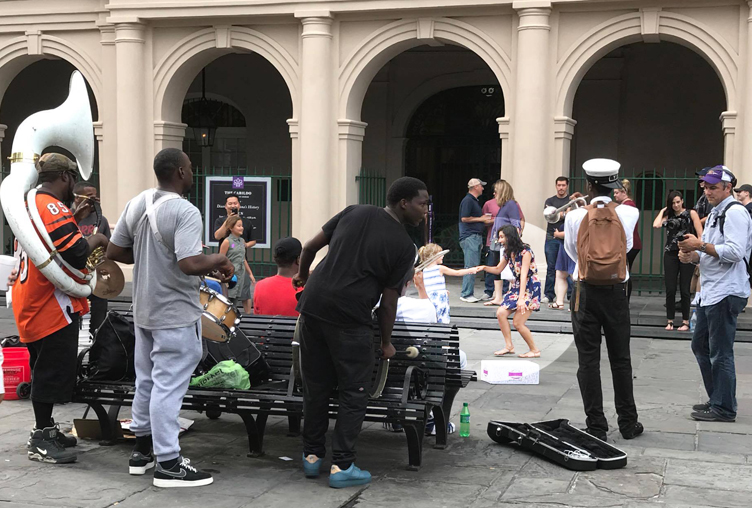 It's also a spot for palm reading, tarot cards, and fortune telling!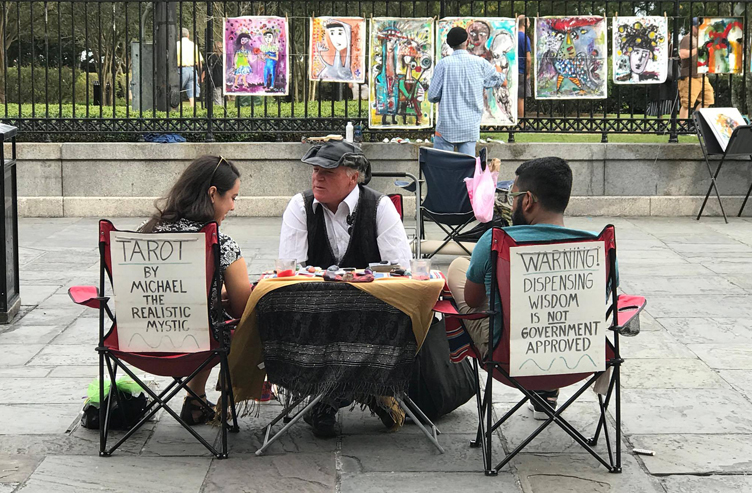 Caution: "Dispensing Wisdom is not government approved"… ha!
In front of the Square, you can find carriages offering rides around the Quarter (Read Our horse & buggy ride in New Orleans). Across the street from the Square, you'll find the world-famous Café Du Monde.
If your hungry you can eat a beignet right now, just walk in and have a seat in the Cafe. But remember the French Market closes about 6pm, so most vendors are getting ready to leave after 5 or 5.30, and Cafe Du Monde never closes, it's open 24/7!
We like to walk to the French Market first if we're here in the late afternoon.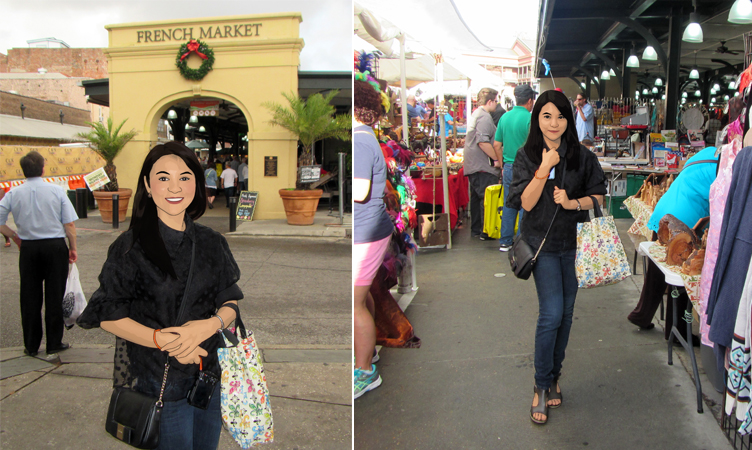 This is a touristy area with an outdoor flea market. It's a long walk to get here, but nice to say you did it!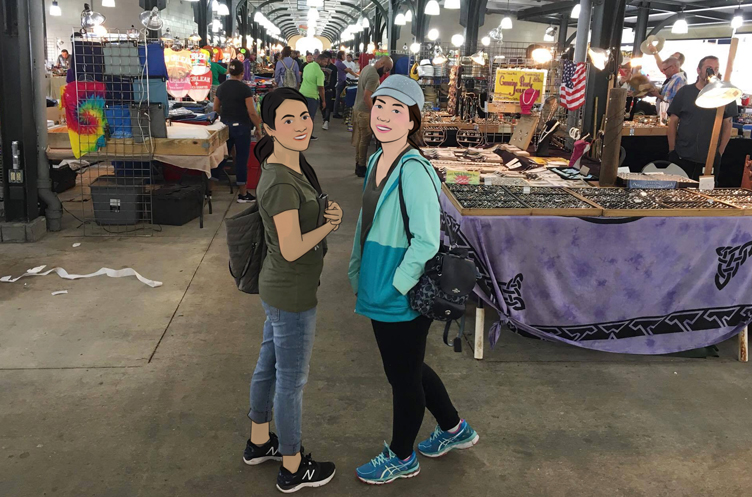 ***French Market, Ying visited us in Oct 2017***
There are many traditional items such as clothing and antiques combine with art, jewelry, candles, mask and crafts.
For us, it's the best place to get raw-oysters!
The French market opens every day of the year from approximately 9 a.m. to 6 p.m.
Our last stop is at Cafe De Monde, as I said this is open 24hrs every day! On the weekend, we like to come here in the morning for Beignet and coffee. We could feel it's busier in the morning till about noon but it's not that busy in the evening!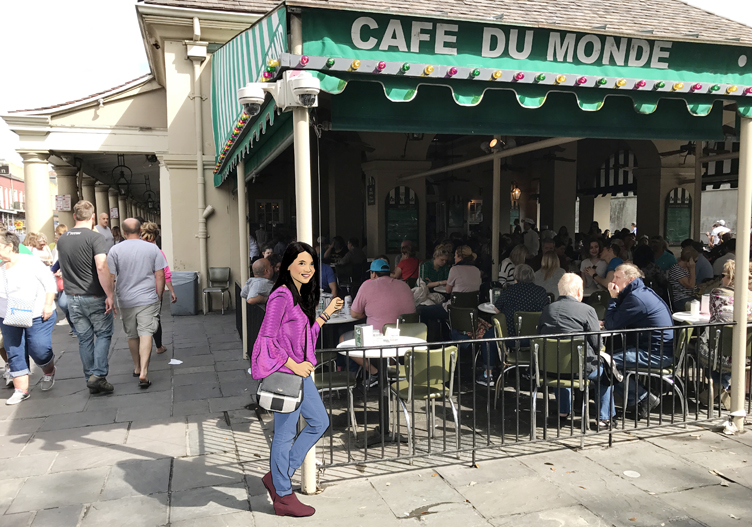 This shop serves only Beignet and drink (coffee, milk, and orange juice), no meat!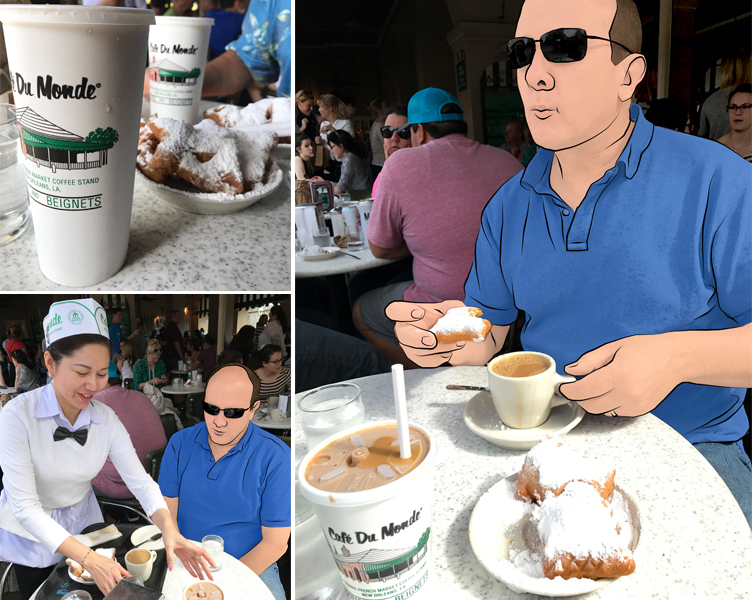 Beignet is sometimes called a "French donut", a square piece of deep-fried dough covered with (a lot of) powdered sugar!
I like to have them with frozen coffee while Tim likes it with hot chicory coffee in the morning!
I'm sure that if you follow our trip, you will have plenty to see for a short visit or first step in New Orleans!
Btw, when I do travel, the Hop-on-Hop-off is a great idea for the city tour, and they have one in New Orleans too. You can hop-on and hop off in the French Quarter to follow my trip as well.