During our family Christmas visit to Seattle, we had a chance to see the Public Market Center (Pike's Market) in Seattle.
ภาษาไทย
This was on my TO DO list in Seattle because I've been reading all the reviews about the Pike's Market. So I'm pretty sure that Tim and I will like it and Yes we did!
Brenda (My Mother-in-Law) recommended that we drive our car to the ferry and take that to Seattle, it's about the same time if we drive our car to Seattle but it's a better view and more relaxing on the ferry.
From Our house we have to drive to the Bremerton ferry terminal to Seattle Downtown, you can look up the schedules online at http://www.wsdot.wa.gov/ferries/ and get a printed schedule at any terminal.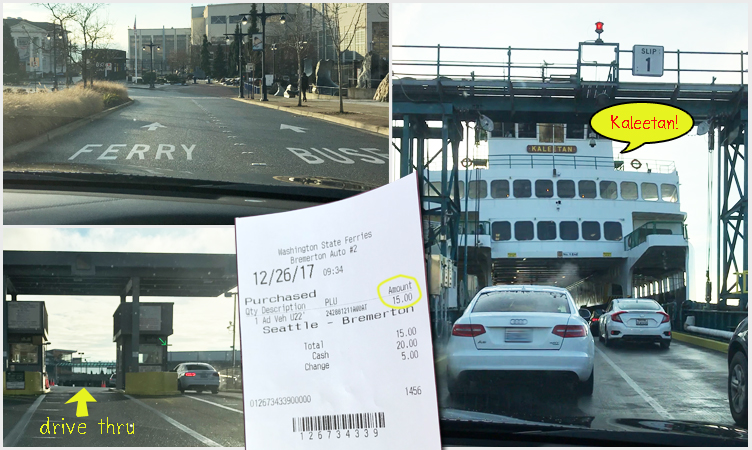 We drove up the road 28 Minutes to Bremerton (the US Navy Center). The ferry system works easily and is a reasonable cost, it's a drive-thru ticket and all we paid is $15 per car.
We had good luck, we got there about 10 mins before the departure time and there were some spots available for us, we just drove our car on the ferry boat.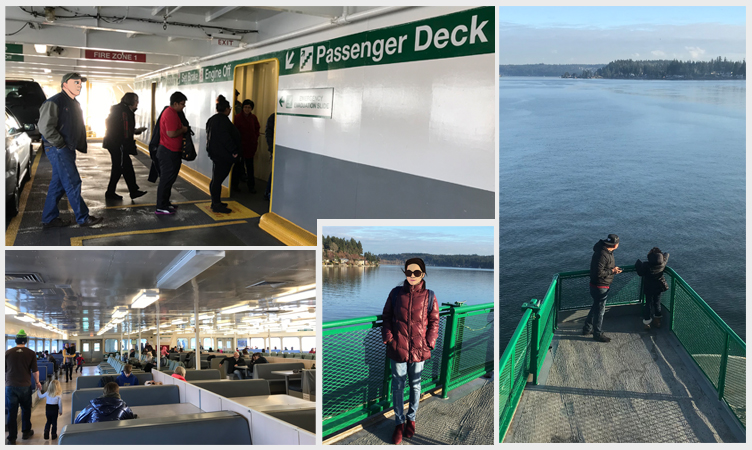 There is a restroom upstairs, and food available, and an elevator for those that are disabled or physically challenged.
It's beautiful scenery like Brenda said, we went upstairs and went out to take some pictures. But it was so cold, so we could only stay out for a short time.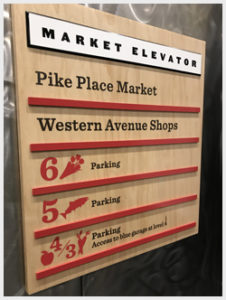 It took about 1 hour to get to the Seattle terminal. They will let you know when you have to get back to your car and get ready to drive out of the ferry.
It was easy to drive out and get to the main street, our GPS lead us to the Public Market Parking Garage, it's about 15 mins away.
This was a good place to park because it's connecting to the Pike's Market.
The Pike's market (Dark green)has lots to see. There are many different types of vendors, lots of the fresh caught fish and seafood, floral, local arts, food and quirky bars.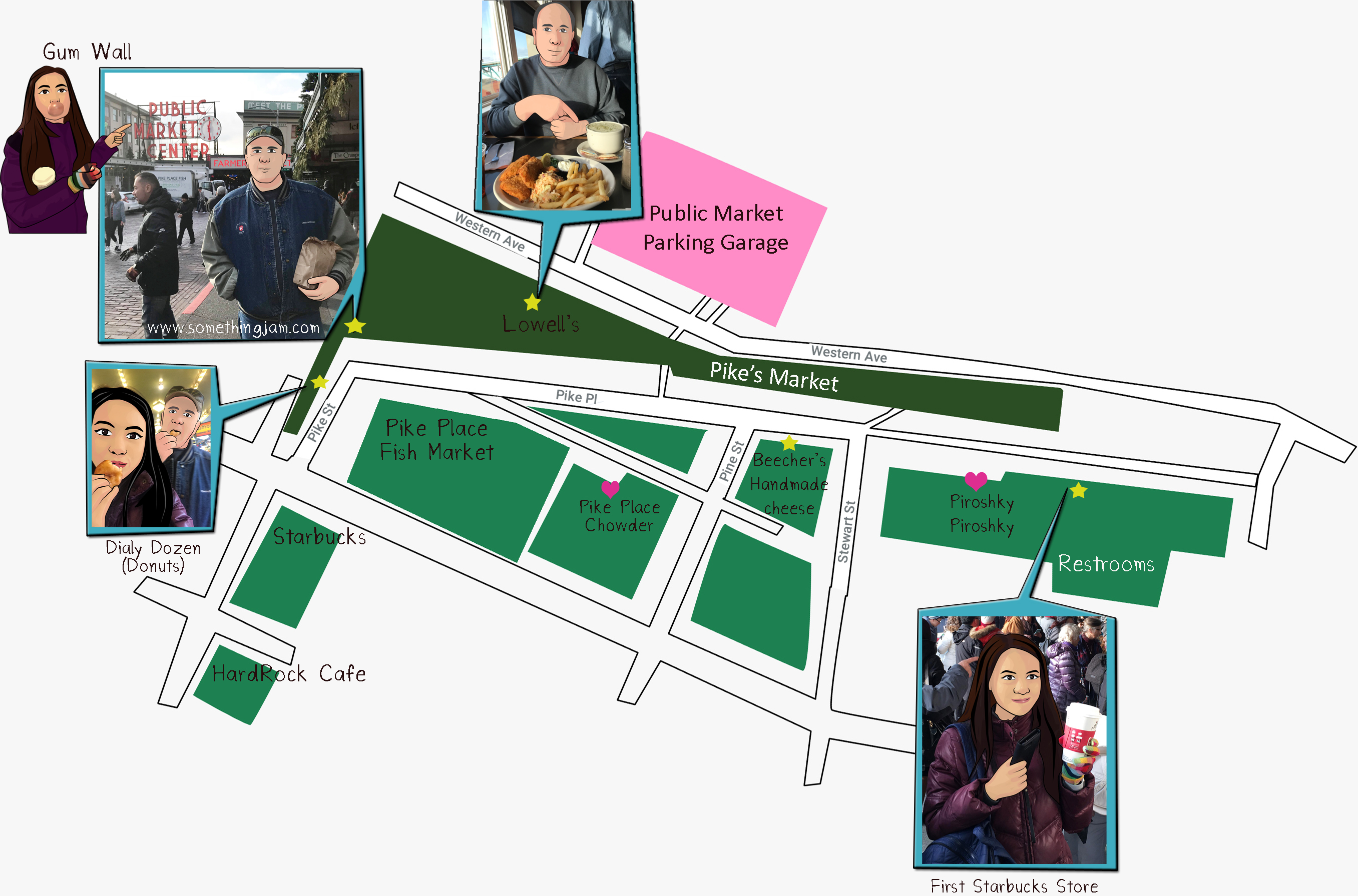 We got here about 11am and we didn't have breakfast! We jumped into Lowell's restaurant, just randomly because we were hungry.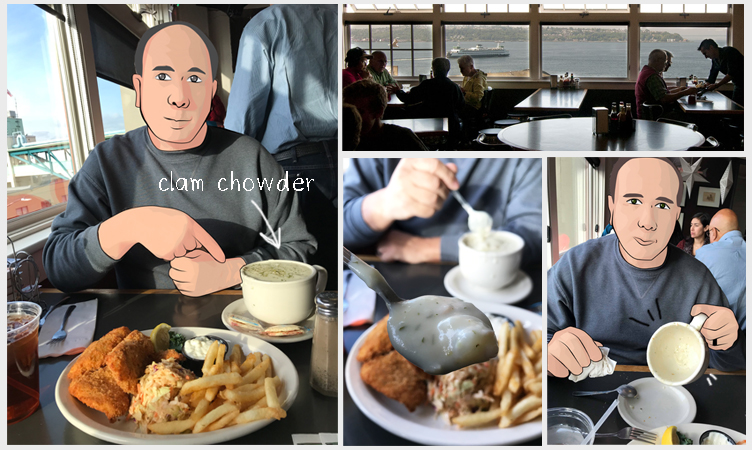 We had the best Clam Chowder over here! This is the BEST clam chowder we ever had for this trip (from 3 different restaurants).
But I found out after the trip that the winner and the best chowder is at Pike Place Chowder in the market, we felt bad we didn't try it there.
After we had some brunch, we walked and looked around the market, I got to try smoked and spicy smoked salmon – YUM!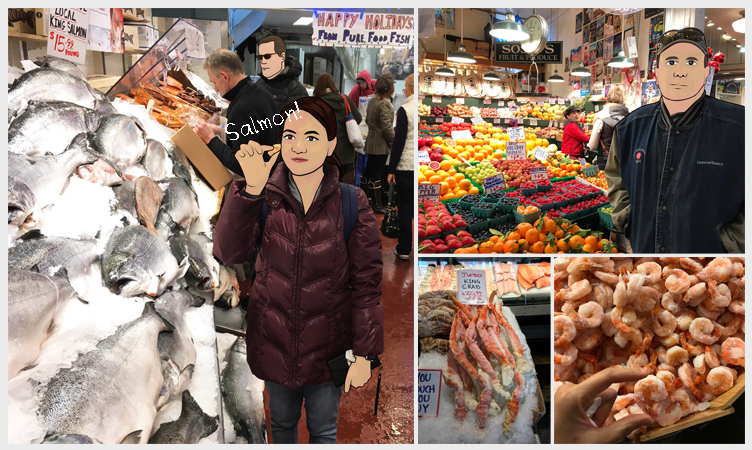 All the seafood is huge or jumbo size! Good thing I had enough king crab legs at home.
Don't miss the flying fish vendor at Pike Place Fish Co., they will be really happy if you buy some seafood.
While I was taking a video and enjoying watching them sell seafood, I got lost from Tim!!!
I tried to call him and found out that he was in the line for fresh donuts "Daily Dozen" (go figure)!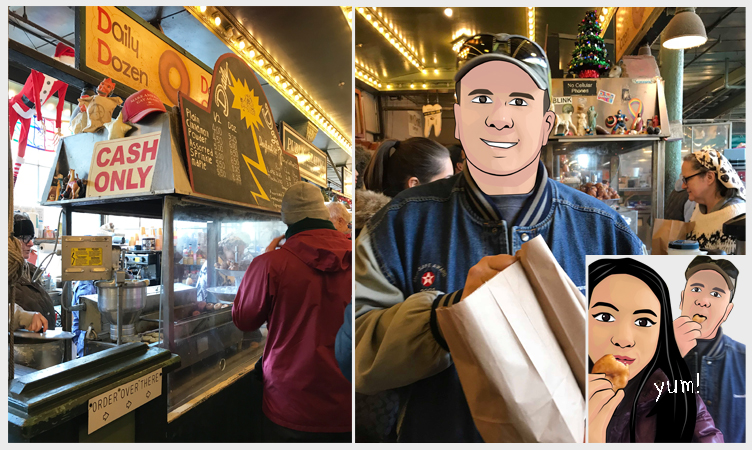 It was amazing that Tim was in the line no matter how long the line was… It took about 20 mins to get 2 dozen of donuts. It's fresh, hot and yum!
Just remember to have CASH on you, a Dozen donut is about $6.50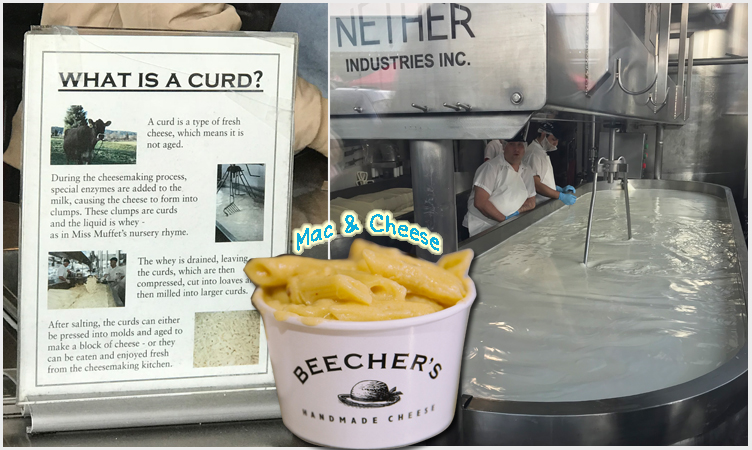 Beecher's Homemade Cheese is a fun place to stop and watch cheese being made. I bought some cheese curds which I wasn't sure what it is, but I could not stop eating them!
They do have Macaroni & Cheese, toasted cheese sandwich etc, I've heard this is the world's best Macaroni & Cheese.
Too bad, I didn't get a chance to try (too many donuts!)
Next to Beecher's Homemade Cheese about 1 block, it's the First Starbucks store!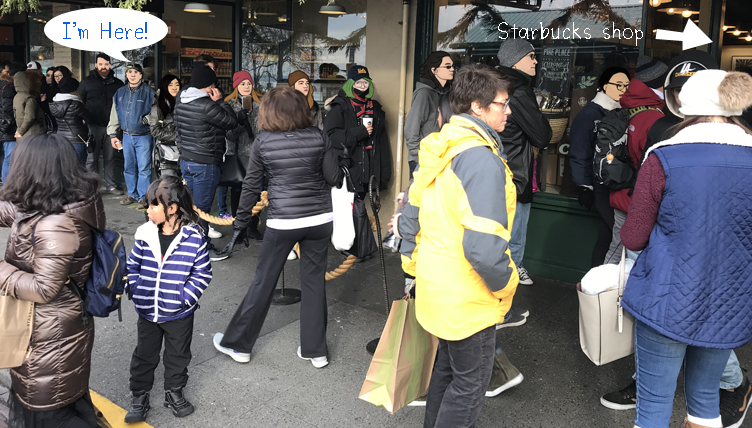 Tim and I are not BIG fans of Starbucks coffee but I like to do touristy things.
Tim was my volunteer to stand in line… REAL LONG LINE (it's triple longer than the donuts line). We stayed in line almost an hour to get inside the shop and got my picture, coffee and a mug.
This really is the first Starbucks store established in 1971 at Pike Place Market. The store has kept its early appearance over time and is subject to design guidelines due to its historic significance.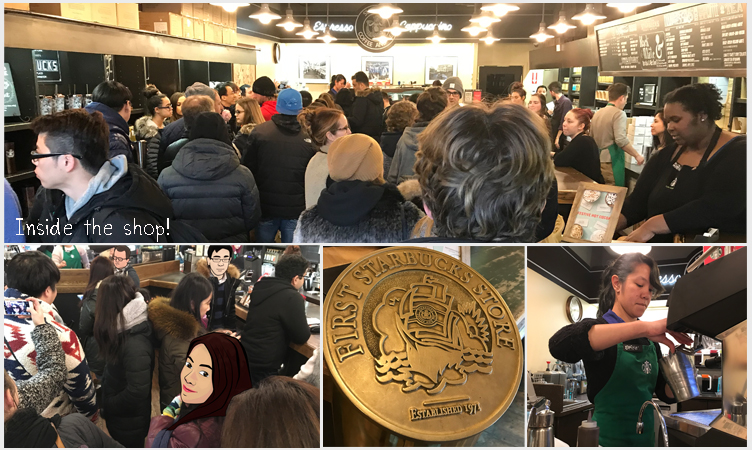 It's very crowded, there were many girls working at cashier but only 2 who were making coffee!
I was feeling like I was wasting my time to wait for my hot coffee, there is the same coffee menu with any other Starbucks shop ( just 2 mins walk !).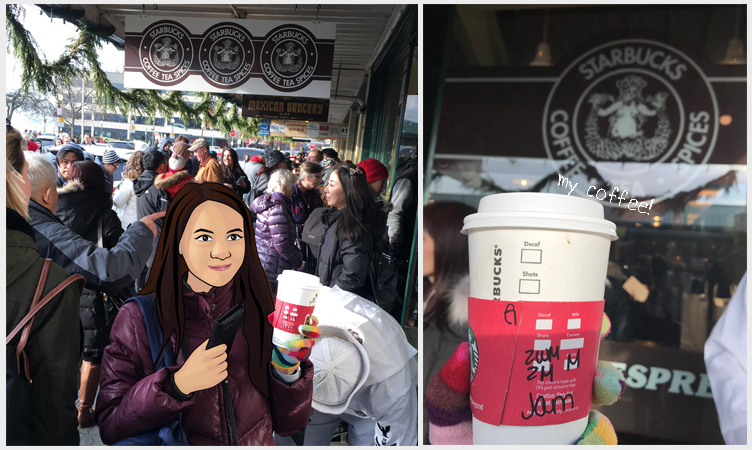 I think I should buy only a mug that says "First Starbucks Store" on it which you can't find this version in other shops!
Anyway, I would feel incomplete if I didn't do this!
Next to that Original Starbucks is Piroshky Piroshky, the Russian bakery shop.
This bakery had a long line outside. But we spent time more than enough time in lines for donuts & Starbucks, so we just passed by.
But if we go back there, I won't miss it!
Last stop in Pike's market is Gum wall!
You can walk to the Gum Wall in a narrow street between the Public Market Center sign and the magazine shop.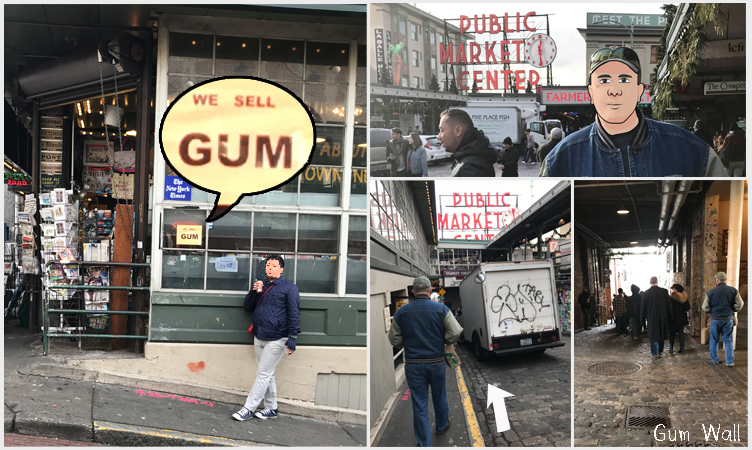 Gum Wall is a must see when visiting the pike market. It's kinda gross to see the gum but it's amazing how people take the time to write out names with their gum or make shapes.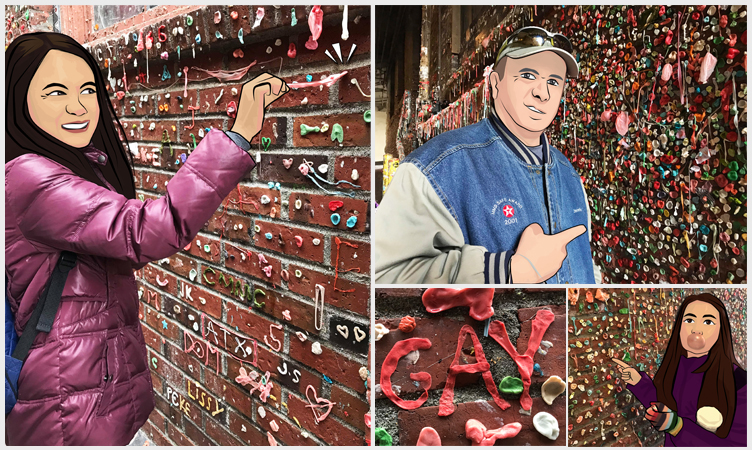 I'd like to put my name on the wall too but Tim couldn't stand it. So we just quickly stuck it on the wall!
On November 3, 2015, it was announced by the Pike Place Market Preservation & Development Authority that for the first time in 20 years the gum wall would be receiving a total scrub down for maintenance and steam cleaning, to prevent further erosion of the bricks on the walls from the sugar in the gum.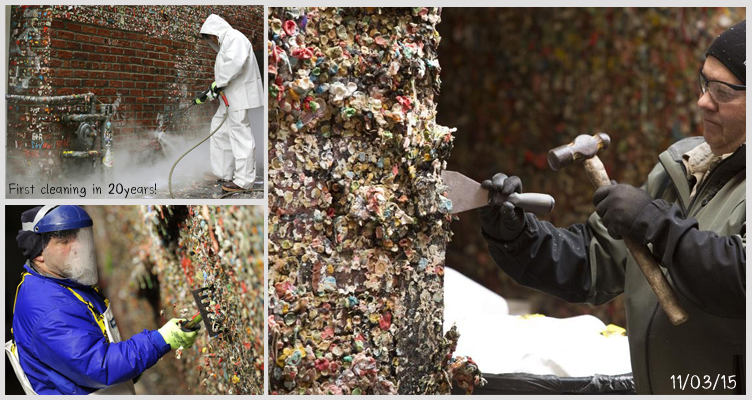 Ref:  https://www.hindustantimes.com
They took 130 hours to complete, with over 2,350 pounds (1,070 kg) of gum removed and disposed of.
But this is just 2 years later that we are visiting the Gum Wall – can't believe it was washed once before!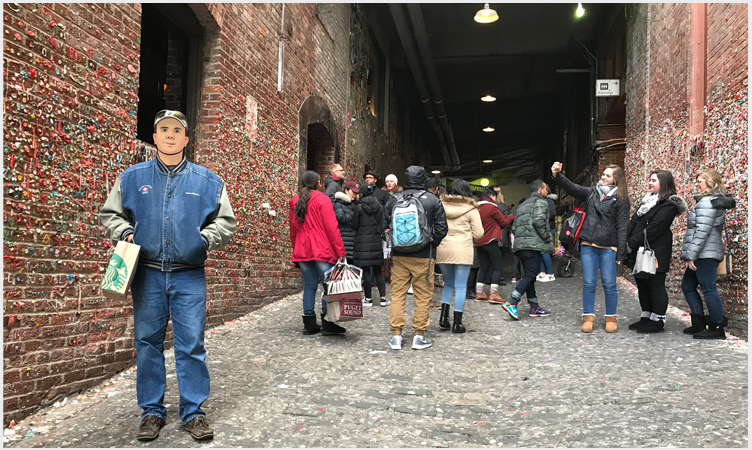 This is all about our visit at Pike's Market – all have been walking distance to each other.
It's very interesting spot and we are so glad that we had a chance to check out on this market!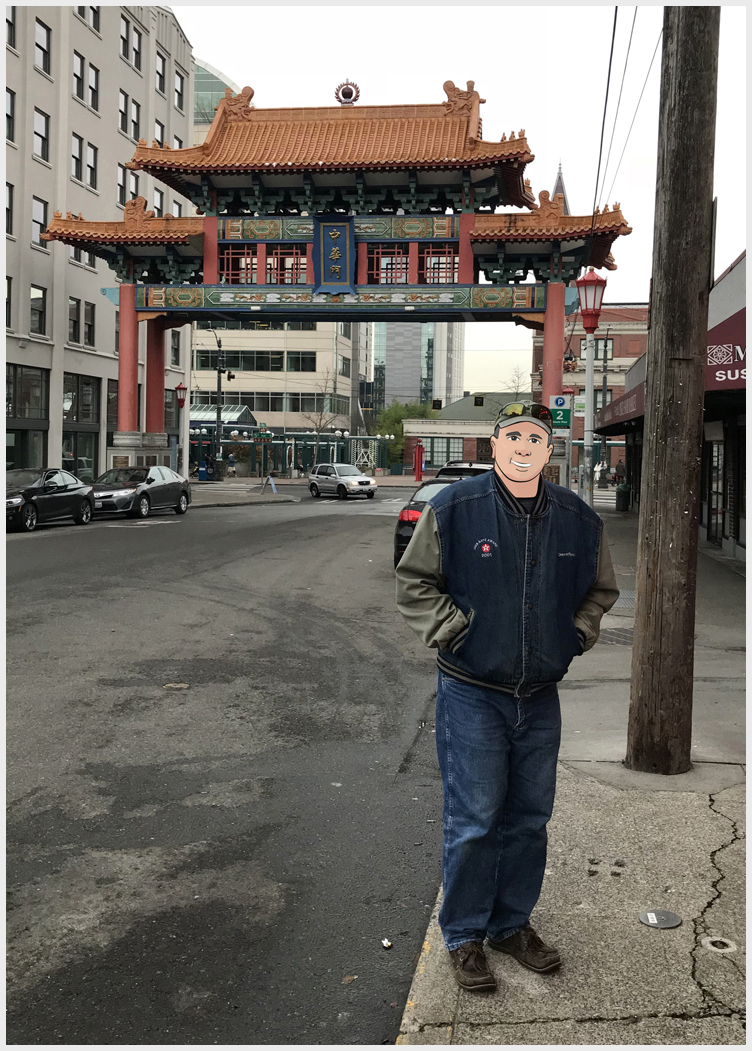 One last choice that we made before we drove home was Seattle's Chinatown.
The Chinatown is about 20 mins drive from Pike's Market (no way that you can walk from Pike's Market to Chinatown!)
BUT it was a big MISTAKE!!!
This Chinatown is nothing special to see…
Dim Sum can be found at multiple places but not a lot of shopping…
Too bad, we double paid for 4 hrs parking but we could walk around just 30 mins.
There is NOTHING to compare with the one in New York City.
We felt like we should go to Seattle downtown for tourist attractions like Space Needle, Museums, Science Center, etc.
But this all about our trip today – we drove back home safely.
Tim and I can tell that Pike's Market is a

MUST VISIT

if you are visiting Seattle – WORTH IT!
Traveled date: 26 Dec 2017
Ref: https://en.wikipedia.org/wiki/Gum_Wall