We're planning an adventure day and take the bus out of Taipei city to visit Yehliu Geopark or "Queen's Head" park, an iconic image in Taiwan.  After that, we will go to to next city called Jiufen by local Taxi frhttp://www.somethingjam.com/taiwanday2_thom Yehliu.
(อ่านรีวิวนี้ ภาษาไทย ไต้หวันวันที่2อุทยานหินเหย่หลิว ถนนโบราณจิ่วเฟิ่น)




Today we had to take the bus because Queen's Head park is not in the City of Taipei.  I read other reviews on how to get to Yehliu, and I found out that we have to take the bus no. 1815, and from our hotel we had to take the MRT to Zhongxiao Xinsheng Station (Exit3) for the closest bus stop (it was easy).
The buses are on a regular posted time schedule, they are clean, safe, and modern (it's quite different with the buses in Thailand!!!).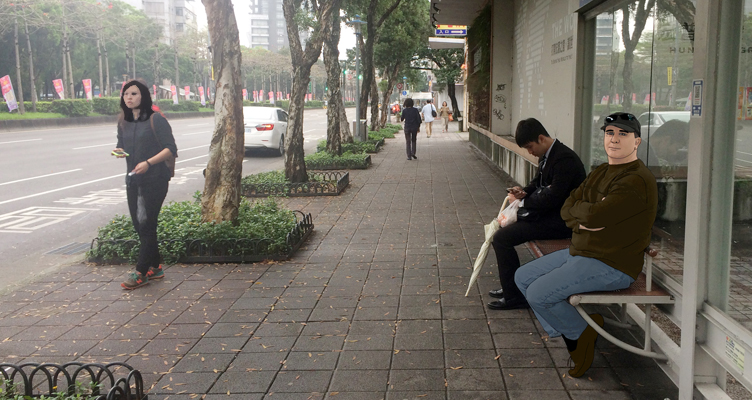 We were waiting for our bus just a few minutes, and it costs about $3 each (about 96 THB), the bus driver will not give you change, so if you don't have exactly money, you better have an EASY CARD like us!  (The Easy card is the same card that we use for Subway in Taipei).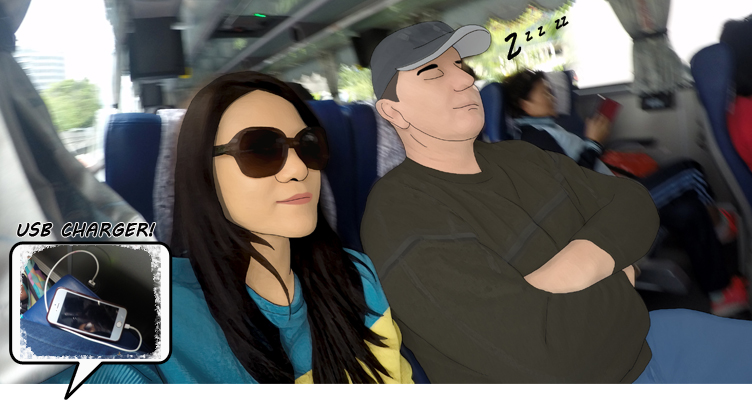 It's a new bus, you can bring your USB phone charger and charge on this bus, it's great because we will ride for about an hour to Yehliu!!!
I charged my phone, Tim charged his energy (napping)!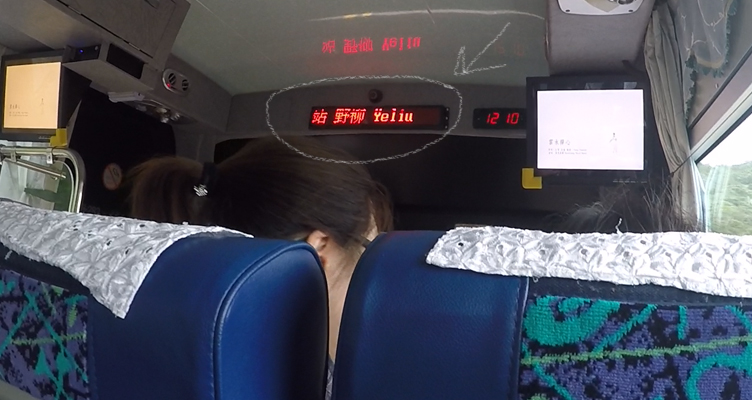 We were lucky that this bus has a screen telling us which station we are at , even more luckier when we met another Thai tourist in the same bus,  it's no way we will get lost!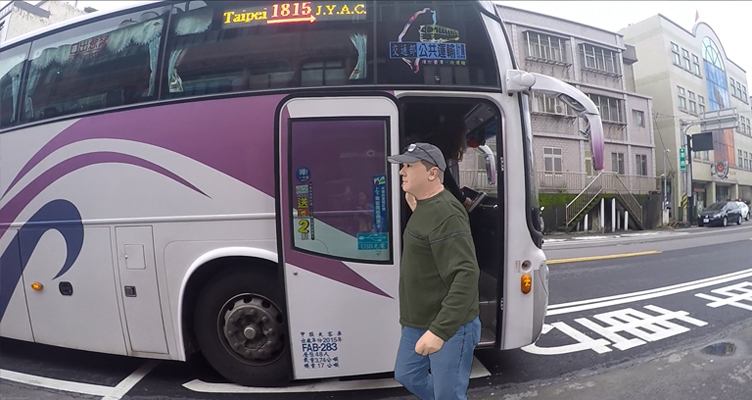 When you get off the bus, you need to walk back just a little bit.  You will see the green walk way to Yehliu Geopark.  You will walk past the fisherman village, and see many types of fishing boats.  They said it's a "Must Try" seafood in this area, there are so many restaurants offer you fresh seafood.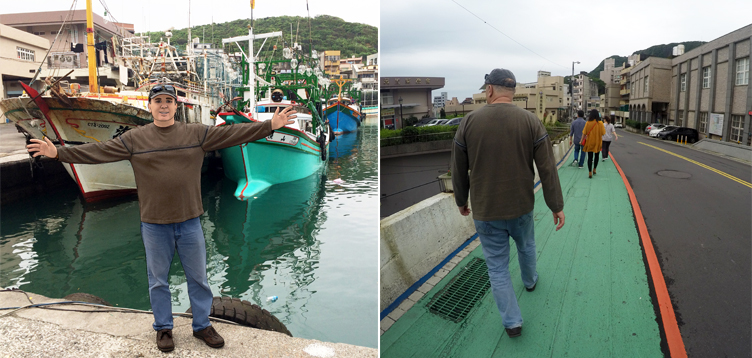 We saw fish tanks in front those restaurant, they are all still alive!!! I'm sure that you will get super fresh food here but you have to be able to order in Chinese!!!  We didn't get to try any food here, we're full from our breakfast.  And We planned  to eat in Jiufen, the next city.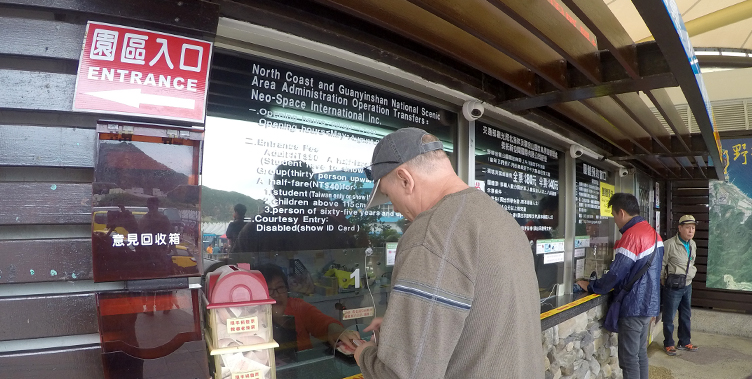 It wasn't a long walk, we kept walking until we saw the tour buses parking around, and then we found the ticket office.  The entry ticket is $2each for adult (80THB).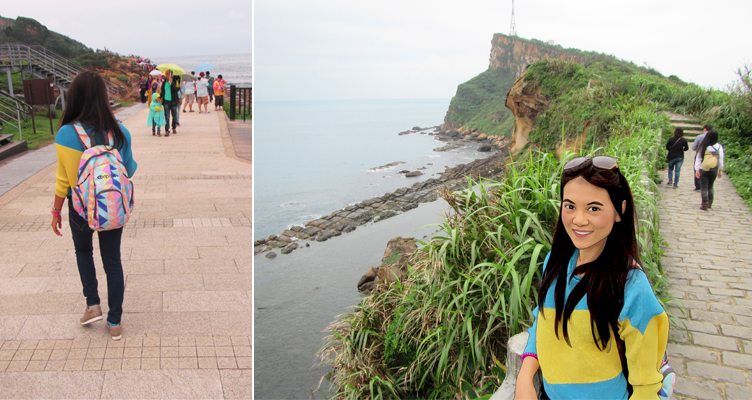 Yehliu Geopark is a cape, approximately 1,700 metres into the ocean and was formed as geological forces pushed the Mountains out of the sea. This Geopark is quite famous for its unique and amazing rock formations.
When we first got in the Geopark, it was a nice sunny day so Tim had the idea to walk until the end of this cape first for the view and then work our way back.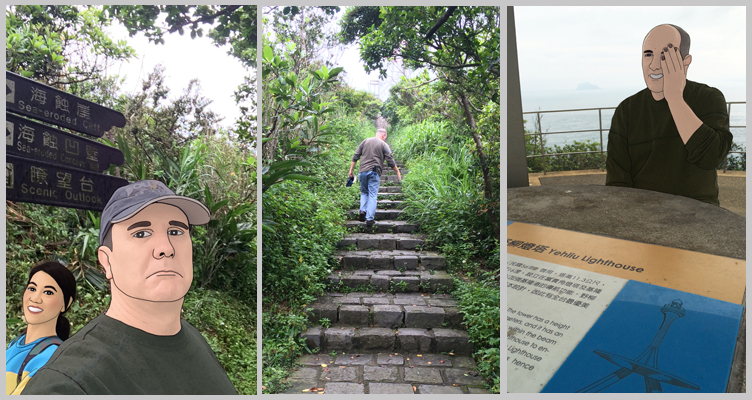 It's a real long walk, we didn't see any other tourists walking with us at all.  We walked to the end of the cape and rested at the Lighthouse.   It's a great view from up here, but nobody else looked like they really cared!!!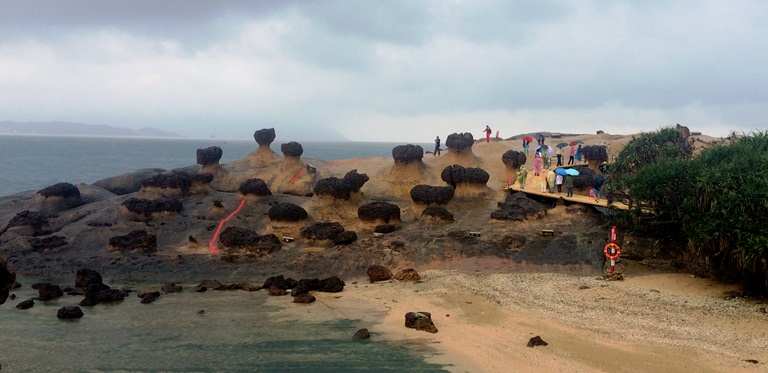 When we headed back to where the Queen's Head it started raining (hard)!!!
GOOD JOB TIM!!!  Now we had to wait until the rain stopped!!!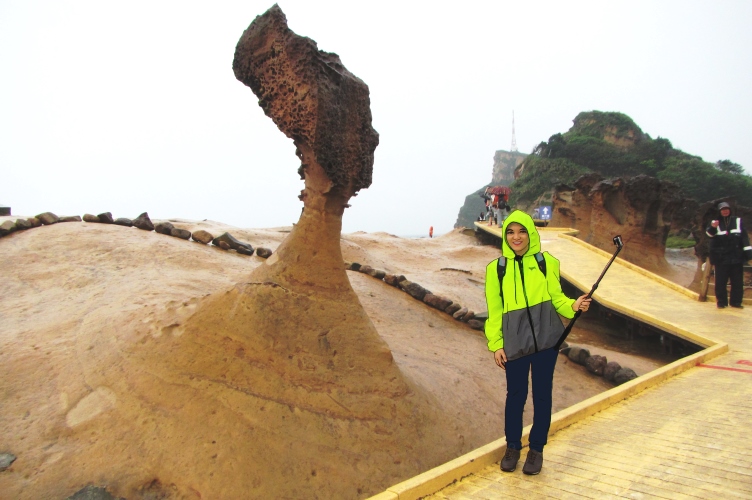 It was raining very hard but it was quick.  Finally, we got a chance to take pictures at Queen's Head with our rain coat!
The Queen's Head is very famous for visitors.   The locals worry that the queens head will be no longer be recognizable soon, as you can see the head is way to big for its neck which can break anytime by nature.
There are a few guards around this area to make sure that nobody tries to climb up on the Queen's Head, they are also making sure of your safety as this landscape is laid open to the ocean.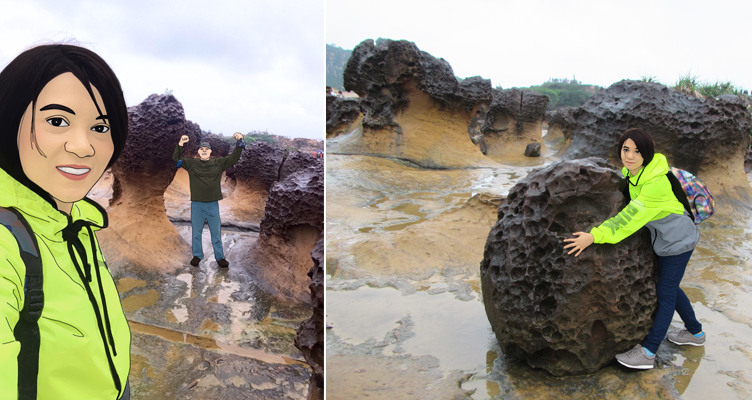 We had a great time here, it's a very unique place to visit, we have marked this place as a MUST GO in Taiwan!  You may have to bring your umbrella and rain coat, Taiwan has unpredictable weather (but it wasn't that bad, it seems like just rain or no rain ?!?!)
We were here about 2 hrs., and stopped at the Geopark shops for souvenirs and food (dried seafood).
Next we're going to Jiufen, the old market street.  It's in another town and in a different direction from where we came.  We planned to take another bus, but when we stopped to get some bubble tea at "Mr. Q Milk", the shop owner told us that it's too complicated to go there by bus and recommended that we take a taxi.  Once he said, "you should take a taxi", a guy who was reading the newspaper in that tea shop stood up and told us, "I can take you there!"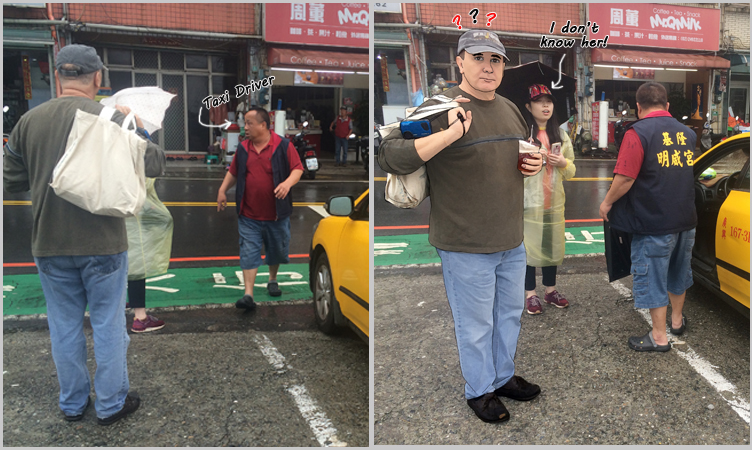 Well, he is a taxi driver and we were tried, so we're okay to pay more for the taxi all to ourselves, he wanted $35 (USD) or THB1000 for the 2 of us.  But once we're about to get in that taxi, there're 2 Chinese that jumped in the taxi with us!!!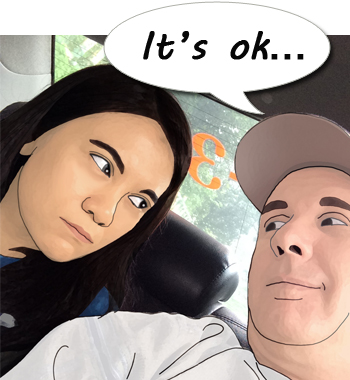 I was confused (and mad!!!)  There were so many taxis around that area, how come they took our taxi?
So it wasn't what we got the deal with the taxi for just 2 of us, we're sharing the taxi with those 2 Chinese,  I had to sit in the middle of the back seat!
Anyway, the taxi didn't give us any discount and he drove so fast and unsafe it gave us a good scare!  Tim said it was part of the adventure… I'm not so sure.
Tim said it's ok but I wanted to jump out and find another taxi!!!
It took almost 50 minutes to get to Jiufen (actually it's a good idea to come here by taxi because it's quite far from Yehliu but not wth this taxi driver!)




Let's keep calm and walk in the market!!!
From many reviews, it seems like it's only one entrance to this market, it's right next to 7-11 shop, you will see the tiny English word "Jiu Fen" then you enter into a small street.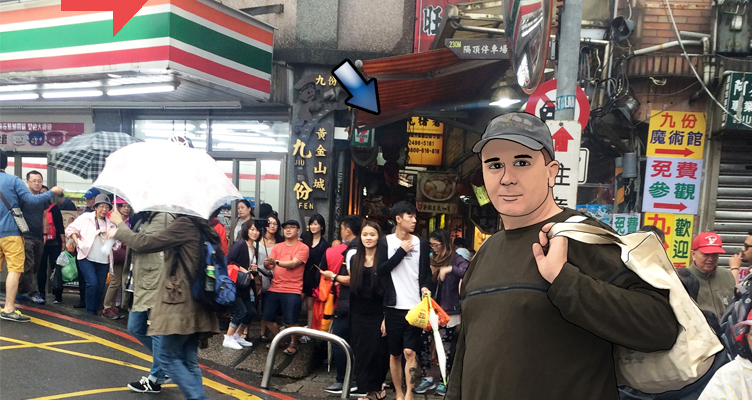 Jiufen was a Must Visit for Japanese tourist in 2001 due to its resemblance to the downtown in the anime movie "Spirited Away".  At present, Jiufen is a renowned tourist attraction representative of old Taiwan. It draws many tourists from Taipei during the weekends, you don't have to know where to walk just follow the crowd!!!
We're here during the weekday so it wasn't too bad!
To visit this old market street you have to have your stomach empty.  There are so many kinds of food in this market all ready for you to try, and it's not expensive!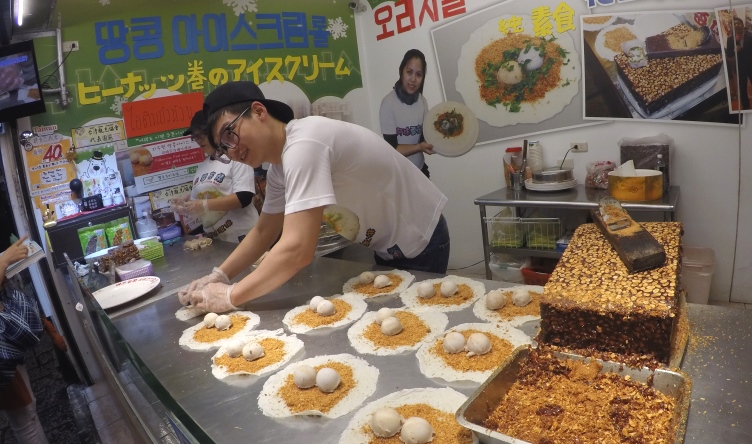 This shop offered (Thai sign) "Peanuts & Ice-cream", I couldn't tell you what they are?!  But this is a traditional ice-cream with hard caramel peanuts, it's a Must Try when you get to this street.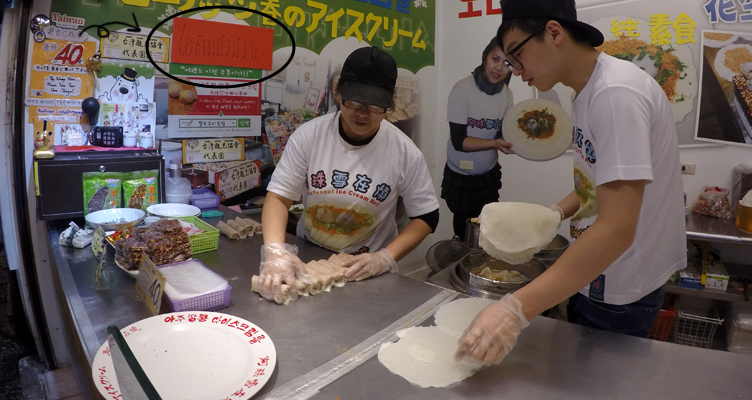 The Ice-cream wrapping makes its look more fancy than it tastes.  Well, as they have Thai signs, I think it's famous for Thai tourists, but it's just okay for me.
Maybe, I'm not into the sweets, I enjoyed real food better like the Taiwanese sausages…I'm loving them!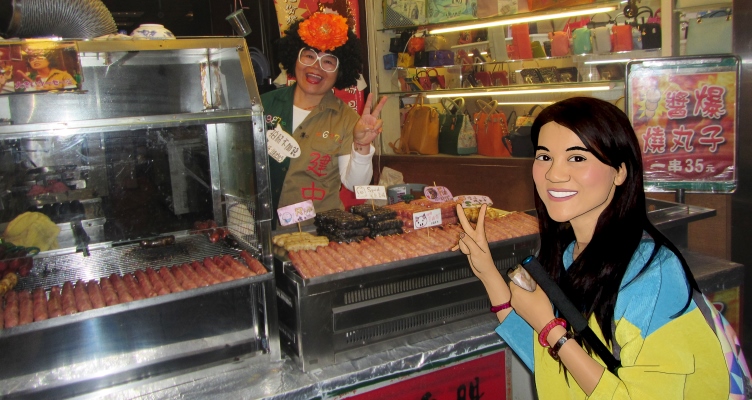 Well, the more that we walked deeper into the street, the more different and interesting kinds of food we would see…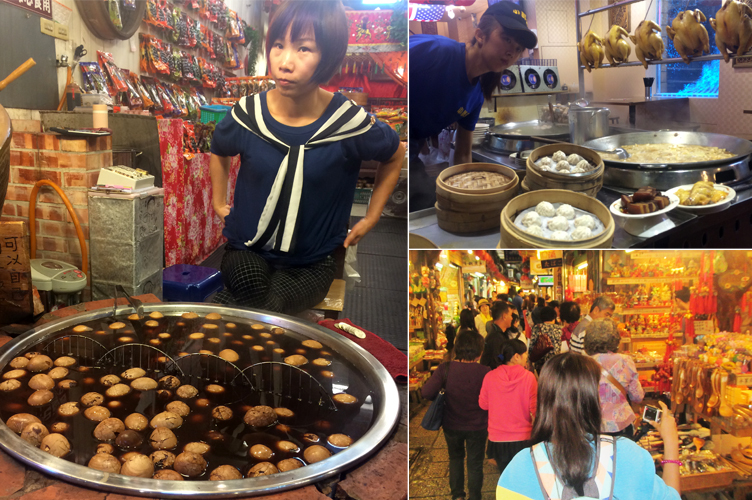 We walked until we found the T-section, one is where we came in, and one is up and one is down.  If you pick to go down, it will lead you to an exit way (and bus stop).
Now we're going up.
We saw a shop that when we sneaked into with hundreds of handmade masks!  And once we're about to step in, one guy popped out and said that we had to pay to get in, it's about $1.50 each or about 50baht for adult.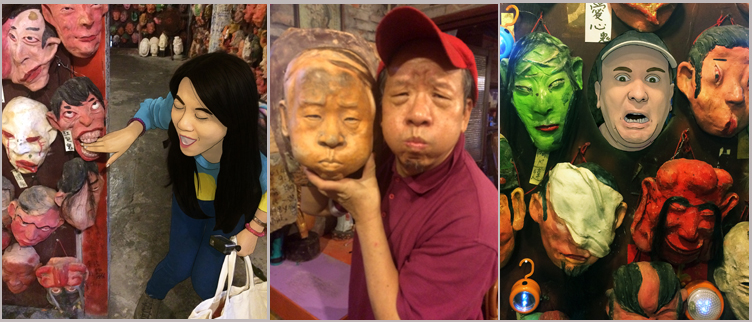 This house is what he calls  "House of ghosts masks" and he makes all the masks by himself.  Each of them has its own expression and name tag!!!
Most of them have been made based on his dreams and memories, and represents what could be called ghosts or spirits. Other masks are also representing celebrities, politics or even locals.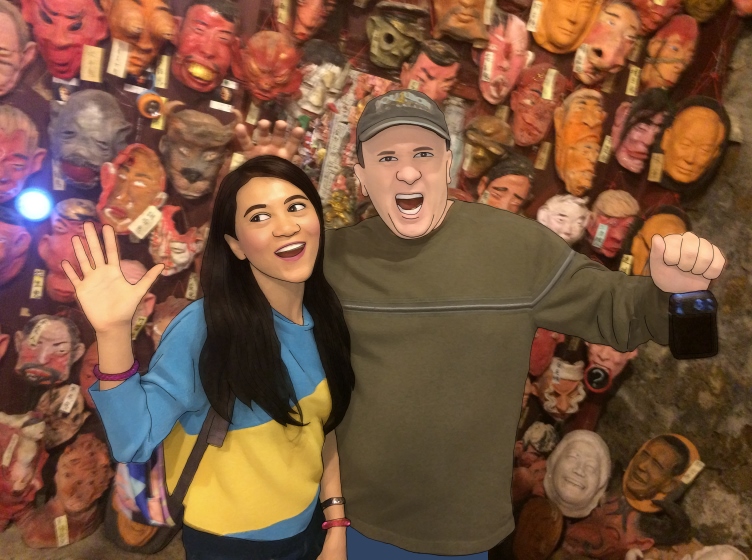 It's worth it to pay the $3 for 2 of us, especially today it was just 2 of us in this shop, we're checking every single mask.  The owner also took pictures of two of us!!!
That was about an hour that we were walking.  We tasted many kinds of snacks and food but we still needed LUNCH.  We stopped for a late lunch at a restaurant nearby the mask shop.  I just picked the big and nice restaurant because I was expecting to stop for the bathroom (it's about the time, and I needed it!)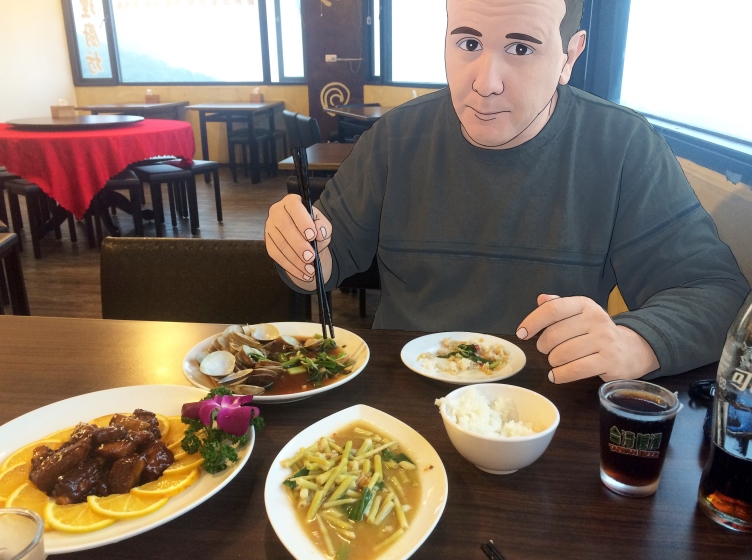 Most of our lunch came out and looked just like the picture!  As they are quite good in Chinese speaking but not English speaking.  So we pointed picture from their menu.  It was great and it was just right for us to rest by sitting and eat (we were walking and eating almost the day today!)
All we paid for our lunch was about $25 or 800THB.  I was satisfied!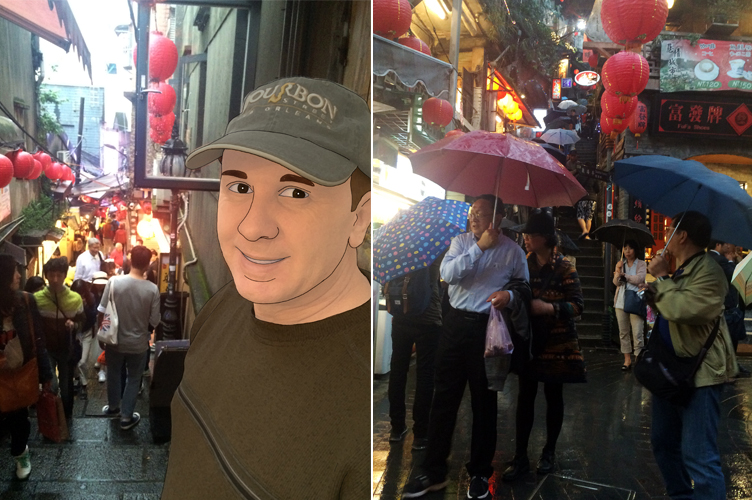 As I mentioned if you want to leave, just start walking down to the end, you will see the Police station, then cross the road for the Bus Stop.  Yeah, we will take the bus back to Taipei, it's not complicated, you can take any bus that is going to Taipei.  We took the bus no.1615, it's $2 each and it takes about an hour to Teipei.
We got off the bus at SOGO shopping mall as it's the closest bus stop to subway station to go back to our hotel.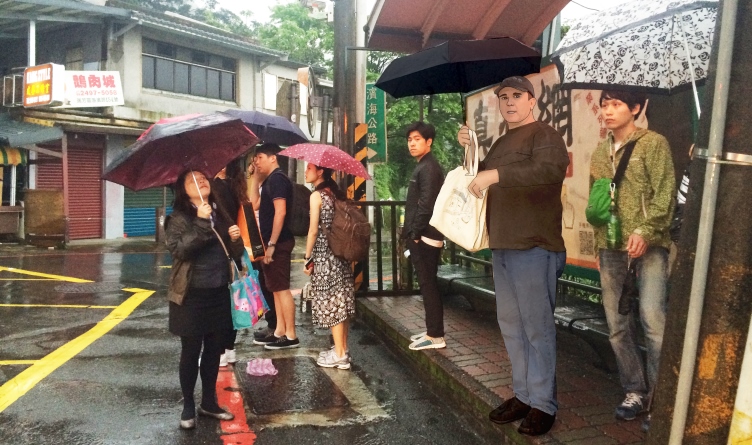 But when we jumped off the bus, we automatically jumped in the SOGO shopping mall, I can't skip it, so we may as well shop here!!!
This shopping mall is a high-end shopping mall, we could get just what we needed (not what we wanted).
Tim got a new rain coat and I got a running shoes because we are going to have a big day tomorrow to Taroko Gorge, one of the Seven Natural Wonders of Asia!!!