อ่านทริปนี้ ภาษาไทย คลิกที่นี่ค่ะ
Today we will visit the Terra Cotta Warriors and Goose Pagoda…It has been said that, "if you have not been to Xi'an, you have not been to China!"
Xi'an is away from Chengdu about 1.15 hrs by plane.  It's one of the oldest cities in China, with more than 3,100 years of history, the city was known as Chang'an before the Ming Dynasty.
Xi'an is one of the Four Great Ancient Capitals of China.
Have you ever heard?  Beijing is the PRESENT, Shanghai is the FUTURE of China but Xi'an is the PAST!
So why not to visit Xian!!!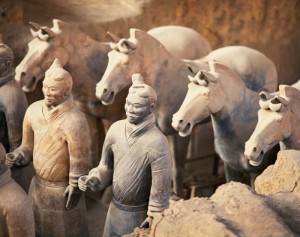 The tour in Xian was operated by the same tour company we used in Chengdu.  But they provided a local tour guide and driver for us.  We stayed at the Skytel hotel which set up for  us and was included in the tour package.
The Skytel hotel wasn't really great, nice location but it was under construction when we were there, and I found the rooms smelled a little moldy, and the hotel breakfast wasn't good at all…
In my opinion breakfast is hard to screw up, but they did it…. The breakfast area was dark (dingy) and was kind of dirty. I wouldn't stay at this hotel again, and there were other choices nearby…. But well it's for 2 nights and we already paid!
Our tour guide in Xian was Kathy.  She is very polite and quiet. She would like to meet us at 9 in the morning for the first day tour. The tour guide and the driver have been very punctual this trip!  They are always ready and come early to wait for us. Kathy will take us out of the city to visit the Terra cotta warriors and horse museum.  But she will stop at the pottery factory first…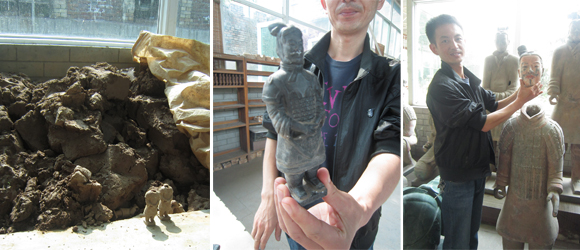 The pottery factory has their own factory guide to show us around the factory. They have so many kinds of Chinese products, pottery, silk, furniture, and especially the copies of the terra cotta warriors in so many sizes and qualities.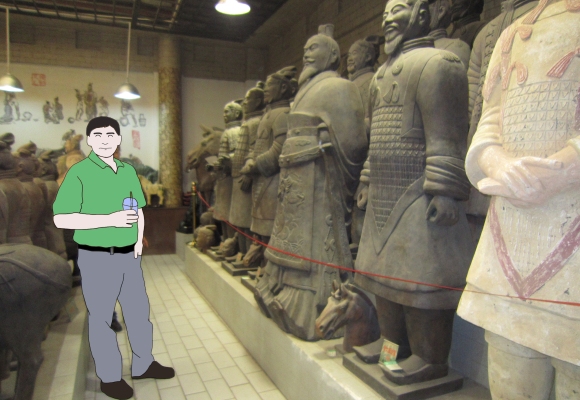 Picture: the copies of terracotta warriors in original size (compare with the real size human), it costs about ¥14,800 (or $2,470 or 74,000 baht) to have your own warrior…
The factory tour guide also educated us on how many types of warriors there are.


General would wear two hair knots
Officer would wear a square hat
Soldier , his hair knot is on the right
Archer, his hair knot is on the left (because they have to carry arrows on the right, and it's very annoy when getting the arrow on the side).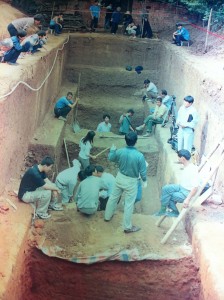 We left the factory without any shopping…Ok, just a little shopping!!.
A few minutes more and we arrived the Terra Cotta Warriors and Horse museum, the most popular tourist attraction of Shaanxi and one of the most popular in all of China.  The tourist industry calls this the Eighth Wonder of the World and it was listed as a world cultural heritage site by UNESCO in 1987.
The clay army of more than 8,000 life-size terra cotta figures, soldiers and horses, was discovered in 1974 in Xi'an, Shaanxi province, China after they were buried for more than 2200 years, it took about 726,000 slave labors and 36 years to finish this tomb.
The mighty army of Terra cotta warriors and horse was found in three vaults/pits. The museum has been built over these pits.
First visit, our tour guide took us to visit pit no. 1, this is the largest of the three.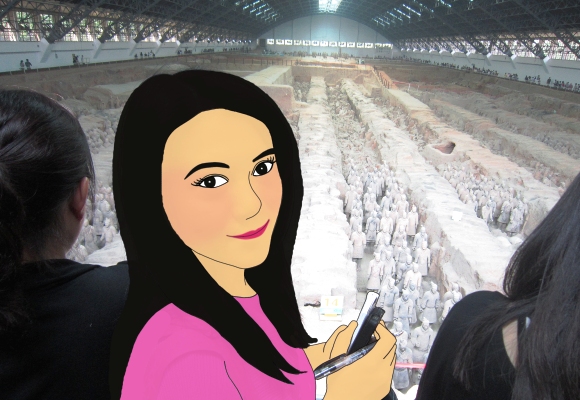 Pit one, is 698 feet long, 97 feet wide, 14.8-21.3 feet deep, and contains the main army of more than 6,000 figures!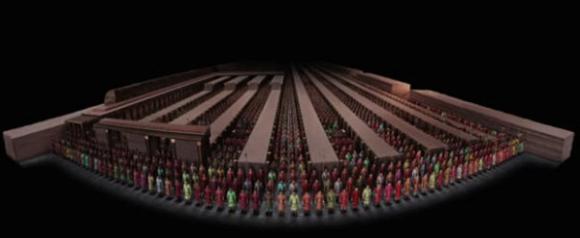 Model of Pit No1 by National Graphic
We paid for this picture Y150 (~$25 or 750 Baht), to get inside, and stand on the platform. I don't like that picture, the picture was printed, and dropped at the hotel. It's 6×8 inches, and displayed in the nice note book.
It didn't look good for its price…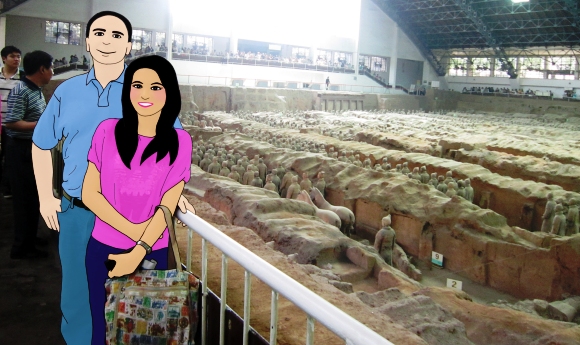 This is a free picture, and looks much better!
The Terracotta Warriors were once painted. Today only a handful of statues contain small amounts of paint. Also notice the detail put into the soles of the warrior's shoes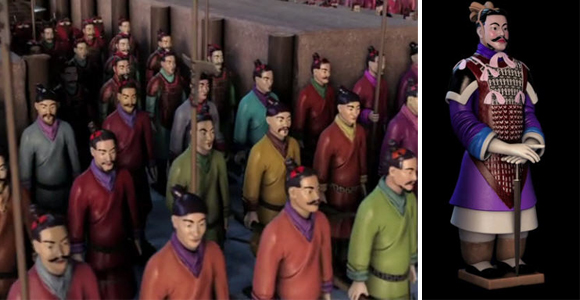 Picture credit: Terra-Cotta Army: The True Colors
http://ngm.nationalgeographic.com/2012/06/terra-cotta-warriors/larmer-text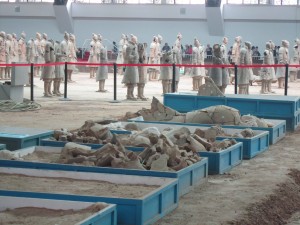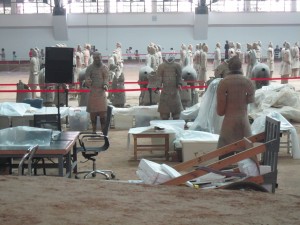 Behind pit no.1 is a working area. They have been solving such big puzzles and working on this since 1974.
After we walked around pit no.1 (it's huge and keep us a while…), Kathy (our tour guide) took us to visit Pit no.3, because Pit no.2 is on the way out.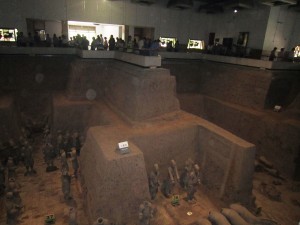 Pit No. 3. covers an area of 622 square yards, it is actually a component of both Terracotta Warriors Pit 1 and Terracotta Warriors Pit 2. Built in the shape of "U", Pit 3 measures 19.2 yards long from east to west, 23.4 yards wide from north to south and 15.7 feet deep.
Guess what? This is the most important pit because Pit 3 is the command center or headquarters for all the groups in the other two pits. This pit was found in 1976 but officially open in 1989.
In this pit, they provide a 3D background for picture at 10Y each. I think the picture looks cool! But it's a long (messy) line, so we only took one pic!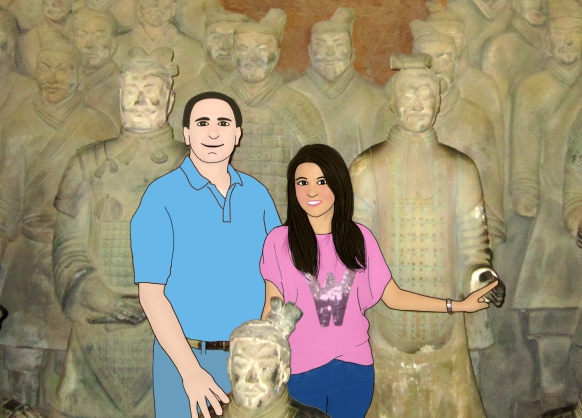 Picture: the 3D background, It would be nicer if we could get the whole sitting archer in the picture…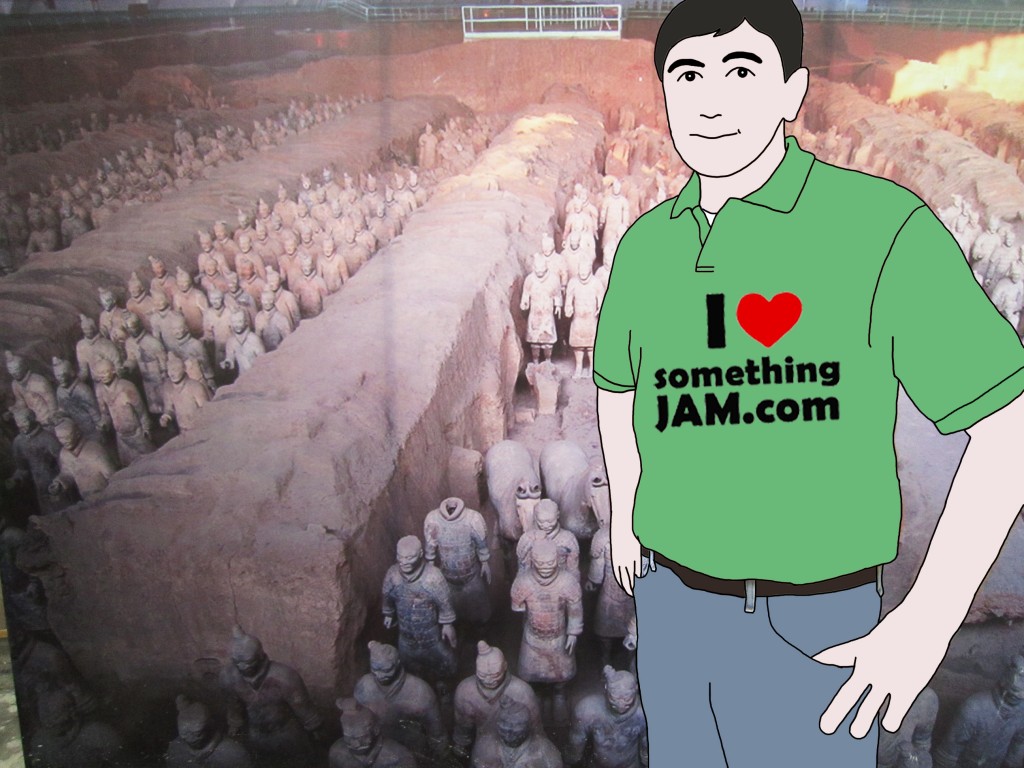 After that we walked to pit no.2, covering an area of 7,176 square yards, Pit 2 is L-shaped, measuring 136 yards from east to west, 107 yards from north to south, and sixteen feet deep, and this is the only one pit that has air conditioning!!!
Pit No.2 was more complex, and the units of armed forces are more complete with over 80 war chariots, about 1,300 terra cotta warriors and horses, and thousands of bronze weapons.
This pit was found in 1976 the same time as Pit no.3 but officially open in 1995.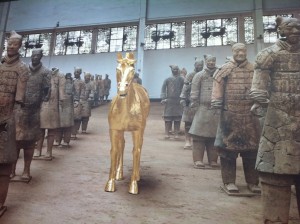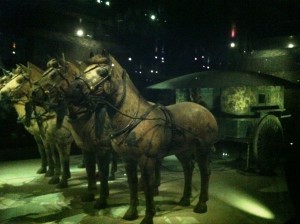 After visiting the 3 pits we stopped to see the museum of with the Bronze Chariots and Horses next to Pit no.2
In this museum, the Bronze Chariots and Horses are a must see by visitors. These are half size scale-models of real chariots and horses, copied down to the last detail, complete with horses and people. They are constructed with bronze and cast bullion. There are 1,720 gold and silver pieces, weighing 7 kilograms. No. 1 chariot is in the lead, with a four-horse team.
That's cool, huh???
Actually, we should have visited the Qin Shi Huang Mausoleum which is larger than the Great pyramid in Egypt! But our tour guide said "if we go, we will only see the mountain. That made us decide to NOT GO…and I felt bad after that!!!
All together we stayed in this area about 2.5 hours with more than 2000 years old the great army!
Lunch time, free food by the tour company but we voted for food in Chengdu which is much more delicious compared with the food in Xian….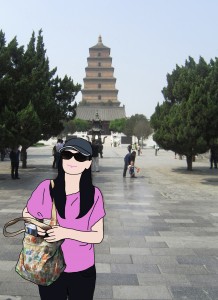 Next and the last program for today, Big Wild Goose Pagoda.
This Pagoda was originally built in 652 during the reign of Emperor Gaozong of the Tang Dynasty (618-907), it functioned to collect Buddhist materials that were taken from India by the hierarch Xuanzang (a Buddhist library).
First built to a height of 60 meters (197 feet) with five stories, it is now 64.5 meters (211.6 feet) high with an additional two stories.
The first abbot for this temple is Xuanzang, the famous Chinese Buddhist monk, scholar, traveler, and translator who described the interaction between China and India in the early Tang period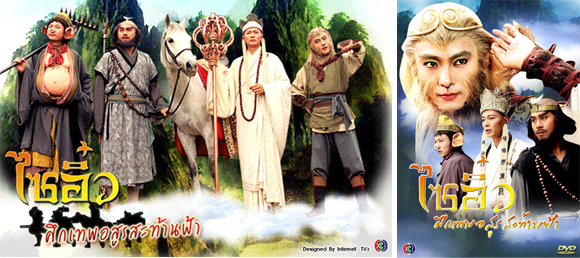 This monk is seen in many episodes of movies with the magic naughty monkey, a big fat pig and poor man, those 3 assistants helped the monk to get the Buddhist scriptures back to China.
Awesome trip with the nice sunshine all day….
The tour guide left us since her mission was completed, and we found time to explore the city a little bit during dinner…
Tomorrow is the last day in Xian and it will be the last blog for this trip as well.
Day 5, The tour guide would like to meet us for lunch and then take us around downtown of Xian before bringing us back to Xian airport for goodbye "Xian"…stay tuned!