This review reflects our  impressions of the Lily Beach Resort & Spa in the Maldives,  we hope to share our experience to make your stay at Lily Beach Resort & Spa the best for you.

We enjoyed snorkeling around our villa, or just walking around the resort.  But the Lily Beach Resort & Spa also provides a list of four activities for their guests, 1.Sunset Fishing , 2. Snorkeling , 3. Sunset Cruise and 4. Local Island Tour…  There are other things to do like SCUBA, kayaks, paddle boats, etc…
Our all-inclusive package included 2 free activities that you can pick from the list of four.  But we requested to try them all because we wanted to write up our review!!!
Each of the activities are scheduled at different times, you need to inform the front desk which activity you would like to join, keep in mind that space is limited and it's First Come First Serve.




(1) SUNSET FISHING 
For our first day we booked for SUNSET FISHING because it starts about 5.00-5.30pm, so we have time to un-pack and relax. I would recommend you to provide some wet towels so you can wipe your hands off after fishing.  We went out from our resort but not too far.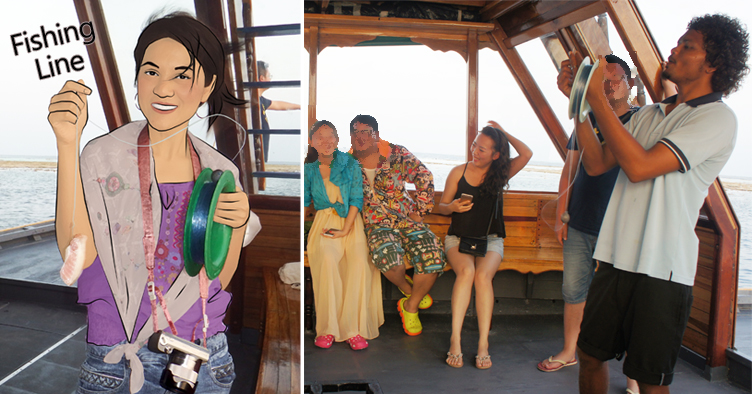 The crews showed us how to use the fishing line, it's not a fishing pole!!!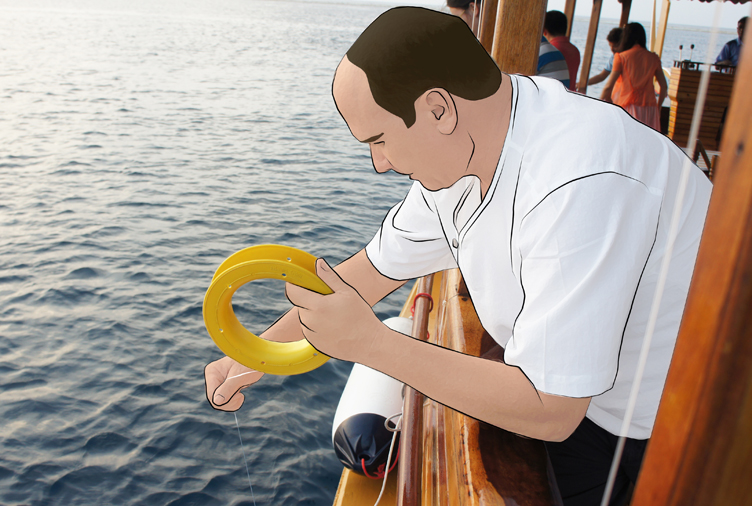 Tonight, Tim is great!!! He caught one and the other guy caught one.  So all of us caught only 2 fish for the whole boat!!!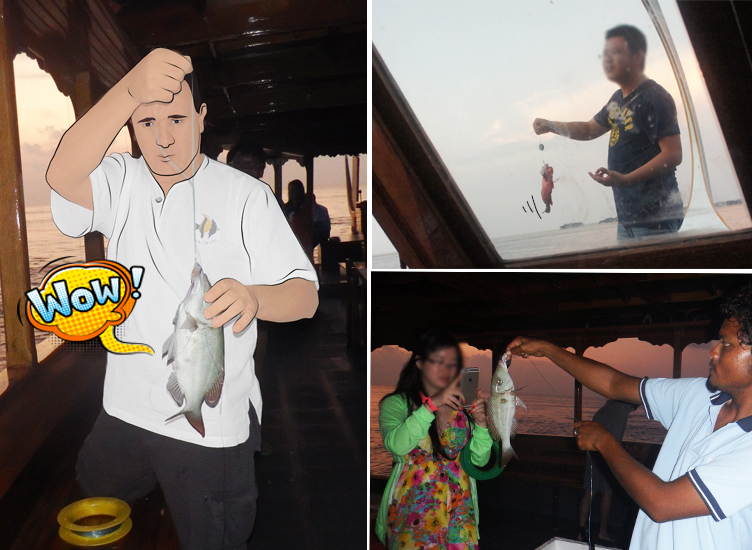 The other tourists were excited, me too!  It took a real long time to catch that fish!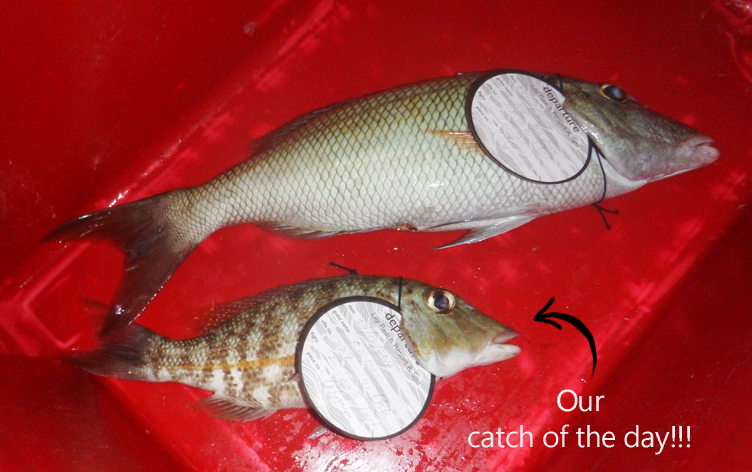 They put your name tag on the fish that you caught because they will cook it for you for the next day anyway you want, YUM!!!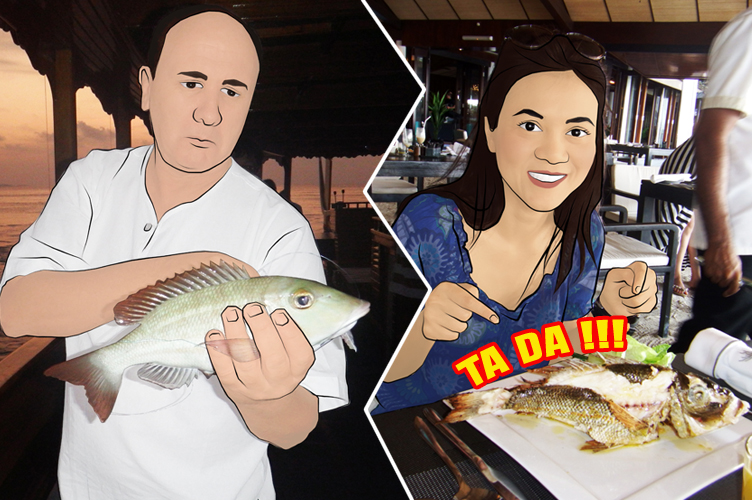 We are a good team work!!! Tim catches that fish, and I just eat it 🙂
This activity takes about 1.5hrs, we left the resort at 5.30pm and returned about 7pm




---
(2) SNORKELING TRIP
For me, if we can pick only 2, we might not pick this one because we can do snorkeling around our villa.  But who never known, so the next day, we picked the Snorkeling Trip.
They will provide all equipment that you need, but we love to have our own, so we packed our masks and fins.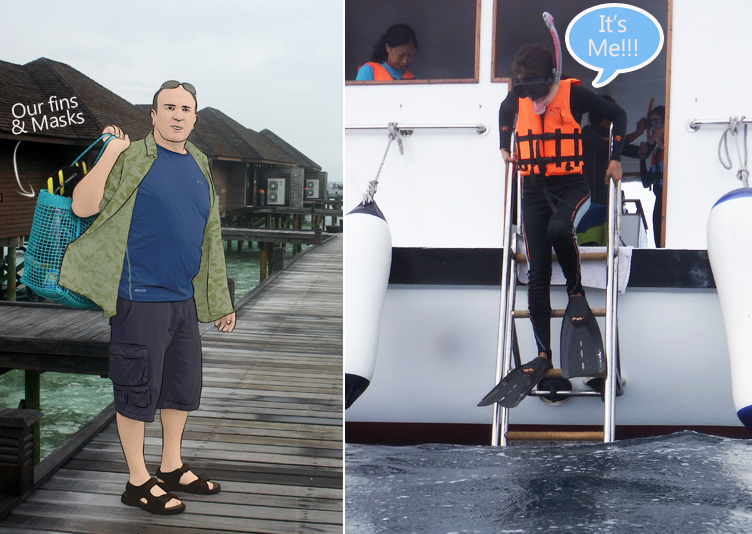 They took us out and away from the resort (maybe 10mins boat ride).  We got to snorkel off the boat and IT IS A BLAST!!!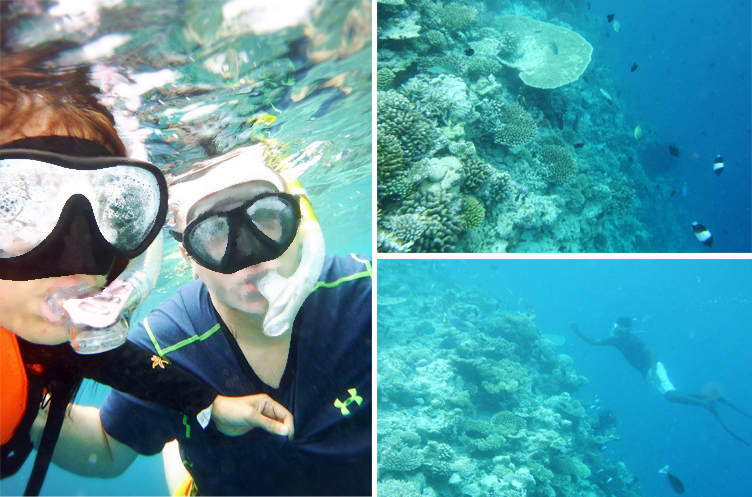 Water is super clear, the house reef is like a Great Wall under water.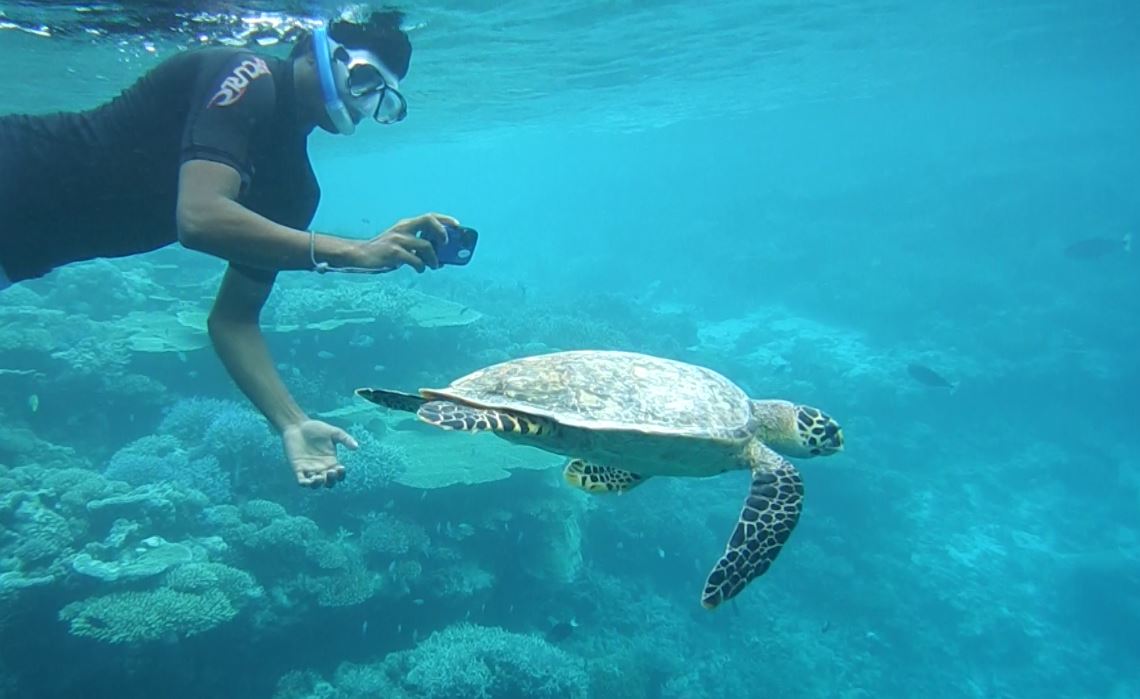 They will let you to have 2 times to snorkel, each time will be 10-15 mins long and you follow a guide.  We saw a really big turtle,  it's really awesome!!!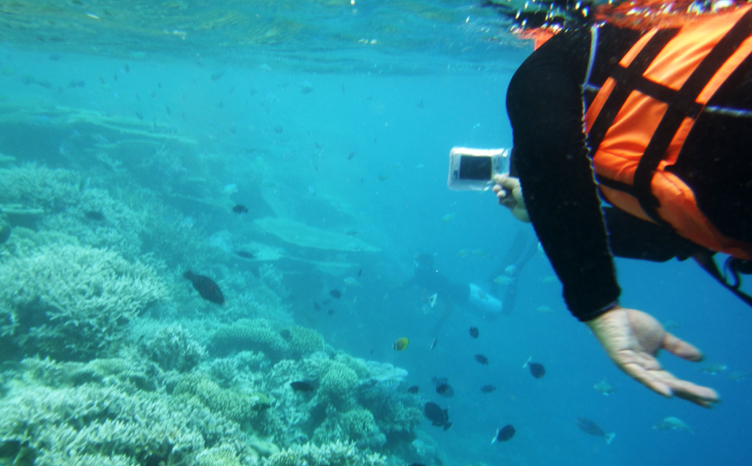 This activity is great if you are a good swimmer or snorkeler!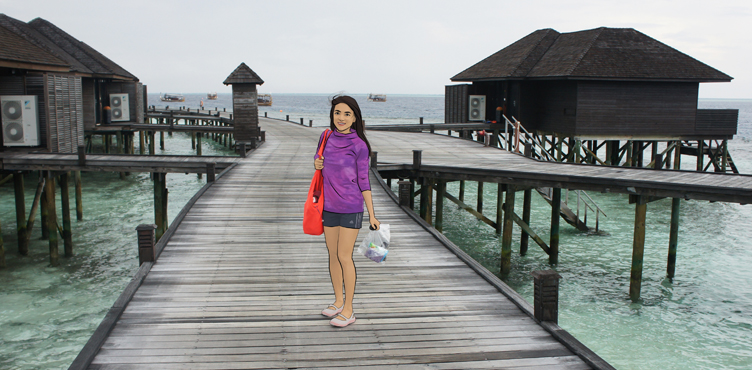 This trip takes 1.5 hrs, we started at 10.30am to 12.00pm….SO MUCH SUN, SO MUCH FUN today!!!!




---
(3) SUNSET CRUISE
We were set up to sit on top of the cruise.
They serve champagne and some snacks on board but nothing fancy (they should do better on the snack).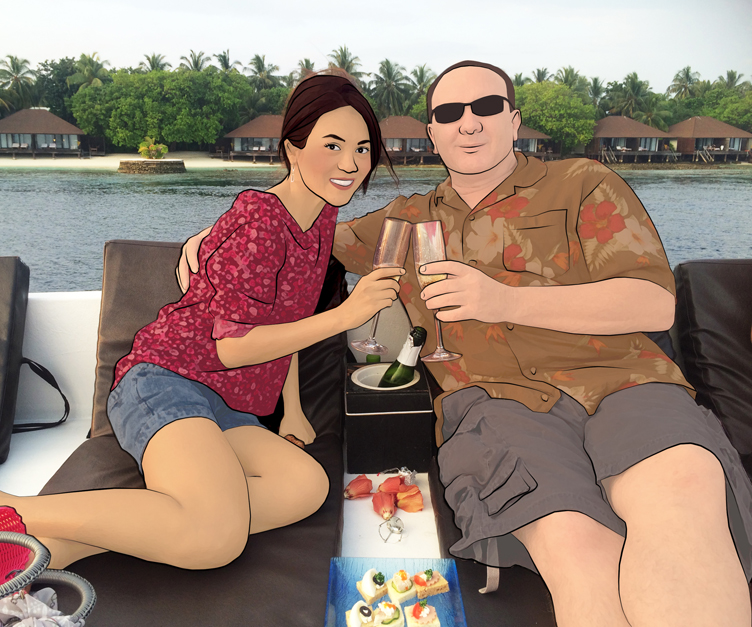 We were floating until the sun is set.  I was so bored.  I blamed Tim, he should make it better and entertain me (kidding, but it was a bit slow)!!!
Sunrise brings you "Hope", Sunset brings you "Peace"…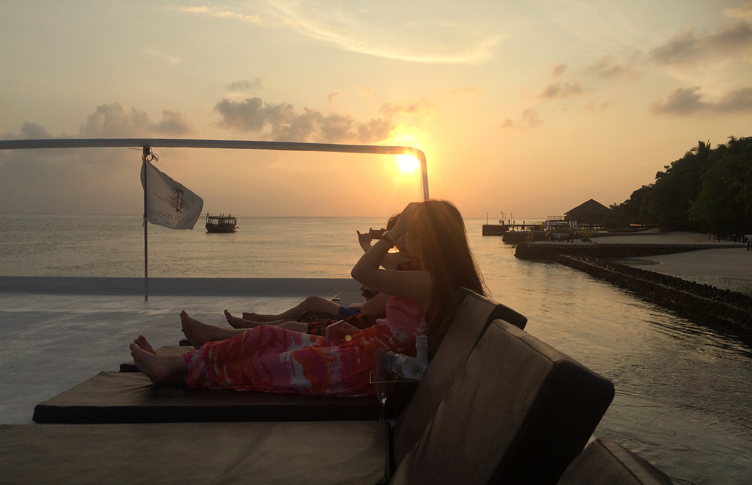 One of the other families brought their child who started crying once the cruise moved away from the resort!!! So it was not "peace" as everybody wished!
We felt so sad for that couple, they felt sorry that their child never stopped crying for the whole time during the trip.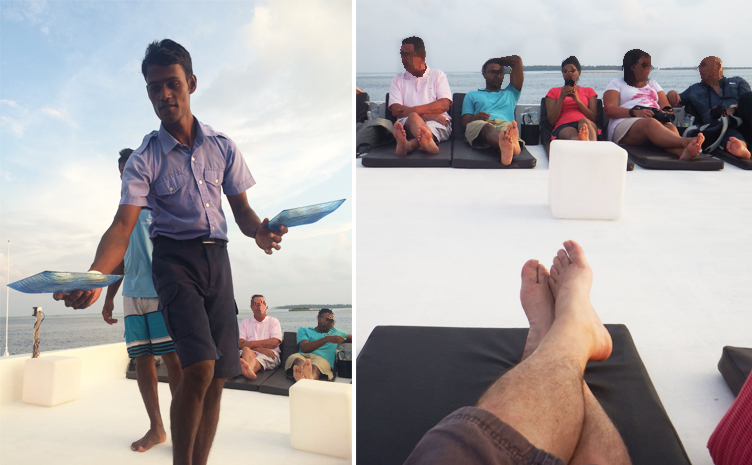 Overall, it's a beautiful view, but I would prefer to stay to see the sunset from our villa…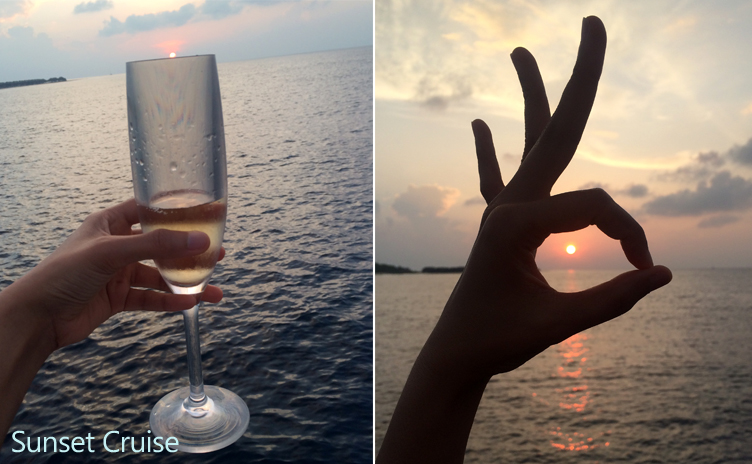 This activity takes about 1.5hrs, we left the resort at 5.30pm, the sun is set around 6.51pm and we returned the resort about 7.20 pm




---
(4) DHANGETHI, VILLAGE VISIT
Tim and I strongly recommend you to pick this one!!!
Since we flew to Maldives and flew to our island resort, we didn't get to see any of the local life in this country at all!  So this is a good chance to see the real village which you can visit a school, police station and you can stroll around the village to get to feel for how people live.

And…the shopping here makes me feel lively!!!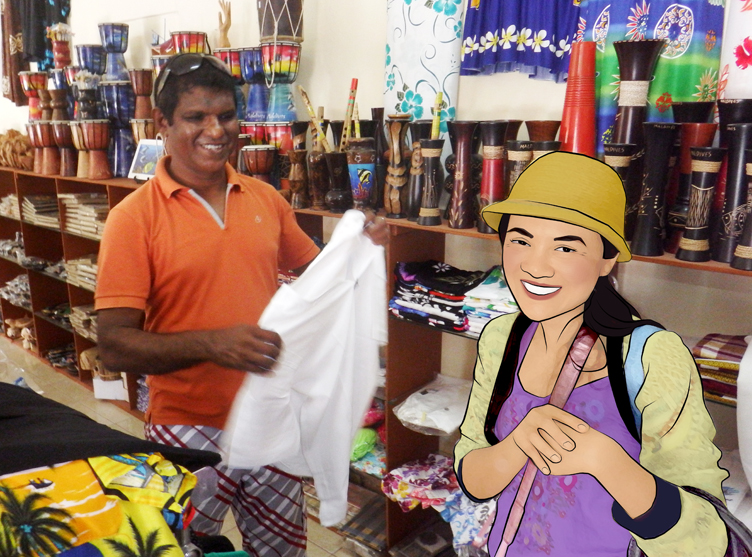 Most of the stuff here is much cheaper than at our resort or at the Airport but may not be the best quality.There are so many choices of t-shirts, we got some which makes us look like a cute couple!!!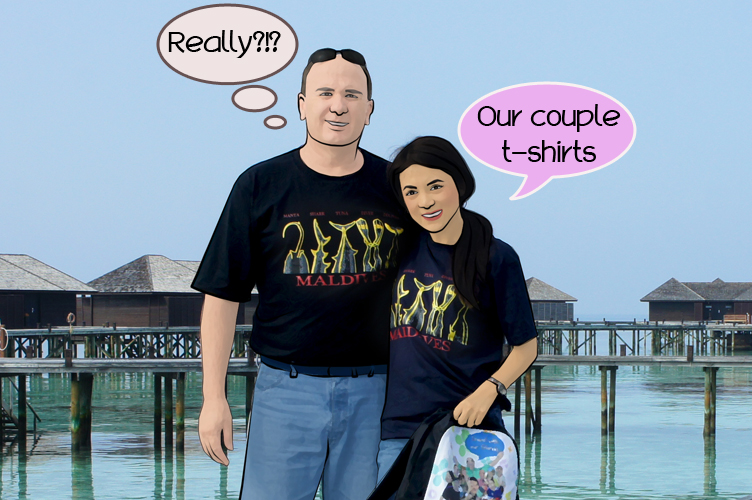 Come on, it's not easy to find the t-shirts that available from size XS to XXL to fit for both of us!!!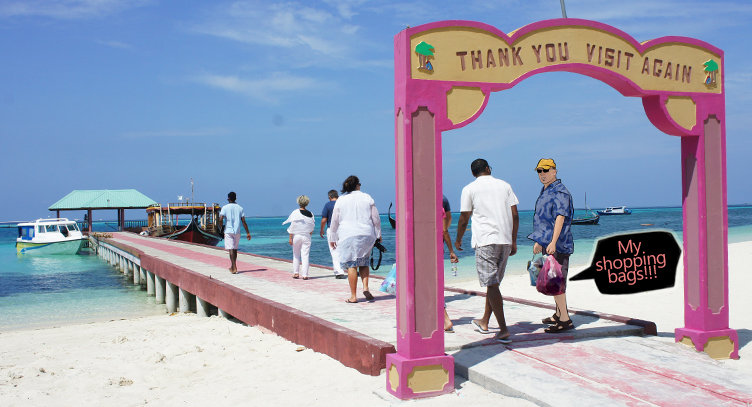 After we joined all of the 4 activities, we enjoyed 1.Snorkeling, 2.Village Visit, 3.Fishing Sunset and 4.Sunset Cruise in that order.
So if we can pick only

2,

then it would be

"Snorkeling"

and the

"Village Visit".
But people like different things…
We enjoyed every single minute here, no matter what you do, there will be the sun and the sea around you here 😉