ภาษาไทยคลิกที่นี่ค่ะ
Ni-hoa "Beijing"!!!
Beijing is also called Peking as Peking is the old name for Beijing. In the early part of last century, Beijing was name Beiping, which sounded like Peking . So, Peking is an English style name. The name of Beijing is from the Chinese spelling.
But let me tell you some ideas to explore the Beijing town without tour guide first…
We started the day by trying the Beijing subway to the zoo, it was quite hard but we finally found the zoo!
Beijing Zoo (www.BJZoo.com.cn) if you know the Kungfu Panda – maybe you would like to see the real panda as well. And I thought it was the right place to visit the panda (even it was wrong thought after visited…)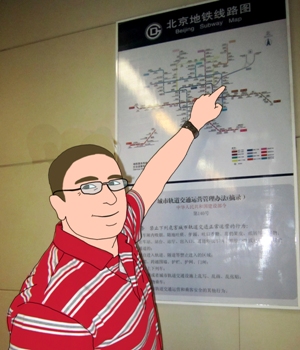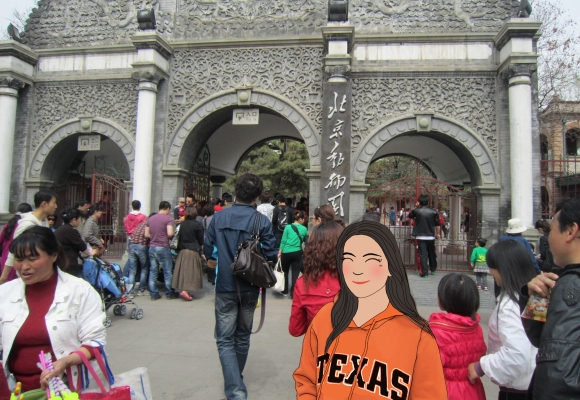 เข้าสวนสัตว์ปักกิ่ง Zoo gate: The zoo admission depends on when you come to visit there are High Season (April – October) and Low Season (November – March) price but I feel like it's not that much different.
But today we decided to visit the zoo and paid only the entrance fee at 75 baht or $2 per person…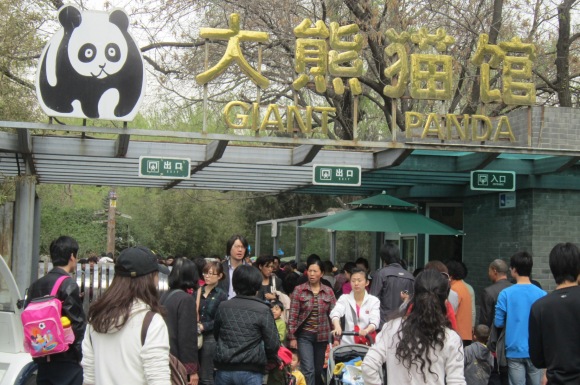 There were so many local people – I think the Sightseeing Boat is more popular for the tourist.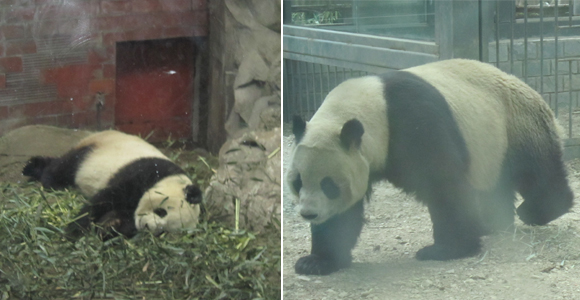 As I thought I would see many pandas but I was disappointed! There are some pandas in the zoo and they were sleepy and lazy.
It's so different with the Panda base in Chengdu where is much more real life of a panda.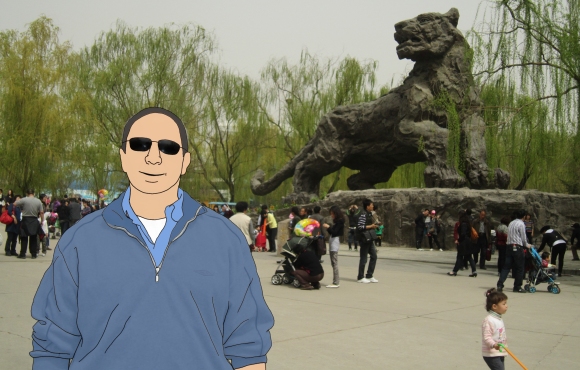 Now I didn't find the Beijing zoo anything special, so if you have other plans in Beijing, I would recommend skip it.
Back in downtown to Wang Fu Jing, the walking street, this is A large portion of this street is closed off to traffic as a pedestrian mall…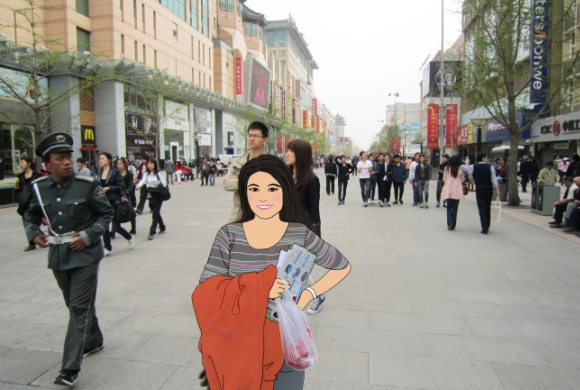 จะว่าไป ที่นี่ก็คือ ถนนที่รายล้อมไปด้วยร้านค้า ขายของแบรนด์เนมบ้าง หรือแฟชั่นบ้าง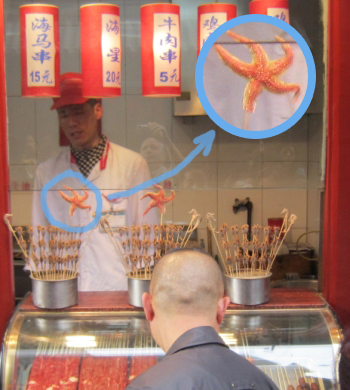 The main street of Wang Fu Jing is amazing but for me the side streets are great and this is the high light for getting pictures of weird foods.
A lot of food is on skewers and it's all sorts of unusual food including scorpions and star fish?!?!?!
Can we eat them???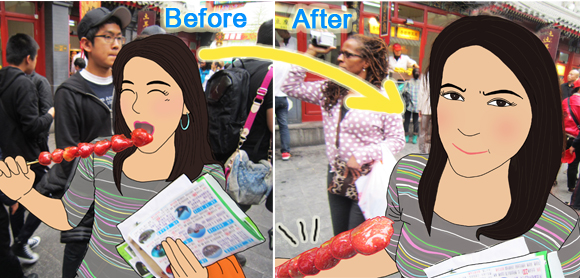 The Fruit candy looks just right for me to try – especially the strawberry, but I don't think I like it – So Sweet!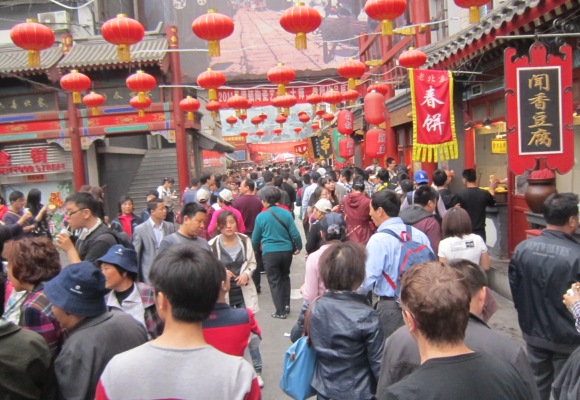 The street was very crowded….
Well, it's time to treat our feet after all day shopping. We stopped for Chinese massage (somewhere around the walking street)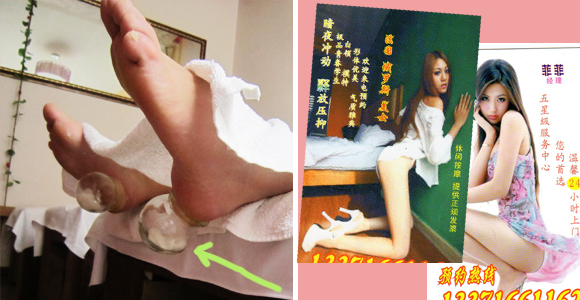 It's quite expensive for the foot massage over here, 800 baht per 1.5 hours per person! It OK if the hollow glass would work on my small feet but it wouldn't !
As they said the hollow glass globes attached with suction cups are intended to suck out toxins from the body….
Before we left, they gave the name card (right picture above) to us – I'm not sure I was welcome after seeing the card!!!
Hard Rock Café , I headed out to get breakfast at Hard Rock, Beijing. As the Hard Rock is kind of the landmark for some American people who is one of our team. So it was a must stop!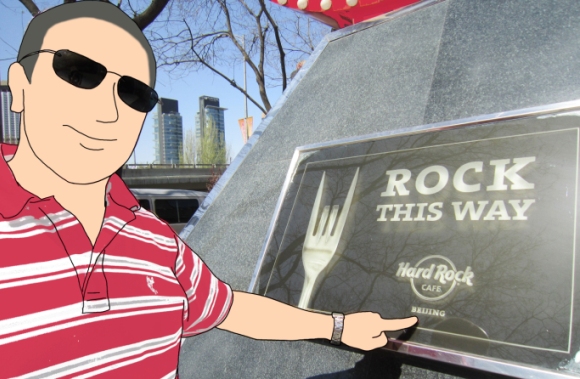 It's quite away from the Capital hotel, we took the taxi with cost 30 CNY or just 150 baht!
The shop (sure) provided Hard Rock souvenir…t-shirt, hat, etc.
Peking Duck!!! Peking Duck is a famous duck dish from Beijing, it has been prepared since the imperial era…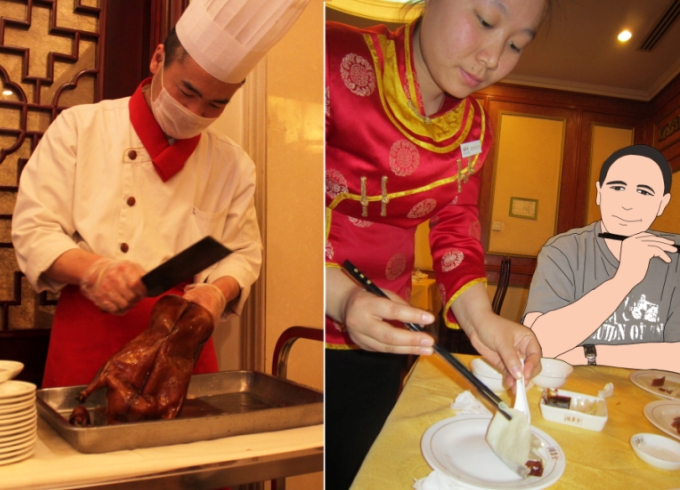 It's the whole fried duck!!!
The chief will show how to chop the duck as they have to have special skill to make all pieces with duck skin. Because the best part of Peking duck is its crispy skin!
Peking duck will be served with pancake and soy source and spring onions. All you need is just put everything on the pancake then fold and eat it!
They will show you how to do it…
Also try the Xidan shopping area.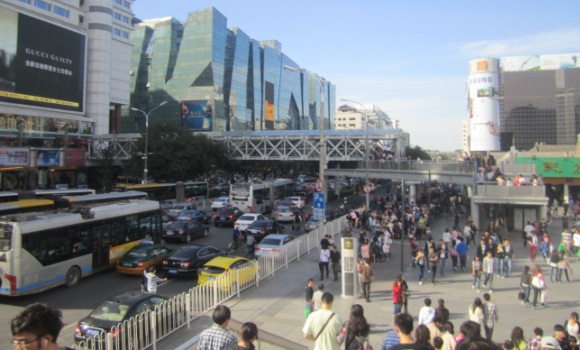 The area has several markets and malls. We tried to explore as best we could… .
The prices here can be very low for clothes and accessories but I feel like it's very crowded with local people….
I didn't get anything from this area since I feel like it's not different with Pratu nam or MBK in Bangkok.
The most impression shopping area is, the night walking street Zhenyang Gate , This is within walking distance from our hotel, the Capital and the Tien an Men square.
There are so many various things and reasonable price (for me)… The handmade product is easy to find it over here.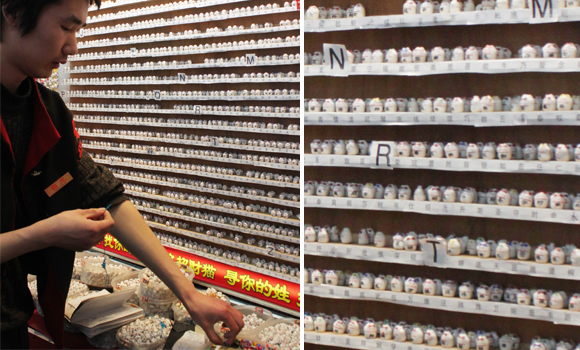 Just like the key chain which you can pick the lucky cat with Chinese letter as English letter to make your own words!

Actually, I didn't shop much – but if you run out of time in Beijing…I think this is the best area for you to do the shopping!
Check out all trips in China : http://www.somethingjam.com/thai-neighborhood-trips