Get Dressed up for Thai New Year!!!
Songkran falls in the hottest time of the year in Thailand, at the end of the dry season. That's why It's time to celebrate our traditional New Year with the water and joyful!!!

The holiday starts 13 April and lasts through 16 April, but in some places it can continue for six days and even longer!!!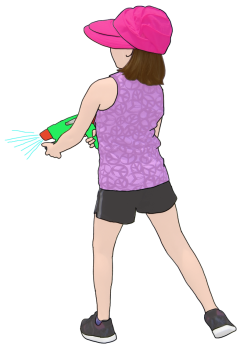 The throwing of water originated as a way to pay respect to people, by capturing the water after it had been poured over the Buddhas for cleansing and then using this "blessed" water to give good fortune to elders and family by gently pouring it on the shoulder.
Among young people the holiday evolved to include dousing strangers with water to relieve the heat, but sometimes guys take this as a chance to assault girls which is now illegal!!!
The water is meant as a symbol of washing all of the bad away and is sometimes filled with fragrant herbs when celebrated in the traditional manner…it's good with the jasmine too!
In recent years there have been calls to moderate the festival to lessen the many alcohol-related road accidents as well as injuries attributed to extreme behavior such as water being thrown in the faces of traveling motorcyclists.
Ensure that you remain vigilant and stay safe in whatever do.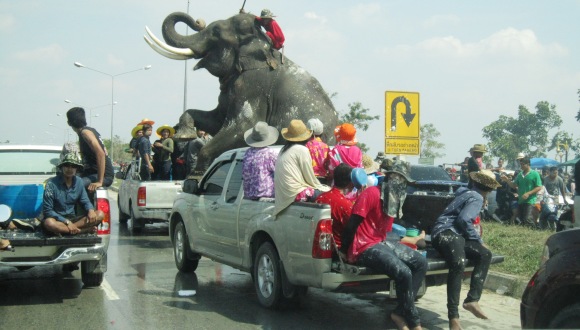 Songkran is so fun for everybody even the ELEPHANT!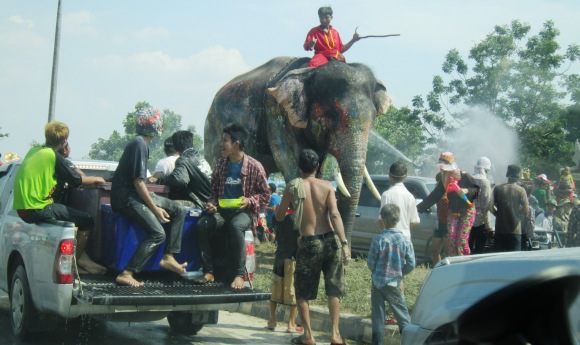 Songkran Pictures from Ayutthaya, 2012… The most famous Songkran celebrations are in the North, Chiangmai . But Check out Khao San Road – it's the most famous tourist place for getting a good soaking in Bangkok (bring your own towel).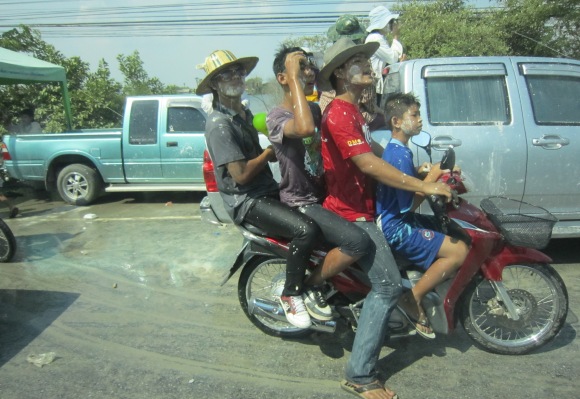 WET from the water and WHITE from chalk powder!!!  It's a traditional look for Songkran.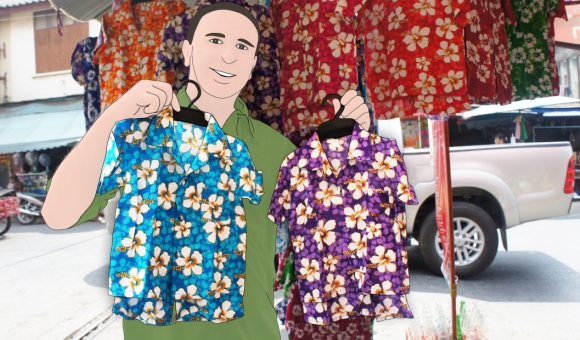 And don't forget to get the coolest floral shirt for Songkran – this is the only time of year you can wear it and still fit right in!!!
But If you are in Bangkok during Songkran holidays…you will find out how peaceful Bangkok is, as most Thai's head to their family or country homes.
SA-WAS-Dee-Pii-Mai-Thai!!!
(Happy Thai New year)
Click here to see Songkran pictures at Khao Sarn road in 2014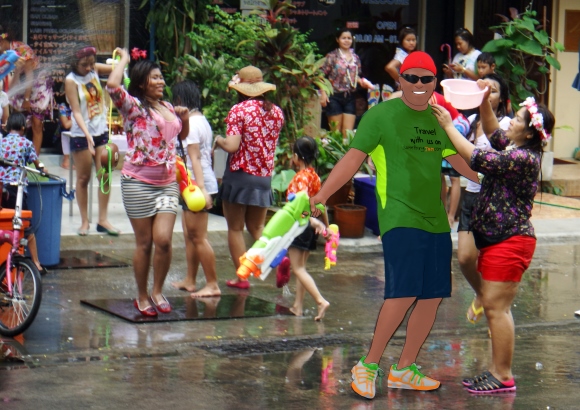 Where you want to go for Songkran 2014?!?!?!?!


Here are some of the most interesting locations for foreign visitors:
Khao San Road, Bangkok, 13-15 April 2014, 10.00-23.00 hrs.
Silom Road, Bangkok, 13-15 April 2014, 10.00-00.00 hrs.
Around the City Moat, Chiang Mai, 11-16 April 2014, 09.00-22.00 hrs.
Pattaya (North, Central and South Beach), Lan Bodhi Park Na Kluea and Chon Buri, 11-20 April 2014, 09.00-00.00 hrs.
Khao Nieo Road, Khon Kaen, 5-15 April 2014, 10.00-20.30 hrs.
Patong Beach, Phuket, 12-13 April 2014, 10.00-22.00 hrs.
Hat Yai Midnight Songkran at Nipat Uthit 3 Road, Sanehanusorn Road and Wat Mahatta, 11-15 April 2014, 10.00-23.00 hrs.
Songkran Ko Samui (Chaweng Beach), 13 April 2014, 08.00 – 20.00 hrs.
 More info: http://songkran2014.com/
——
Ref: http://en.wikipedia.org/wiki/Songkran_(Thailand)