For 2017 Kitchakut is only accessible between the 28th January to 28th March…
You only get ONE wish and only ONCE a year at Kitchakut Mountain (Chantaburi), all wishes will come true if you can get up there!

อ่าน เขาคิชฌกูฎภาษาไทย คลิกที่นี่ค่ะ





Chanthaburi
is a province of Thailand, located in the east of Thailand which is about 3.5hrs away from Bangkok by car.  Neighboring provinces are Trat in the east and Rayong, Chonburi, Chachoengsao and Sa Kaeo.  We would like to take you to
KITCHAKUCH MOUNTAIN (TH: เขาคิชกูฎ).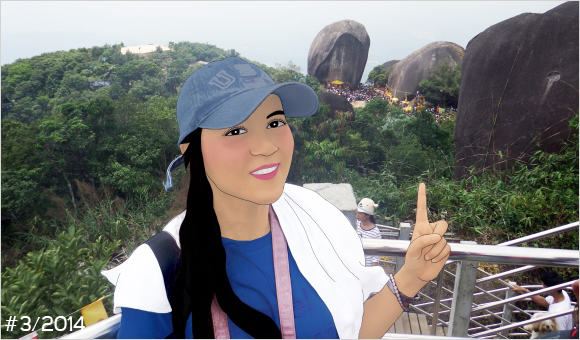 Kitchakut Mountain might not be a tourist attraction for foriegners.  This mountain is the well-known for most Buddisht , especially the mountain is only accessible 2 months/year.
Kitchakut mountain
enshrines Buddha's foot print
which is
1050 meters above sea level
, the highest point in Kitchakut National park in Chantaburi.
The footprint is 1 meter wide and 2 meters long,
and this is the highest footprint in Thailand!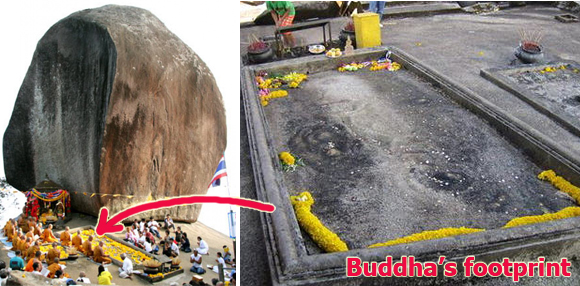 The teetering "Big Rock" is next to the footprint… This is the
Rock of the footprint
which is so amazing as it stands on top of Kitchagood mountain as if it was placed by a divine power…  you can't help but wonder who put it up there???!!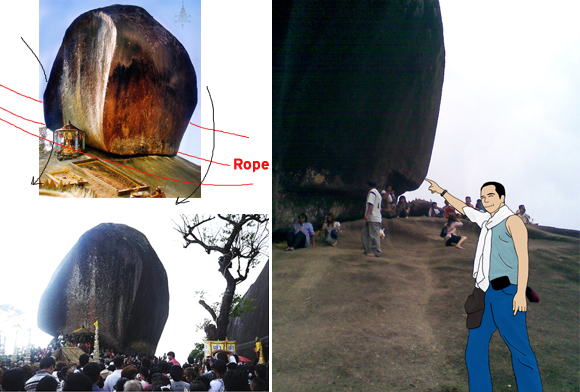 When you look at the rock it looks like the rock is floating!  Like you could pass the rope underneath the rock from end to end!!!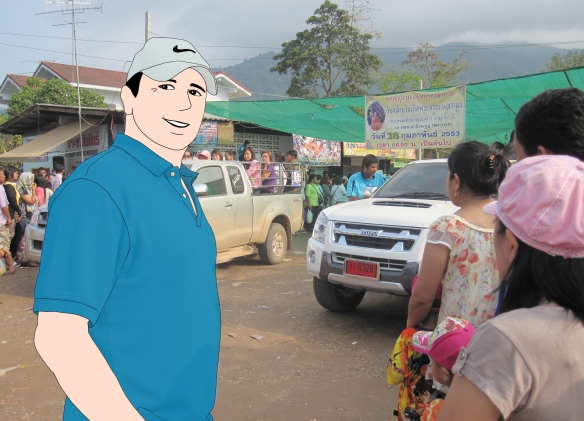 You are not allowed to drive up Kitchakut mountain. They provide a vehicle with expert drivers (national park officer).  But I bet, you wouldn't want to drive after you take the trip up to the top with the park drivers.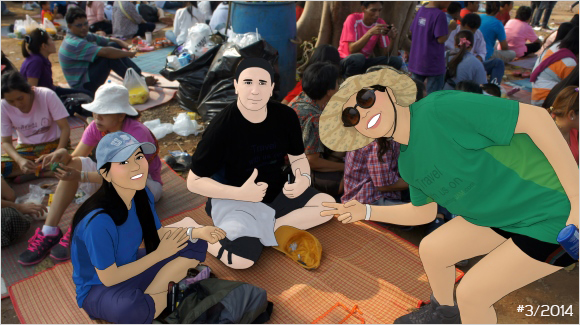 I can't remember the first time there but it was in 2008 and it wasn't crowded.  But When I went back there in 2010, it was the last week  for accessible.  I got there about 8.30 am, and got my ticket… they called number "154" and my ticket was number 461!!!  That means I had to wait for ~300 cars (one car holds 10 people)…that also means there were about 3,000 people in front of me!!!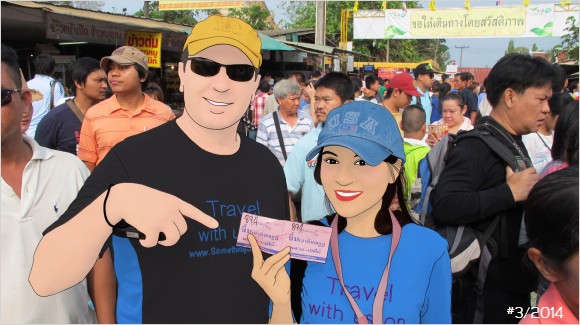 And even more longer when we went back there in 2014, our ticket was #894!!!  The worst thing was then it was about our turn, they were filling people in the truck and I heard they said anyone can jump in!!! Umm but we were so nice was waiting for 2 hours for the microphone guy calling our number?!?!?!?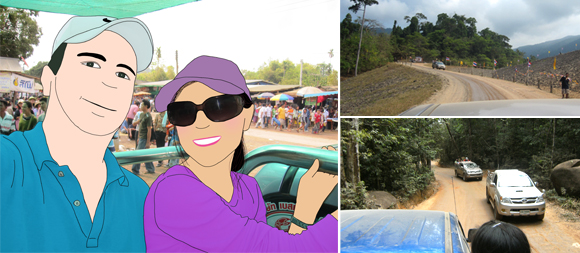 Anyway, it was nice when you finally get to ride… It's really hard to take a photo because you have to hang on for dear life!!!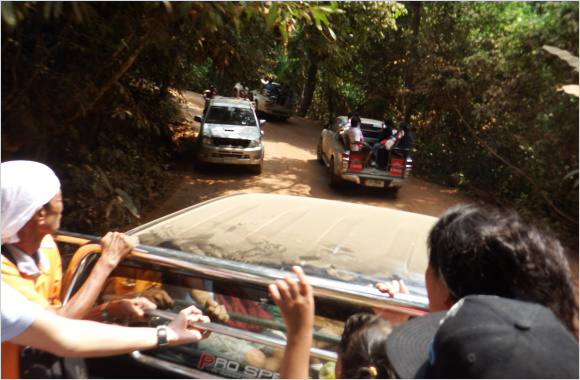 Somebody said "It's worth it to just take the ride"!!!!
First stop, it's just half way… We have to get another ticket to continue riding…Forgot to tell you it's 50 baht each leg …100 baht to ride until the end… and another 100 baht to return.
Totally 200 baht/person/round-trip.  It would be nice if they can sell ROUND-TRIP ticket!  You may try to ride at

Wat Krating

, I heard that it's only one ride straight up to the mountain.   I'm sure if I go back there, I will try it!!!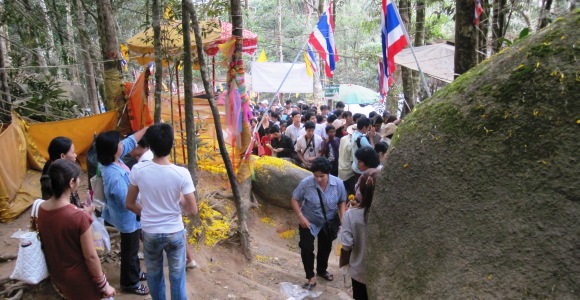 Once they drop you off… You're not there yet! It's time for you to use your own legs, and
walk up to the top of mountain which is about 1 km (up).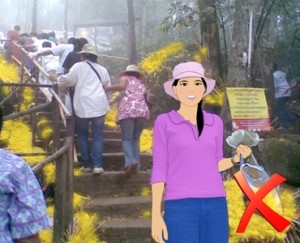 My first trip in 2008, I didn't prepare myself much. So I copied everything that I saw the other tourist do. Like getting the
yellow flowers
and throw them all the way up to the Buddha's footprint.
But this is
NOT
a good idea, the monk who takes care the place tried to tell people in his book that this causes a big environtmental problem after the tourists leave the mountain. He also said, that is not the right culture to do this and please help to take care the mountain of Buddha's footprint by stop doing this…!!!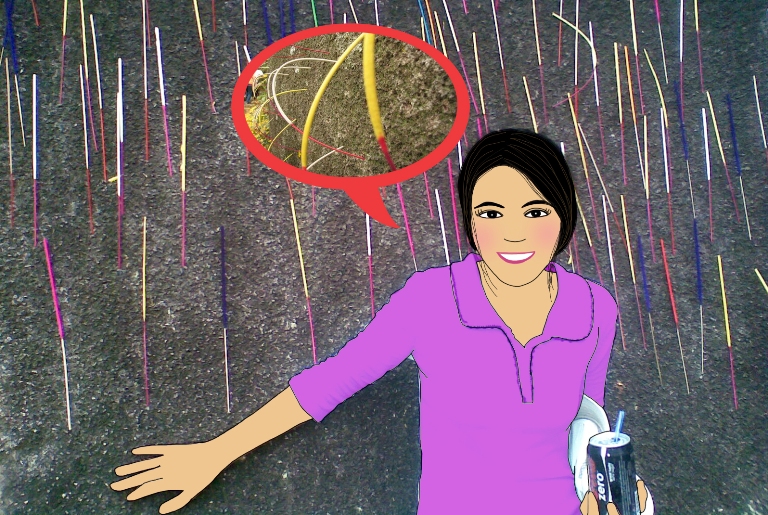 All the way up on the rocks, there were so many incense…but again, it's the same problem as the yellow flowers. This turns into trash since there were thousands of visitors!
As I told you that my first time it wasn't crowded, so I could walked up there by the main way but it was long walk.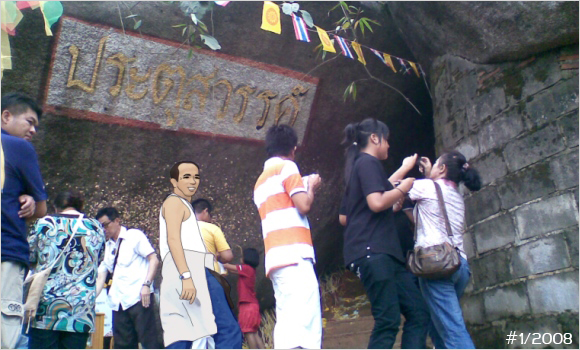 But then my dad found the shortcut (we saw the workers people carry ice and things climping up this way), so we just followed them down.  And it's the shortcut!
And after that, my 2nd and 3rd visits – I used the shortcut 🙂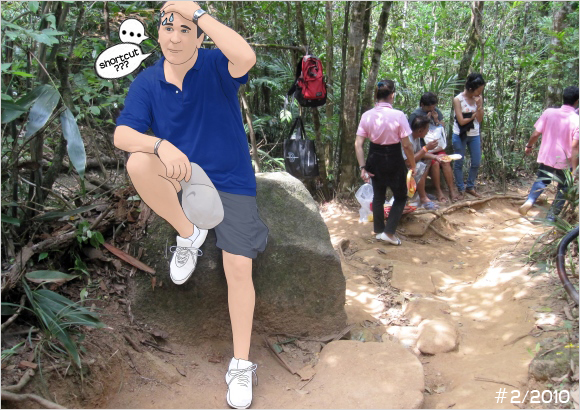 So I think  if there are too many people, you should take this short cut as well 😉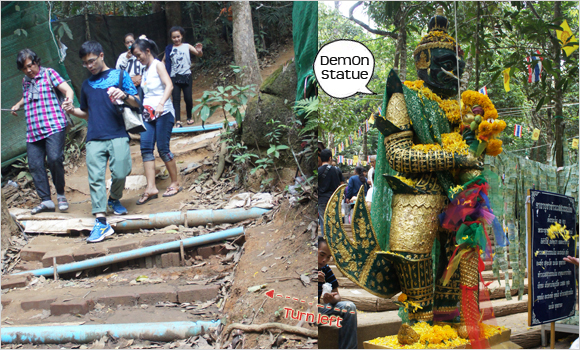 Where is the Short Cut?  If you see
demon statue
…, just turn left and walk all the way up (very steep but shorter).  This way is very quiet but kind of slippery!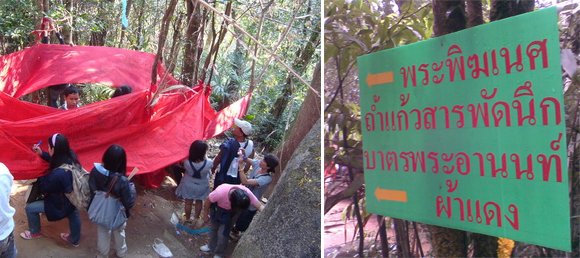 By the way, if you cannot read Thai, please notice the
red tape
around Kitchakut, remember that you CAN NOT walk out of that
red tape
because they believe that if you walk passed the red tape you'll be in the
"Lost City"
and you will not be able to come back to the real world!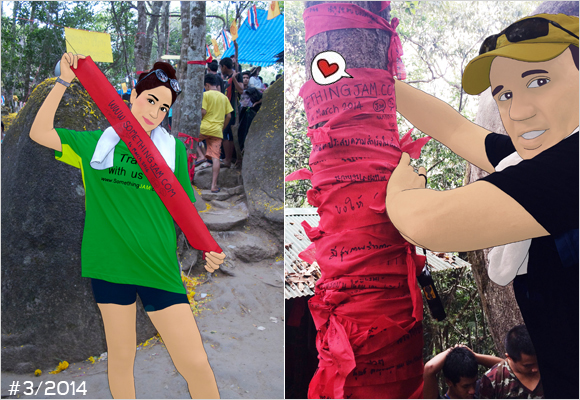 Don't believe it if someone told you to come here just for the RED TAPE! There are some people that like to say that if you didn't see the red tape that means you aren't in Kitchakuch mountain yet!
It's not right, we are here for the Buddha's footprint! but if something for fun, you can walk there just like us 😉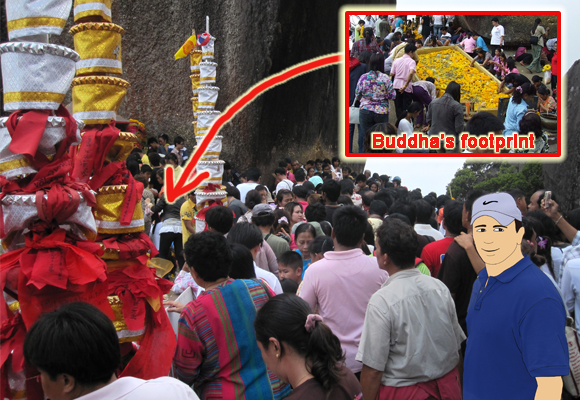 But when you get there at the Rock.  It was hard to get close to the Buddha's footprint, so busy and so crowded.  but I had to get in there because I would like to make a wish!!! We believe that one wish will come true if you come to make it up here.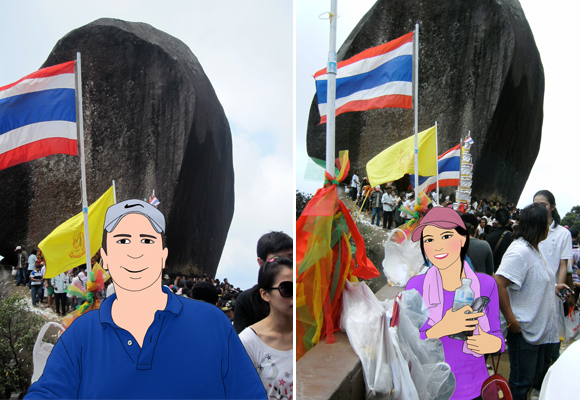 It's hard to take pictures as well – so many people around the footprint and they're over the rock…
But more than that… for
something this beautiful it's worth the effort just to look around!
The area of Kitchakut is surrounded with amazing natural sights and embroidered with Buddhist legend and beliefs…
Stay as long as you want up here, no charge!
But remember if you come down during the rush hour, you will need to wait for a vehicle again.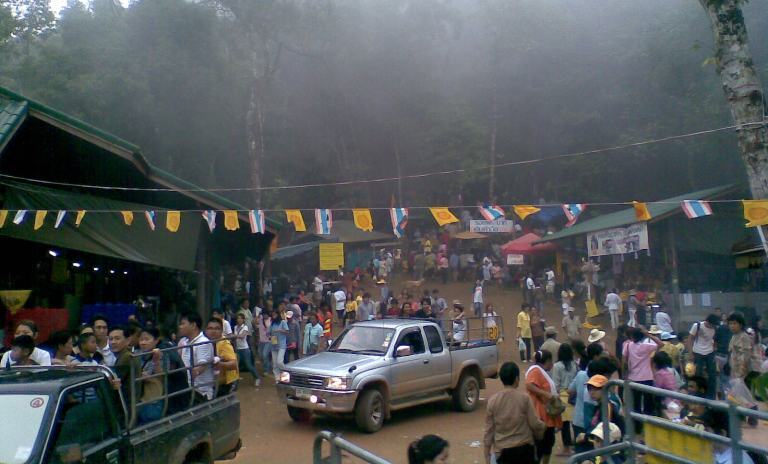 Anyway, it's time to slide down. For those who miss a visit to Kitchagood this year, don't be sad! You still have another year to go…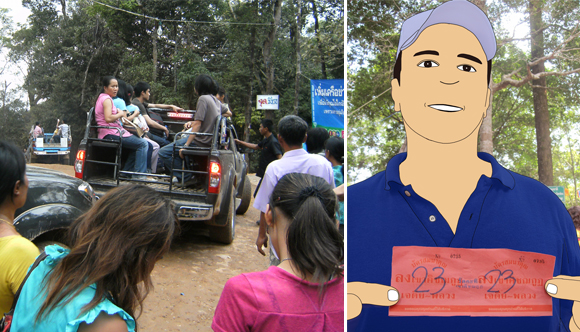 Just another tips… Don't expect good food over there and prepare some towels or napkins since you will be sweaty and dirty from the ride.




This is a cool, and unseen tourist place (unless you're Thai), and I'd add it to your must see list if you are up for the climb and the ride of your life…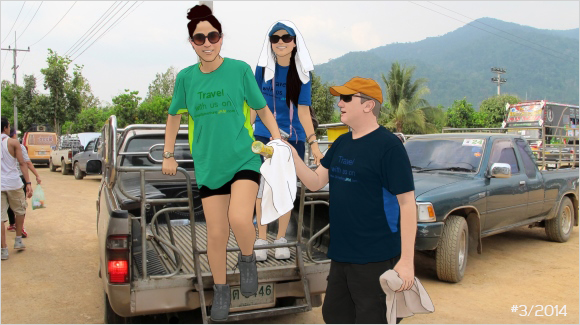 Did I mention the ride down???   Hang on to your hat!!!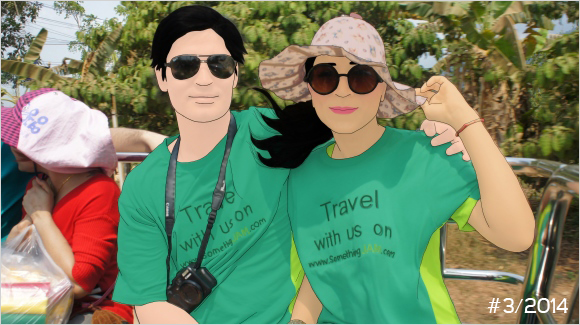 One more place that I would like to recommend you to visit when you go to Kitchakuch Mountain or when you go to Chantaburi is Plew Waterfall.  The waterfall is beatiful but there are tons of fish, you will enjoy feeding them with the green bean!!!