(ภาษาไทย) It's off season for the beach in Southern Thailand but we had a long holiday, so why not???
I picked Koh Lipe for our beach adventure, its noted as Thailand's Maldives!!! But it's not an EASY beach to get to, we had to fly to Hat Yai, ride a car to Satun Province, speed boat to Lipe Island, a short ride on a long tail boat, and a motorcycle taxi to the resort!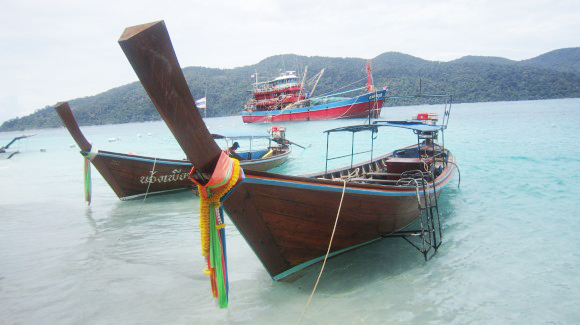 So you have to make your mind ready for a long travel day – but that's part of the adventure!
Koh Lipe (it's different tone in Thai accent – but the local understands when you try to say "Li-pe")
Lipe means flat, because there is a lot of ground area, no big mountain on this island…
Also, the original local people were from Indonesia and Malaysia, they called themslef "Urak La Voy".
In 1972, the mother of the King came to Lipe and gave the Thai surname to all people on this island as "Han Talay" (Han means "brave", Talay means "sea")…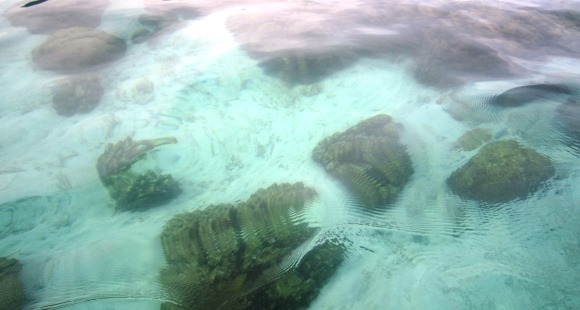 Lipe Island has white sand and crystal clear water. Lipe is popular with local Thai's and, Malaysian's because it's very close with Langawi Island (Malaysia).
Lipe became popular after 2004 when the Tsunami hit Southern Thailand. Lipe is one of the islands which was not impacted from Tsunami at all. But after that, Lipe is cleaner, more fish and better diving!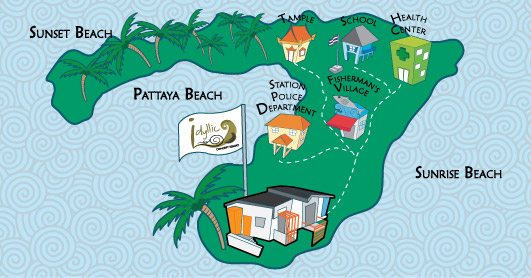 (Click the map to see more details, Hotels and etc)
The Island has 3 main beaches, Sunrise Beach, Sunset Beach and Pattaya Beach (Pattaya was wrong accent from the local name "Bud-Ta-Ya" but foreigners know Pattaya beach, the well-known beach in Cholburi…so sometime, they will call this the 2nd Pattaya).
The local tour guide told us that Pattaya beach has the most resorts and activities.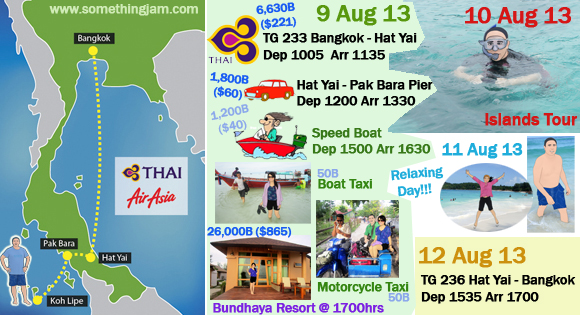 The primary expenses for this trip include:
– The tour package with accommodation at the Bundhaya Resort for about $465 or 13,900 baht per person per 4days 3nights.
– The air ticket from Bangkok to Hat Yai was $220 or 6,630 baht for round trip per person.
So it's about $685 or 20,530 baht per person for this trip!
Package also included the speed boat from Pakbara pier to Lipe Island. Then the resort told us that we had to get to Hat Yai before 9 in the morning, and leave from Hat Yai after 3 pm for the return flight.
From Hat Yai to Pakbara pier in Satun Province, it takes about 1.20 hrs same as from Trang airport. But Hat Yai airport is bigger and more options for car rentals. Anyway, you have to make sure with your resort if you buy the whole package with them like us….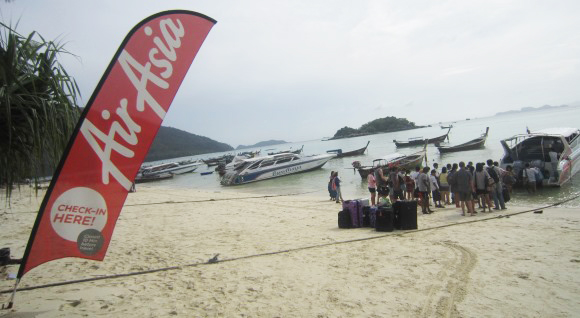 But 2 days before my trip, Thai airways the airline that I bought the ticket with, cancelled the flight!!!
It kind of screwed up our plan, the van can't wait for us at the airport, so we had to pay another $60 or 1,800 baht for personal car service from Hat Yai to Pakbara Pier. And the resort set us up with another company speed boat who operated in the afternoon.
But I saw the Air Asia van service at the pier also, passenger can check-in for flights on Air Asia in Lipe Island. It makes me feel like it's less likely miss or cancel flights if you do it this way.


The Bundhaya office in Pakbara pier was where we met our local tour guide "Mr. Dalia"…the speed boat schedule was 3pm, so we had to wait about 1.5 hours!
Dalia told us to change our pants to shorts so we would be ready when we jumped off the boat at Island – that was really good information, it was high water when we got off the boat!
This was my first real long ride on a speed boat, 90 mins!!!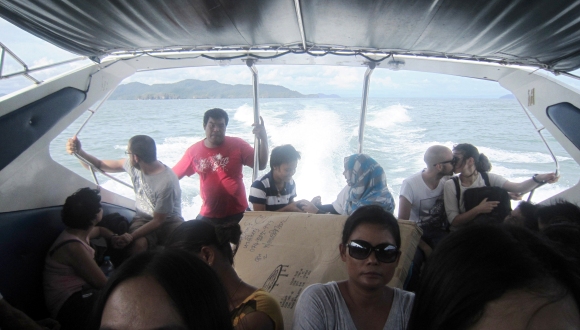 But once it arrived…as the lower tide in this season, we had to get off at the floating dock (kind of a barge)!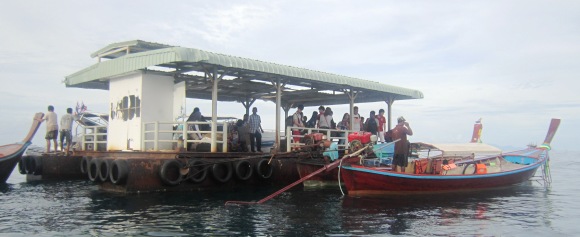 And take the boat taxi which is normally 50 baht each, but our tour package took care us.
Dalia told us that in high season (November – April), the speed boat can go through to the resort.
But now, the boat taxi can stop only at the Sunrise beach then we had to ride motorcycle taxi to our
resort.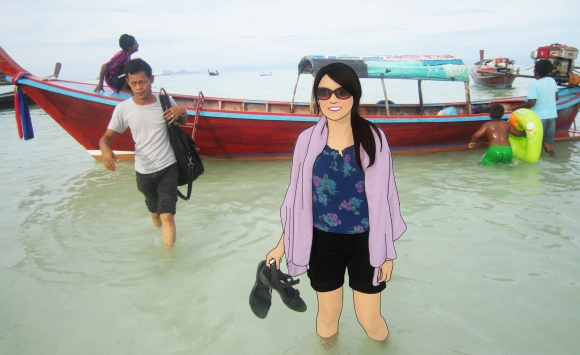 Good to be on the ground, I hate sea sick!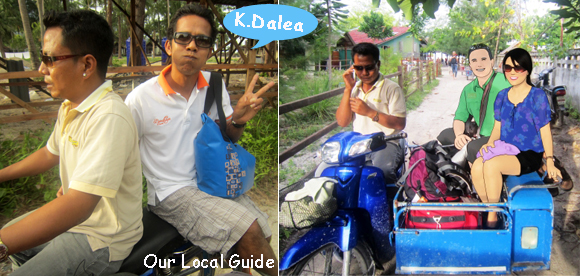 Unbelievable!!! It took me almost a day to get here!!!
We left from Bangkok about 8am and got here about 5pm!!!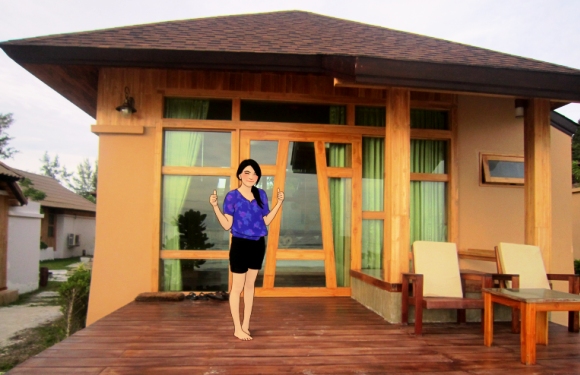 But after we checked-in our resort was very nice. I can see the ocean from my bedroom! Just too bad they don't fill the mini bar!!! But we took care of that at the local version of a 7-11.
---
Lipe Walking street

Walking Street in Lipe is a short walking distance (about 1 k). Most of the shops open about 6pm to midnight. But some restaurants open for breakfast about 8 in the morning…
You can find the convenience stores over here – where we got the soft drink, beer and snacks to fill up our mini-bar by ourselves!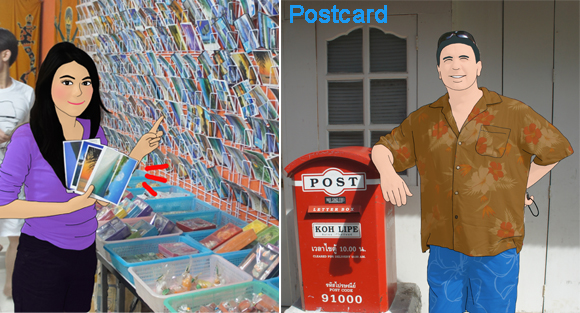 Souvenirs, t-shirts, and postcards are around the walking street. Also plenty of diving and snorkeling gear…
The waterproof bag is what I was looking for, it's about 300-650 baht only!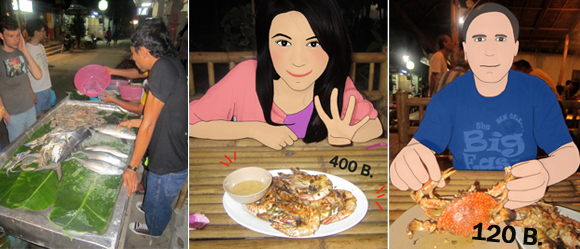 The Seafood BBQ is very popular in the Walking street. But it took almost an hour to get our food! So busy!!!
But it's really fresh and delicious!!!
Thai Pancake (Ro-ti) is a good desert on the island as well…
---
Relax in Lipe Island
We had one day extra after the islands tour…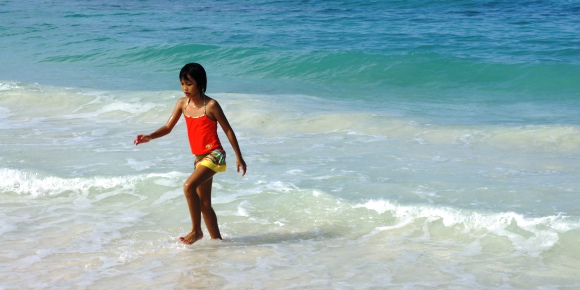 Today, Lipe is an easy beach for us! The clear water is just right in front our room, we can't help it – just keep jumping in the ocean!!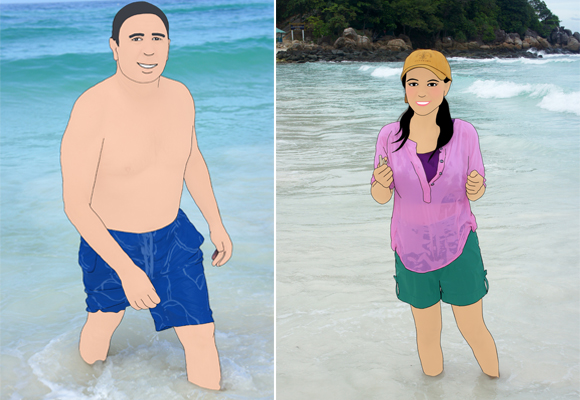 But don't miss the Thai Massage!!! The Thai massage at Bundhaya Resort is on the beach – great view and good massage


It looks like all the massage shops offer the same price, starting at $10 or 300 baht per hour.
The aroma massage is the most popular massage for Malaysian but there is the sun burn program as well!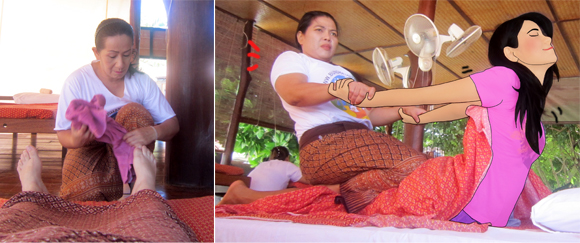 Where is the tourist, where is the trash!!!
At the resort, they cleaned up the beach, it was a good thing to see. But we did help to clean some and hope all the other tourist will help to not throw any trash into the ocean!



We like Lipe but it's just too hard to get here. 4 days 3 nights was perfect time to stay in this Island for us.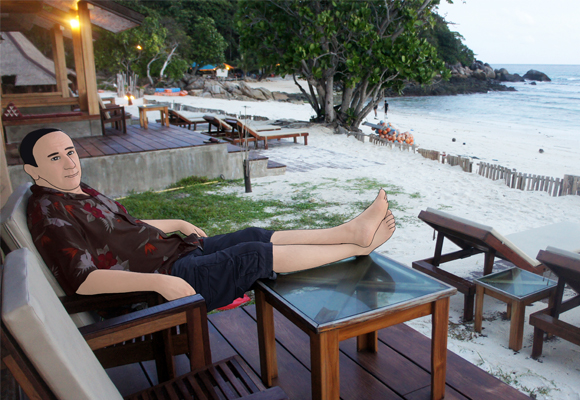 Before we left the Lipe, Dalia told us to visit Lipe again in November – April when the best time to visit this island.
Dalia also recommended to buy the tour package for your 1st time to Lipe – we agreed!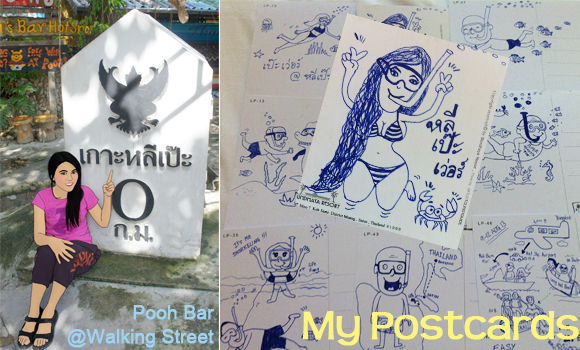 The Top 3 Hotels that we did survey are Sita Resort, Bundhaya Resort (Pattaya Beach)) and Idyllic Resort but honestly, we didn't see much – but some resorts looked kind of dumpy for us… But not the ones mentioned.
The Mountain Resort at Sunset Beach looks cool as well, and it was recommended as one of the best on the Island..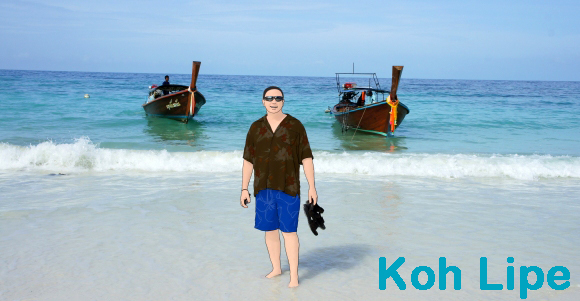 "I feel more local when I went to Lipe Island in low season (Visited Aug 13), most of the people who work in this island live here. So they work for what they love to do…
I would recommend you to visit Lipe Island once and see if you like it? Then you can visit more! – it's not yet a touristy island – Go feel it now!!!"
Read our island tour from Lipe to Koh Hin-Ngam, Koh Yang, Koh Rawi and Koh Adang!