The continuing of 5days/4nights trip for our first time Maldives at Lily Beach Resort & Spa. It's hard to review the big story in just a few pages and I don't to ruin the real trip if I forgot to mention something about it.
After they took us to our Villa, they also showed us around the room.  The Villa compounded with one big bedroom and one big bath room included the jacuzzi,  bathroom and closet.
Start with the Bed room is really big…but I don't like the poles on the bed! It gets in my way when watching the TV!!!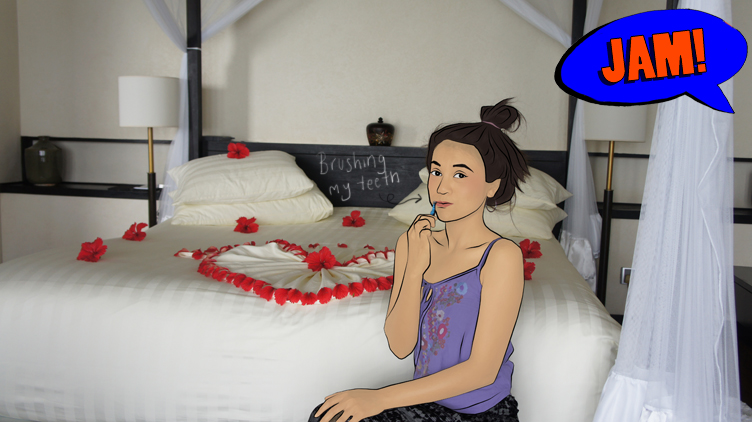 The dressing room is the same size as the bedroom, there are a big Jacuzzi and the toilet and the shower room.  The both rooms are all decorated with flowers…I felt like I'm in a dream world!!!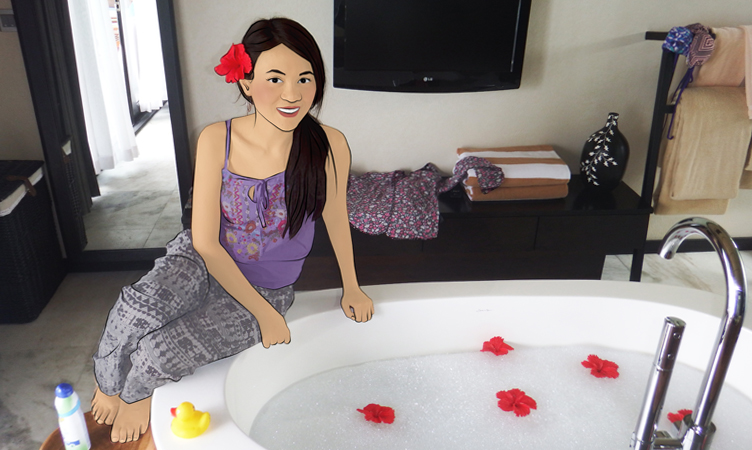 It's so strange (just different) that the toilet and shower rooms are open air and I could feel that fish are watching me when I was showering!!!
The entry (which is between the bedroom and the dressing room) has a glass-bottom floor, I think it's so cool we were taking pictures all around it.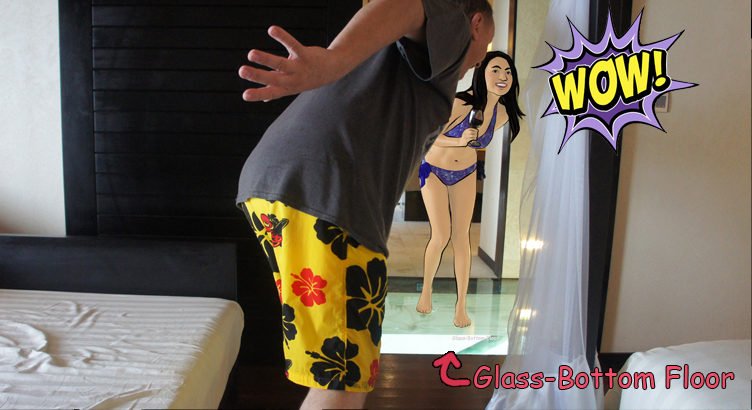 Also….it's great to check the water level as well!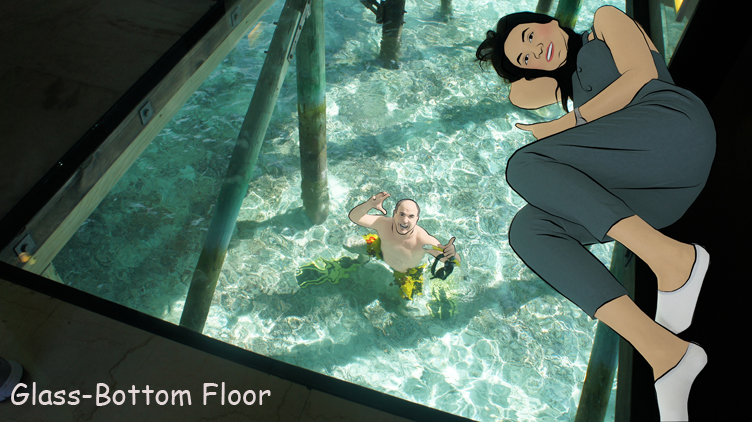 The patio and swimming pool are so romantic, from the patio you'll see the sunset as well as watching all the coral and sea life.
The swimming pool is about the right side, AT LEAST TIM FITS IN THERE!!!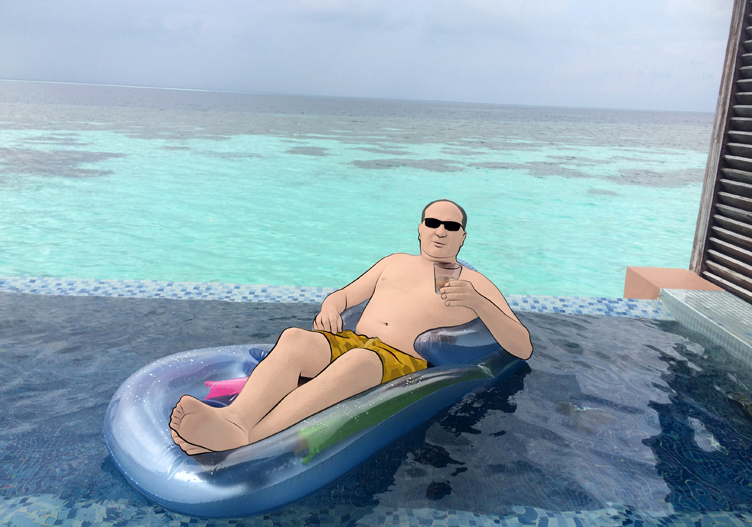 In-Room Mini Bar:
Wine, beer, soda of all kinds are in the refrigerator, and they fill them up every day! By the way if you drink it all and want more, it's only 20 bucks for re-stocking. You will also get 2 bags of cashew nuts and 2 boxes of potato chips for free every day! It's a lot and we never needed them to re-stock for us.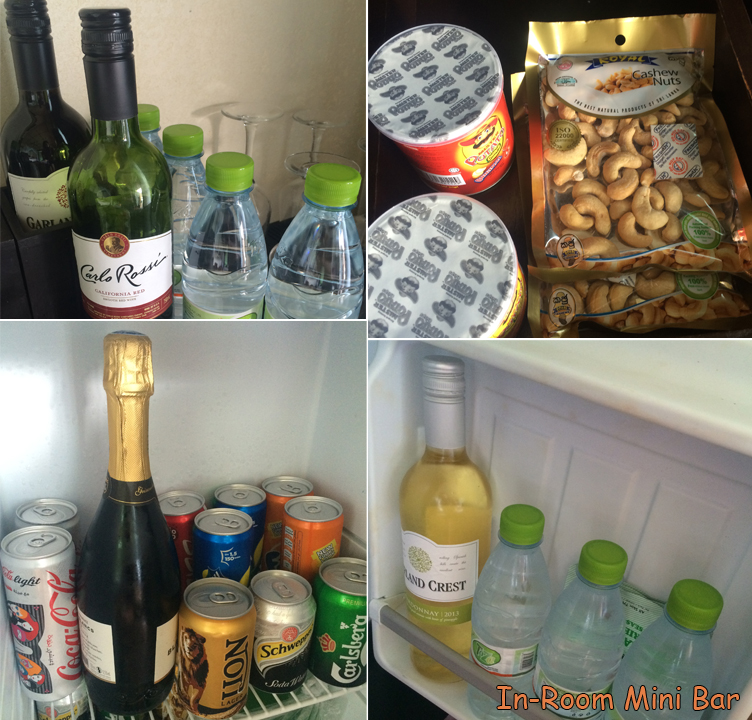 And here I am!!! I brought the float with me, and the first thing I saw after I got to the island was a gift shop with floats in the window, AND the dive center will even inflate it for you! Anyway, Tim blew it up and we can't stop floating around our villa.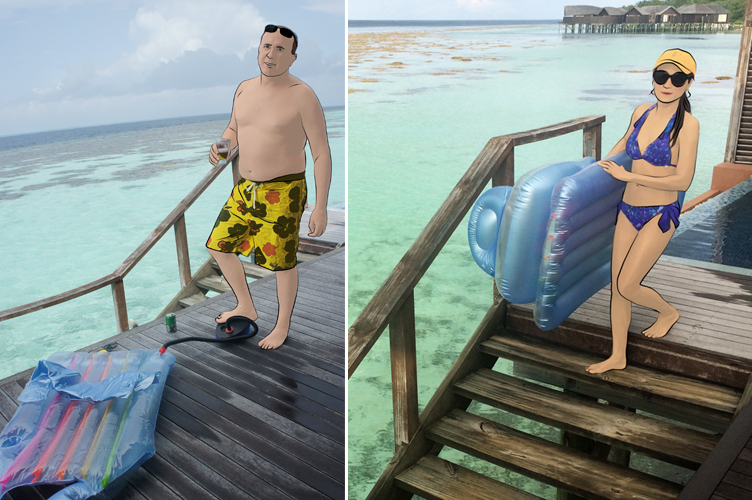 Tim was great!  He was pushing me on that float, I'm pretty sure he had so much fun!!!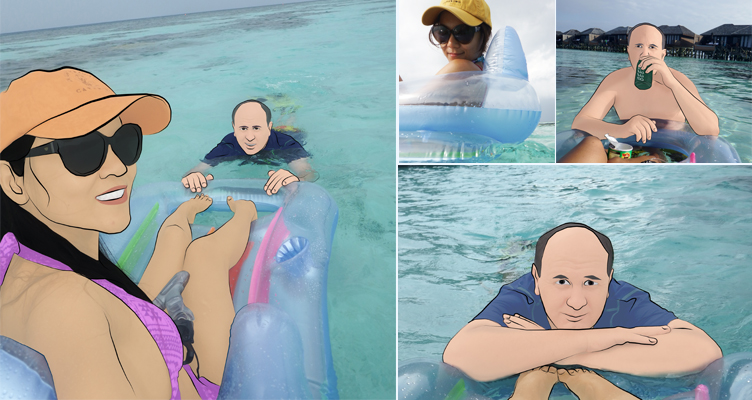 If you can swim and snorkel you'll find many more things to see… We almost stepped on a sea turtle right outside our villa!!!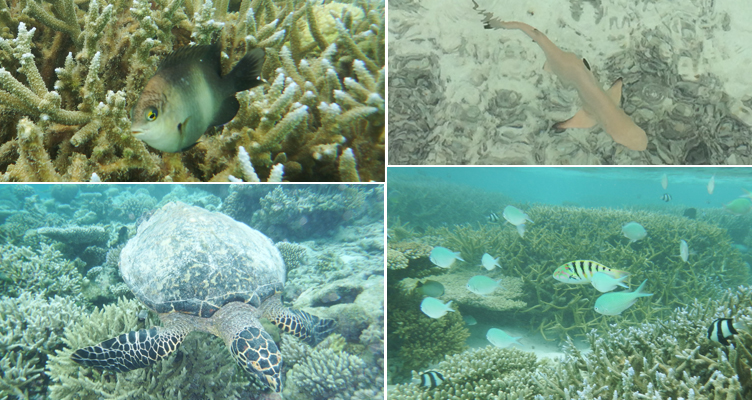 Our neighbors…they don't complain much, it's less problems here!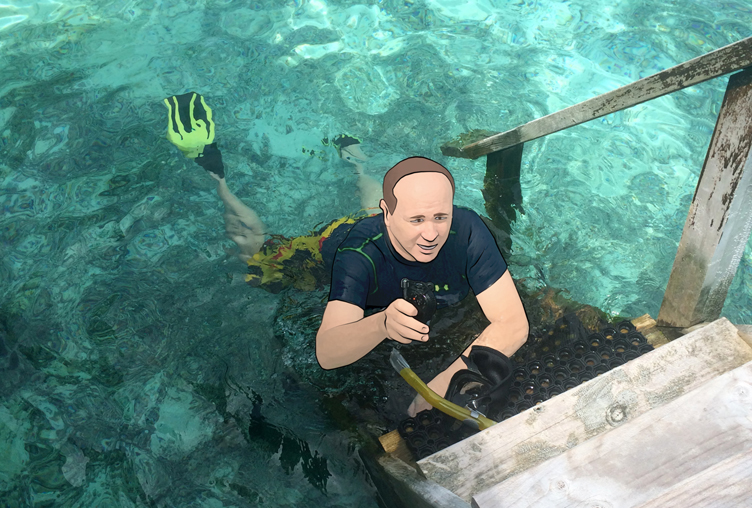 During the day, Tim was swimming around our villa again and again.  But I needed to rest in a/c room every 2hrs, it's hot and streaming here.  I like the beach but I'm not a big fan for sunshine!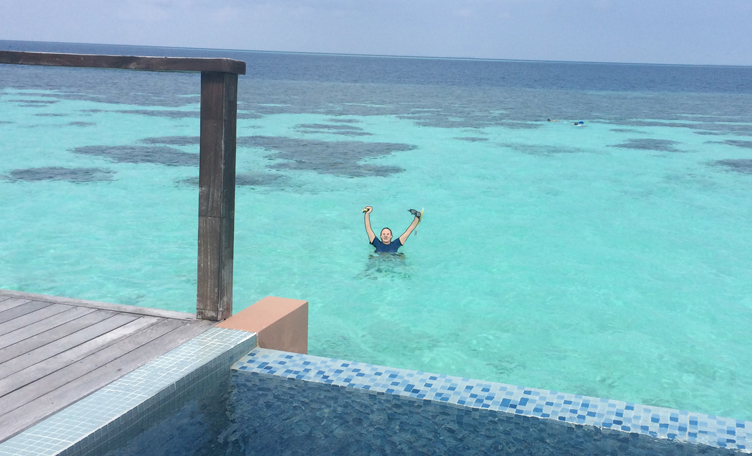 REMEMBER!!! YOU CAN'T SWIM AFTER 6PM!  why?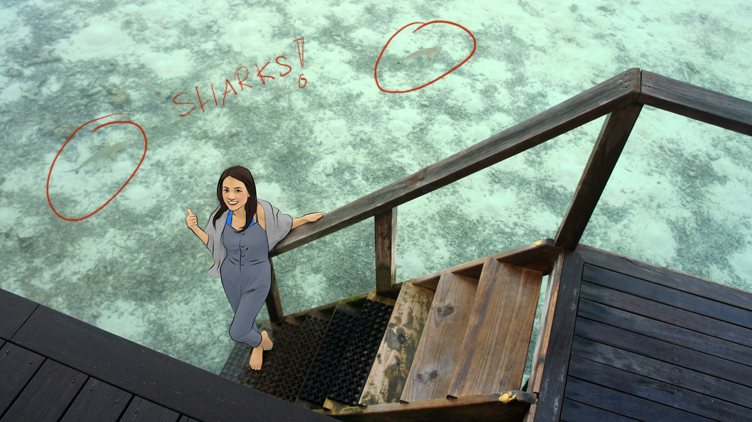 At least I saw 2 baby sharks in my picture!  The resort informed us most of big fish is will be around the resort in evening, included shark! Even we saw only small or just baby sharks but they are still SHARKS!  We didn't try to take any risk to swim with them!!!
Not just sharks but Stingray too!!!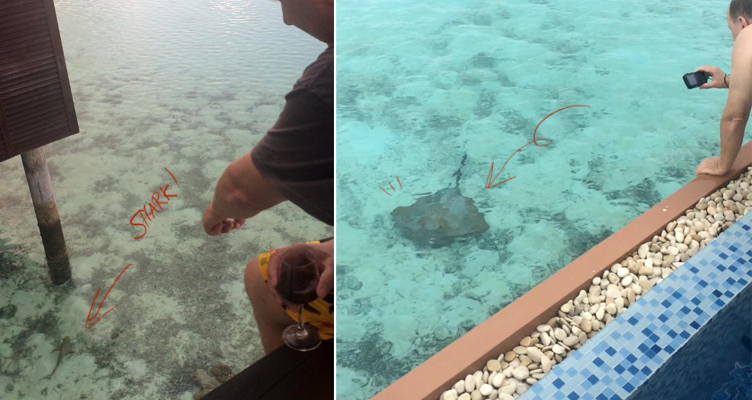 We enjoyed to spend our time at the Villa, we're out to eat and join the excursion programs only.   We went out to walk around the beach on the island but just for a short time because we had all we need in our villa.  They also have a water sport center but I think they are provided for the Beach Villas guests.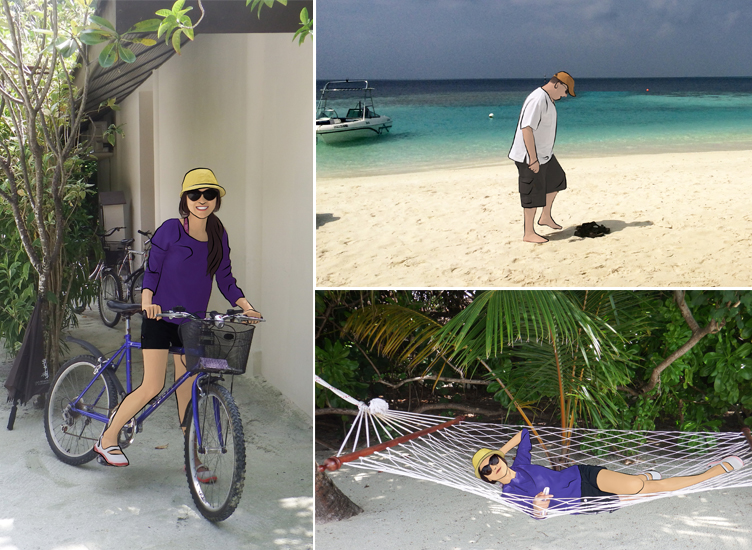 We did shop in the Resort convenient shop for a couple t-shirts and some souvenirs.   But if you will do the Village Visit program, it's cheaper for standard quality stuff.
By the way, Tim was sea-sick once but nothing to be worried because they have a doctor on island for 24hrs!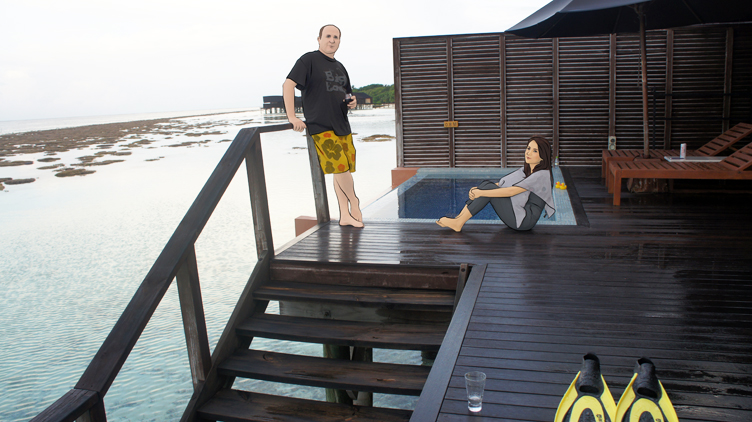 Next we will check out the restaurant, food, dance and guess what? They feed the fish every night at 9pm!!!
Read more in Maldives at Lily Beach Resort & Spa (3/3)